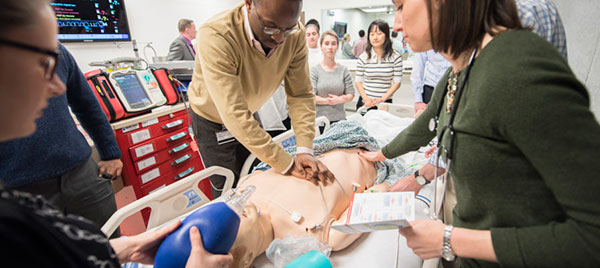 When the late Harry T. Mangurian, Jr. was diagnosed with acute myeloid leukemia (AML), few treatment options were available. To revolutionize treatments and care, he and his foundation sought to provide resources to a number of leading research institutions.
In 1999, Mr. Mangurian and Dorothy, his wife of 62 years, established The Harry T. Mangurian, Jr. Foundation, focusing on advancing causes in health, higher education and hospital care.
Although Mr. and Mrs. Mangurian passed away in 2008 and 2015, respectively, their legacy of compassion lives on through their foundation's philanthropy. Recently, the foundation made a gift of $2 million to create The Harry T. Mangurian, Jr. Simulation Center in Weston. This center is a crucial resource for medical caregivers seeking to build and maintain their skills.
Working with simulation mannequins, caregivers will experience a number of scenarios, from routine to unusual. By leveraging advanced technology, the simulations will provide an opportunity for caregivers to work as a team and receive immediate feedback in a safe environment. The new suite will simulate a number of real-life scenarios, including an emergency department trauma bay, a full-scale operating room and a critical care (ICU) room.
"We are pleased to provide this support to the Cleveland Clinic Florida Simulation Center at the Weston Campus. This center will not only provide learning opportunities for medical students, but also for nurses, techs, EMS, firefighters and others in the medical community," says Stephen Mehallis, President of The Harry T. Mangurian, Jr. Foundation.
This year, The Harry T. Mangurian, Jr. Foundation was inducted into Cleveland Clinic's 1921 Society, which recognizes supporters whose cumulative giving totals $1 million or more.
Mr. Mangurian was a successful businessman, sportsman and philanthropist. He was the owner of the Memphis Rogues soccer team in the North American Soccer League and the Boston Celtics of the National Basketball Association. Under his ownership, the Celtics won the NBA Championship in 1981. In thoroughbred racing, Mr. Mangurian became known worldwide after developing his Mockingbird Farm into a major Thoroughbred breeding and racing operation.