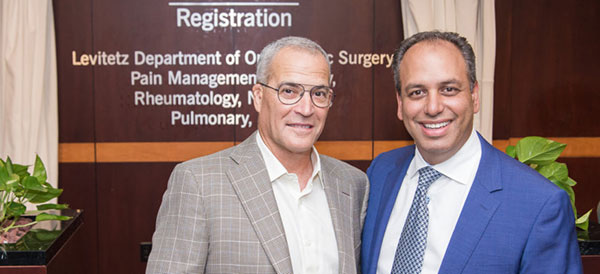 As a student who wrestled for the University of Alabama, Jeff Levitetz raised $10,000 for cancer research by performing 10,000 consecutive sit-ups. His amazing feat of strength and endurance was an early indication of Mr. Levitetz's passion for making a difference.
Today, Jeff Levitetz is a celebrated athlete who led several U.S. wrestling teams, including the 2004 U.S. Olympic Greco-Roman team. His long relationship with Cleveland Clinic Florida as a grateful patient and philanthropist inspired Mr. Levitetz and the Levitetz Family Foundation to make a generous gift to Cleveland Clinic Florida's Department of Orthopaedic Surgery, the highest-ranked orthopaedics program in Florida according to U.S. News & World Report. In appreciation for his significant contribution to support orthopaedic research and development, caregiver training and patient care initiatives, he was recognized at a recent event naming the Levitetz Department of Orthopaedic Surgery.
"We are incredibly grateful for the support Jeff has shown to Cleveland Clinic Florida," says Wael Barsoum, MD, President of Cleveland Clinic Florida. "Our donors make it possible to continue innovating and providing advanced training for our caregivers that further Cleveland Clinic Florida's patient-centered care model and help us achieve clinical excellence."
As founder and president of the Levitetz Family Foundation, Mr. Levitetz makes charitable gifts to organizations that support children, families, animals, veterans and scientific research, among other areas. His contributions to Cleveland Clinic Florida also have supported the Maroone Cancer Center.
"I'm excited and honored that our name will be on the Orthopaedic Department wall here at Cleveland Clinic Florida," Mr. Levitetz says. "We will continue to be a great custodian for the clinic."
Mr. Levitetz is the founder and chairman of Purity Wholesale Grocers, a distributor of grocery products and general merchandise that's listed among one of the nation's top private companies. He is passionate about developing youth and has been involved in Florida youth wrestling clubs, established a scholarship fund to help young athletes attend summer wrestling camps, and co-founded the online training program Handshake University to help young people build self-confidence and develop leadership skills.