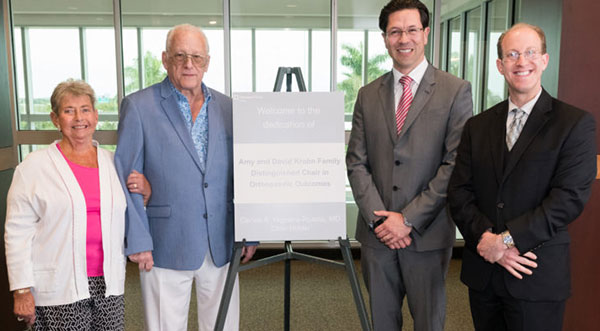 A mutual appreciation for the progressive power of engineering inspired Amy and David Krohn, who both have engineering degrees, to make a gift to establish the Amy and David Krohn Family Chair for Orthopaedic Outcomes to support and advance orthopaedic research at Cleveland Clinic Florida.
The Krohns made a philanthropic commitment that will fuel Cleveland Clinic Florida's Orthopaedic Department to pursue new methods and technologies for improving surgical and recovery outcomes, as well as long-term quality of life.
When Mrs. Krohn began experiencing debilitating knee pain, physicians in her hometown recommended a full joint replacement – an invasive procedure with a complex recovery period. The Krohns sought a second opinion with orthopaedic surgeon and Cleveland Clinic Florida CEO and President Wael Barsoum, MD, who suggested a different option: a partial replacement that he patented, known as a lateral mini. It offers a shorter recovery time and the potential for a better long-term outcome.
Mrs. Krohn decided to pursue this innovative procedure and had a successful surgery. Her positive results deepened the couple's interest in supporting orthopaedic research and development.
In 2017, the couple established the Amy and David Krohn Family Chair for Orthopaedic Outcomes to honor Dr. Barsoum and support research and surgical technique development. The first chair holder is Carlos Higuera-Rueda, MD, Director, Orthopaedic and Rheumatologic Center and Chairman of the Levitetz Department for Orthopaedic Surgery.
"It is unbelievably enlightening to learn about the research Dr. Higuera-Rueda and his colleagues will be doing," Mr. Krohn says. "We are so thrilled to be a part of advancing orthopaedic research at Cleveland Clinic Florida."
Their gift will fund Dr. Higuera-Rueda's continued research in infection prevention and techniques to better understand detrimental clinical outcomes.
"I am extremely grateful for the opportunity awarded by the Krohn Family to support our research and advance options to prevent biofilm based infections that oftentimes lead to adverse outcomes for the patient," Dr. Higuera-Rueda says.
Last September, the Krohns were inducted into the 1921 Society, which recognizes Cleveland Clinic supporters who contribute $1 million or more. They were honored for their dedication to transforming orthopaedics for future generations to come.