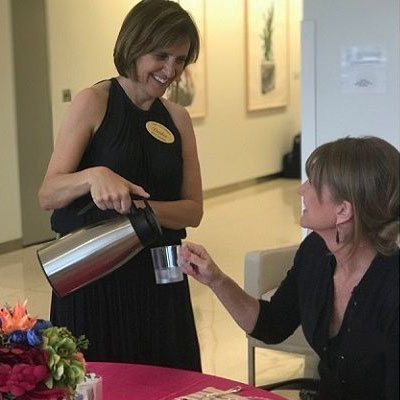 On the first and third Wednesday of every month, volunteers at Cleveland Clinic Florida's Maroone Cancer Center treat patients, visitors and caregivers to a delightful afternoon of high tea. Guests are served warm scones, sweet morsels, delicate finger sandwiches and soothing teas as they relax in a tranquil, supportive environment.
The volunteers are members of Women's Impact Network or WIN, whose mission is to promote health, community involvement, and philanthropic support of Cleveland Clinic Florida. The high teas began in March 2017 and 100 percent of the event is funded by philanthropy.
The comforting ritual of serving tea is especially meaningful to WIN volunteer Deirdre Smith. She was shocked by her diagnosis of Stage 1 breast cancer in November 2015. "There was no family history of the disease, no symptoms and I felt healthy," Deirdre says. "But I knew I didn't have time to feel sorry for myself."
Deirdre didn't delay her treatment at Cleveland Clinic Florida's Breast Center: she had a mastectomy in December 2015 and then four rounds of chemotherapy.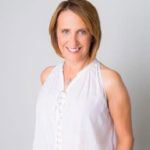 Deirdre Smith
Today, she is cancer free and maintains a healthy lifestyle. She walks six miles a day, plays tennis competitively and gives back to her community through volunteer work. In addition to serving at the high teas every month, Deirdre also regularly visits the Maroone Cancer Center to offer tea and snacks to patients while they're receiving chemotherapy treatments.
"I am so grateful for the support I received from the entire staff of physicians and nurses at the Maroone Cancer Center," she says. "From start to finish, they made me feel like family and they gave me the motivation I needed to fight the battle of my life."
For more information about the High Tea or to volunteer, please contact Angelica Guckes at aguckes@me.com.