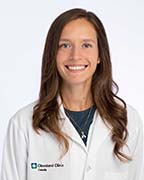 Biography
Oksana Wankiewicz is an Exercise Physiologist at Cleveland Clinic Canada. Ms. Wankiewicz has significant experience in coaching amateur athletes, conducting physical and behavioral assessments and prescribing exercise to diverse populations. She most commonly treats chronic pelvic and lumbar conditions as well as acute sport related injuries. In addition to these conditions, she also treats patients with post-concussion syndrome and provides guided exercise education for patients with a history of cardiovascular disease.
Ms. Wankiewicz was first drawn to the field of Exercise Physiology during her time as a Varsity athlete at the University of Toronto. Competing as an athlete while earning her Bachelor of Science in Kinesiology allowed her to draw upon her personal experiences within a high-performance setting. She went on to obtain her Masters of Professional Kinesiology from The University of Toronto and is now actively involved with the College of Kinesiologists of Ontario as a member of the Board of Directors.
In her practice, Ms. Wankiewicz helps to develop individualized training and rehabilitation programs for a wide variety of patients, including athletes and individuals with chronic disease and underlying health conditions. She is skilled at providing exercise prescriptions for both high performance athletes and individuals suffering from sport-specific injuries. Ms. Wankiewicz is dedicated to helping her patients prevent long-term illnesses and disorders and enjoys working collaboratively with the team of osteopaths, physiotherapists, chiropractors, and registered massage therapists to provide holistic care to her patients.
Ms. Wankiewicz has volunteered her expertise with many sporting events, including the Canadian Sport Institute of Ontario and the Ontario 2020 Winter Games. A competitive athlete herself, Ms. Wankiewicz has won gold medals at the Royal Canadian Henley Regatta, the ROWONTARIO Championships and the Canadian Indoor Rowing Championships. She was also an U23 lightweight competitor for 2 seasons at the National Rowing Championships (Rowing Canada Trials).
When she's not seeing patients, Ms. Wankiewicz enjoys hiking, road cycling, running, archery, strength training, working on DIY home-projects, cooking, and learning new sports.
Education/Training
Masters of Professional Kinesiology

University of Toronto
Kinesiology
Toronto, ON
Bachelor of Kinesiology

University of Toronto
Kinesiolgy
Toronto, ON
Certifications
Metriks Functional Capacity Evaluation Certification
CPR- AED Training
Standard First Aid/ CPR Level-C Certification
Specialty Interests
Chronic disease prevention
Sports physiology
Aerobic and anaerobic training
Professional Memberships
College of Kinesiologists of Ontario