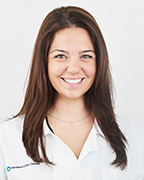 Biography
Kayla Butler is a physiotherapist at Cleveland Clinic Canada.
Ms. Butler has always been active in the world of sports and athletics. An early injury exposed her to the world of physiotherapy and she knew immediately it was the field she wanted to go into. She obtained her Bachelor of Science in kinesiology from the University of Western Ontario before going on to complete her Masters of Physiotherapy from McMaster University.
Ms. Butler is particularly interested in manual therapy. She completed her FCAMPT designation and enjoys seeing the positive results of her treatments with her patients. She is passionate about working with patients with sports injuries and helping to get them back to their game. In her treatments, she views each patient like a puzzle. There may be just one piece missing, like an existing muscle imbalance, or there may be several pieces missing, like a muscle imbalance, along with a hypomobile segment and poor biomechanics. She takes it as a challenge to find each patient's missing pieces and help put them back together with education, manual therapy, and exercise prescription.
When she's not treating patients, Ms. Butler loves to be outdoors and active. In the summer she plays beach volleyball, softball or cycling, and in the winter she enjoys skiing and snowboarding.
Education/Training
Masters

McMaster University
Physiotherapy
Hamilton, ON
Bachelor of Science

McMaster University
Physiotherapy
Hamilton, ON
Certifications
Soft Tissue Release
FCAMPT
Acupuncture, Level 1
Specialty Interests
Manual therapy
Sports injuries
Professional Memberships
Canadian Physiotherapy Association
Fellow of Canadian Academy of Manipulative Physiotherapy