Available Services
Available Services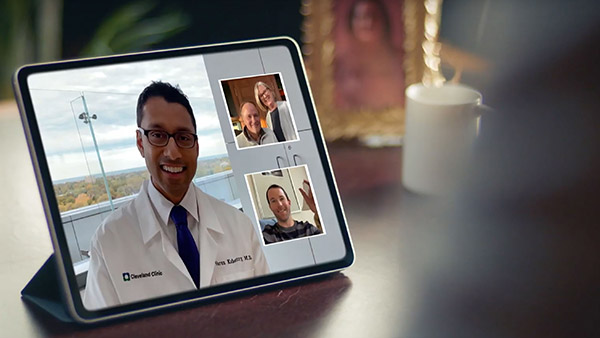 Scheduled virtual visits at Cleveland Clinic Canada are now available for these services and specialties:

Scheduled Virtual Visits
Healthcare in the comfort of your own home
Purchase Today
How do I schedule a virtual visit?
To schedule a virtual visit for Nutrition, Exercise, Psychology or Sports Medicine and Rehabilitation, please email [email protected].
To schedule a virtual visit for Foot Care (Chiropody), please email [email protected].
What options are available for my scheduled virtual visit?
Our physicians, wellness and rehabilitation experts can now offer scheduled virtual visits using Cleveland Clinic Express Care® Online, as well as other third-party platforms, including:
Facetime (iOS)
Skype
Zoom
Our team will confirm which option will be used when scheduling your virtual visit.
Please note: These additional options are "unsecure" third-party applications, which can potentially introduce privacy risks. Patients should enable all available encryption and privacy modes when using them. Not all of these choices may be available. Your provider will let you know what options are available and what arrangements you'll need for your appointment.
Frequently Asked Questions
Frequently Asked Questions
What are virtual visits?
Virtual visits are services provided at a distance by online technologies like video conferencing or by phone. According to recent research, virtual visits appear to be both effective and comparable to conventional methods of care when looking to improve physical function and pain reduction in a variety of musculoskeletal conditions.
What are the benefits of a virtual visit from Cleveland Clinic?
Convenient – provides timely access to care from the comfort of your home.
Safe – allows for maintaining recommended social distancing practices while receiving care.
Continuity of care – all appointments are documented in our electronic medical records system, enabling your healthcare team to access information from past appointments, as well as to reference this information in future appointments.
What if I struggle with using technology?
Our team is here to help and will provide instructions prior to your appointment. If you prefer not to use video, we can simply connect by phone.
What conditions can be seen virtually?
Patients may access care virtually for a wide variety of conditions, but it is up to you and your provider to decide if virtual visits are appropriate. Our team has extensive experience in the virtual care realm and is happy to answer any of your questions.
What can I expect from my virtual visit?
During a virtual visit, you can expect to receive safe, effective and customized evidence-based care, as you would with an in-clinic visit. Whether care is provided virtually or in the clinic setting, your provider must comply with all the standards of practice of their regulatory Body and College.
How are virtual visits for rehab services different from going to one of your clinics for treatment?
Some hands-on assessment or treatment techniques are not possible virtually. However, there are so many ways your clinician can help. Your treatment will be modified based on what you have at home and the supports you have available.
During a virtual rehab session we can:
Assess your condition as you start care or monitor how you are progressing.
Prescribe individualized exercise programs with supporting videos or photographs.
Observe that proper form is utilized during prescribed exercises and provide proper cueing.
Progress your exercise program so you keep improving over time.
Teach self-care techniques with instruction regarding intensity.
Provide support for self-management, education, coaching and reassurance so you can understand your condition and your treatment plan.
Assess how you are performing daily activities in your home.
Assess your ergonomic setup.
Provide a functional movement examination.
Provide a prescription if necessary (chiropodist).
Similar to being in a clinic, our providers will review the care plan and make sure you consent to care and are informed of any risks. It is important to us that your personal health information is protected and that you are in a safe place to receive care. Providers are required to ensure the privacy and security of your personal information at all times. Cleveland Clinic providers have access to our electronic medical records remotely for continuity of your care.
Cost
Cost
Virtual visits with physicians are covered by OHIP.
Virtual visits with wellness providers and tele-rehabilitation services are being covered by a number of insurance benefit plans. If you are unsure if your care will be covered by your benefit provider, it is recommended that you contact them prior to initiating your treatment plan.
You will receive a receipt that you can submit to your insurance provider.
All prices include HST unless otherwise stated.
Rehabilitation Services
Physiotherapy
Chiropractic Care (HST exempt)
40 min session - $120 (Midtown)
40 min session - $153 (Downtown)
Osteopathy
50 minute session - $158.20
Chiropody (Foot Care)
Movement & Performance
This could include injury rehabilitation, chronic disease management, fitness assessment, personal training, Pilates and yoga therapy. Contact us for more info.
Assessment and exercise prescription - $333.35
Single sessions:
30 min - $113
60 min - $169.50
Packages of 8 and 12 sessions are also available. Contact us for details.
Wellness Services
Nutrition Counselling (HST exempt)

Single Sessions
Initial consult (60 min) - $195
Follow-up (30 min) - $99
Packages
90 min assessment plus 4 follow-up sessions (30 min each)- $625