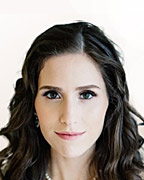 Biography
Talia Varley, MD, is the Physician Lead for Advisory Services at Cleveland Clinic Canada. Dr. Varley has a unique background that combines the rigour of medicine with the corporate training excellence of management consulting.
Dr. Varley holds a Masters of Public Health from Harvard University, a Bachelor of Science from Western University, as well as an MD and a Certification in the College of Family Physicians from McMaster University.
As the Physician Lead of Advisory Services, Dr. Varley drives the Medical Director program to provide non-healthcare organizations with a Chief Medical Director (CMD), backed by the Cleveland Clinic global enterprise. Dr. Varley is a member of Cleveland Clinic Canada's senior leadership team and complements her management role with ongoing medical practice in the growing fields of addiction medicine and chronic pain.
Known for her leadership skills, Dr. Varley has held strategic roles at Harvard Business School, the University of Toronto, McMaster University and SickKids Hospital. She previously worked in management consulting at McKinsey & Company across a broad spectrum of corporate mandates, from due diligence and cost reduction initiatives to employee experience design and digital lab strategy and launch. While there, she helped to build a digital talent engine and launch an enterprise agility transformation.
Dr. Varley has a keen interest in research and has been involved in numerous projects, including patient safety and quality improvement, neuromuscular disease, endocrinology and evidence-based medicine. Her research has been published on topics such as opioid use, surgical reconstruction and osteoporosis. Dr. Varley has also shared her expertise in the Globe & Mail's Leadership Lab, an op-ed column dedicated to providing career advice and insights for employees. She is actively involved in her community, volunteering her time with the Harvard Alumni Network, and previously at the National Ballet of Canada and Baycrest Center for Geriatric Care.
When she's not leading Advisory Services, Dr. Varley enjoys sculpture, creative writing, ballet dancing and barre classes, classical piano, scuba diving, sailing and playing volleyball.
Education/Training
Master of Public Health

Harvard University
Healthcare Management
Cambridge, Massachusetts

Residency

McMaster University
Michael G. DeGroote School of Medicine
Family Medicine
Toronto, ON
Doctor of Medicine

McMaster University
Michael G. DeGroote School of Medicine
Hamilton, ON
Bachelor of Science

University of Western Ontario
Schulich School of Medicine and Dentistry
Medical Sciences with Distinction
London, ON
Specialty Interests
Healthcare management
Organizational agility
Employee experience
Corporate strategy
Digital talent
Mental health
Addiction medicine
Chronic pain
Primary care
Awards & Honours
Ted Evans Scholarship (for clinical research and medical education)
Occupational and Environmental Medicine Scholarship (for work in environmental health)
McMaster University Rotary Bursary in Global Health (for leadership in global health initiatives)
Baycrest Geriatric Hospital Service Award (10 years of service)
University of Western Ontario Dean's Scholar
Excellence in Leadership Award, University of Western Ontario
University of Western Ontario Scholar for academic excellence and leadership
Millennium Scholarship for leadership and volunteerism
Miller Thompson Scholarship for community contribution and volunteerism
Queen Elizabeth Aiming for the Top Scholarship for academic excellence
Professional Memberships
Ontario Medical Association
Canadian Medical Association
College of Physicians and Surgeons of Ontario
College of Family Physicians of Canada