Department
Vascular Surgery
Primary Location
Cleveland Clinic Main Campus
Type of Doctor
Adults Only
Locations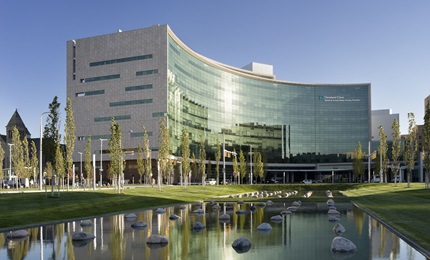 Primary Location
Appointment:

216.444.4508

Desk:

216.445.6031

Fax:

216.444.9324
Specialties & Treatments
Treatment & Services
Abdominal Aortic Aneurysm Repair
Amputation
Aneurysm Surgery - Traditional Open Surgery
Angioplasty
Angioplasty/Stenting for Mesenteric Artery Stenosis
Angioplasty/Stenting for Renal Artery Stenosis
Angioplasty/Stenting of PAD
Angioplasty/Stenting of Subclavian Artery
Angioplasty/Stenting of Vertebral Artery
Aorta Graft
Aorta Surgery
Aortic Aneurysm Open Repair And Endovascular Repair
Aortic Dissection
Aortofemoral Bypass Grafting
Atherectomy
Atherectomy for Peripheral Artery Disease
Atherectomy For Peripheral Vascular Disease
Atherosclerosis Surgery
Balloon Angioplasty For Peripheral Vascular Disease
Bypass Surgery
Bypass Surgery for Atherosclerosis/PAD/PVD
Bypass Surgery for Venous Disease
Carotid Artery Aneurysm Surgery
Carotid Endarterectomy
Carotid-Subclavian Bypass
Clinical Trials
Complex Aorta Surgery
Diagnostic Angiography
Endovascular Aorta Treatment - Abdominal
Endovascular Aorta Treatment - Thoracic
Endovascular Repair Of Abdominal Aortic Aneurysms
Endovascular Repair Of Carotid Artery Disease
Endovascular Repair Of Lower Extremity Ischemia
Endovascular Repair Of Renal And Mesenteric Disease
Endovascular Repair of Renal Artery Aneurysm
Endovascular Surgery
Endovascular Treatment of Lower Extremity Artery Disease
Endovenous Laser Therapy
Endovenous Surgery For Varicose Veins
Endovenous Thermal Ablation
First Rib Resection
In Situ Revascularization
Inferior Vena Cava Filters
IVC Filter Placement
Lazer Treatment Of Varicose Veins
Medical Management of PAD
Mesenteric Stents
Minimally Invasive Aortic Surgery
Minimally Invasive Cardiovascular Surgeries
Minimally Invasive Heart Surgery
Non-invasive Testing for Vascular Disease
Percutaneous Interventions For Vascular Disease
Renal Stents
Repair Of Aortic Aneurysms And Dissections
Repair of Venous Aneurysms
Resection of Carotid Body Tumors
Resection of Congenital Vascular Lesions
Retrieval Of Inferior Vena Cava Filters
Sclerotherapy
Screening and Testing
Stents
Stents For Peripheral Vascular Disease
Subfascial Endoscopic Perforator Surgery (SEPS)
Surgery for Peripheral Arterial Disease (PAD)
Surgery for Thoracic Aortic Aneurysm
Surgery for Thoracic Outlet Syndrome
Surgical Bypass for Visceral Ischemic Syndrome
Thoracic Outlet Decompression
Thoraco-Abdominal-Aneurysms
Thrombolysis
Thrombolytic Therapy For Arterial Disease
Thrombolytic Therapy For Venous Disease
Vascular Surgery Department
Vascular Surgery Services
Vascular Tests
Vein Ablation
Vein Ligation and Stripping
Vena Cava Filters
Venous Angioplasty/Stenting
Venous Stents
Venous Thrombolysis
Venous Valve Transplant
Vertebral Artery Surgery
Visceral Artery Aneurysm Surgery
Visceral Ischemic Endarterectomy
View all 85 Treatment & Services +
Specialty in Diseases & Conditions
Abdominal Aortic Aneurysm
Abdominal Aortic Aneurysm Treatments
Abdominal Aortic Aneurysmal Disease
Acute Foot Pain
Acute Ischemic Stroke
Adventitial Cystic Disease
Amaurosis Fugax
Aorta Disease
Aortic Aneurysms
Aortic Occlusion (blockage)
Arteriovenous Malformations
Atherosclerosis (vascular)
Axillary Artery Aneurysm
Blood Clots
Carotid Artery Aneurysm
Carotid Artery Disease
Carotid Body Tumor
Cerebrovascular Disease
Cerebrovascular Occlusive Disease
Chronic Mesenteric Ischemia
Chronic Venous Insufficiency (CVI)
Claudication
Collagen Vascular Disease
Congenital Valve Disease
Congenital Vascular Lesions
Deep Vein Thrombosis
Edema
Ehlers-Danlos Syndrome
Extracranial Carotid Artery Aneurysms
Femoral Artery Aneurysm
Fibromuscular Dysplasia (FMD)
Giant Cell Arteritis
Hepatic Artery Aneurysm
Hypertension - High Blood Pressure
Hypothenar Hammer Syndrome
Iliac Artery Aneurysm
Iliac Artery Occlusion (blockage)
Infected Grafts
Intermittent Claudication
Intestinal Ischemic Syndrome
Klippel-Trenaunay Syndrome (KTS)
Leg Circulation Problems
Lower Extremity Ulcers
Lymphedema
Marfan Syndrome
May-Thurner Syndrome (MTS)
Mesenteric Arteries Occlusive Disease
Pediatric Vascular Disease
Peripheral Artery Disease
Phlebitis
Popliteal Artery Aneurysms
Popliteal Artery Entrapment Syndrome
Pressure Ulcers
Pulmonary Embolism
Raynaud's Phenomenon
Renal Artery Aneurysm
Renal Artery Disease
Rest Pain
Splenic Artery Aneurysm
Stroke
Subclavian Artery Aneurysm
Subclavian Steal Syndrome
Superficial Thrombophlebitis
Superior Vena Cava Syndrome
Takayasu's Arteritis
Temporal Arteritis
Thoracic Aortic Aneurysm
Thoracic Outlet Syndrome
Transient Ischemic Attack (TIA)
Ulnar Artery Aneurysm
Varicose Veins
Vasculitis
Venous Disorders
Venous Insufficiency
Venous Leg Ulcers
Venous Stasis Leg Ulcers
Vertebral Artery Disease
Visceral Artery Aneurysms
Visceral Ischemic Syndrome
View all 79 Specialties +
Insurance
Insurance
Is Cleveland Clinic Part of Your Insurance?
Review a list of accepted insurance plans for our Northeast Ohio locations or learn more about purchasing a contracted managed care plan.
View All Plans
Biography
About Matthew Thompson, MD
Matt Thompson, MD, FRCS, is an open and endovascular surgeon in the Department of Vascular Surgery, Sydell and Arnold Miller Family Heart, Vascular & Thoracic Institute. He sees patients at main campus.
Specialty Interests: Abdominal aortic aneurysms, thoracic aortic aneurysms, thoracoabdominal aortic aneurysms, aortic dissections, carotid disease, peripheral vascular disease, venous disease
Experience:  Cleveland Clinic's Department of Vascular Surgery performs more than 5,000 procedures annually at 14 locations for patients with a broad spectrum of vascular diseases. Much of the department's experience is in re-operative surgery for patients who have had previous surgeries elsewhere, and the department serves as a major referral center for these and other difficult cases.
While on staff at St George's Vascular Institute (SGVI), London, UK, Dr. Thompson developed the institute's program for treatment of complex aortic disease, one of the largest such programs in the UK. He has an international reputation in this field with outcomes among the best in the world. He has performed more than 2,000 aortic procedures and is among the most experienced surgeons in the world with endovascular aneurysm sealing (EVAS).
Success Rates: Outcomes and statistics for specific vascular procedures at Cleveland Clinic are available at http://my.clevelandclinic.org/heart/about-heart-vascular-institute/treatment-outcomes.aspx.
Education: Dr. Thompson holds medical degrees from St. Bartholomew's Hospital Medical College, London, UK, and the University of Leicester, Leicester, UK. He trained at St. Bartholomew's Hospital and Whipps Cross Hospital, both in London, and Leicester Royal Infirmary, Groby Road Hospital and University of Leicester, all in Leicester. He completed his specialty training in vascular surgery in the UK and at St. Elizabeth Hospital in Adelaide, South Australia, Australia.
Dr. Thompson is a fellow of the Royal College of Surgeons.
Research, Publications and Speaking: During more than 30 years of basic and clinical research, Dr. Thompson has made major contributions to the theory and practice of vascular surgery, the basic science understanding of abdominal aortic aneurysms and ruptured carotid plaques, innovation and adoption of endovascular (minimally invasive) techniques and outcomes research related to health care delivery.
Dr. Thompson has published more than 400 papers in peer-reviewed medical journals and edited and published six major textbooks. He currently is the editor of the Oxford Handbook of Vascular Disease and the Oxford Textbook of Vascular Surgery and has served on the editorial boards of the European Journal of Vascular and Endovascular Surgery, Journal of Endovascular Therapy and Cardiovascular Surgery.
His named lectures include the prestigious British Journal of Surgery Lecture in 2016, the Chee Song Memorial Lecture at the British Society for Endovascular Surgery in 2014 and the Kinmonth Lecture at the Vascular Society for Great Britain and Ireland in 2010.
Dr. Thompson is a founder of the British Society for Endovascular Therapy and has held numerous honorary and leadership offices in professional organizations in his field.
About Dr. Thompson: "I have been an academic vascular surgeon throughout my career, which affords great opportunities to rigorously investigate the newest technologies and offer innovative therapies to patients."
Education & Professional Highlights
Education & Professional Highlights
Appointed
2020
Education & Fellowships
Residency - University Hospitals of Leicester
Vascular surgery

1998
Medical Education - University of Leicester
Leicester,
1994
Internship - University Hospitals of Leicester
Senior House Officer

1991
Internship - University of London
House officer Year
London,
1988
Graduate School - University of Cambridge
Cambridge, United Kingdom
1988
Medical Education - St. Bartholomew`s Hospital-Med. College
Medicine
England UK, UK (Archived)
1987
Awards & Honors
2017 - Lifetime Achievement Award, Vascular Society for Great Britain and Ireland
2016 - British Journal of Surgery Lecture
2014 - Chee Song Memorial Lecture, British Society for Endovascular Surgery
2010 - Kinmonth Lecture, Vascular Society for Great Britain and Ireland
2000 - Sol Cohen Founder's Prize, Vascular Society of Great Britain and Ireland
1999 - Moynihan Travelling Fellowship, Association of Surgeons of Great Britain & Ireland
1996 - Founder's Prize Vascular Society for Great Britain and Ireland
1995 - Hunterian Professor, Royal College of Surgeons of England
1994 - MD with Distinction, University of Leicester
1992 - First prize, European Society for Vascular Surgery

Research & Publications
Research & Publications
See publications for Matthew Thompson, MD.
(Disclaimer: This search is powered by PubMed, a service of the U.S. National Library of Medicine. PubMed is a third-party website with no affiliation with Cleveland Clinic.)
Industry Relationships
Industry Relationships
Cleveland Clinic physicians and scientists may collaborate with the pharmaceutical or medical device industries to help develop medical breakthroughs or provide medical expertise or education. Cleveland Clinic strives to make scientific advances that will benefit patient care and support outside relationships that promise public benefit. In order for the discoveries of Cleveland Clinic physicians' and scientists' laboratories and investigations to benefit the public, these discoveries must be commercialized in partnership with industry. As experts in their fields, Cleveland Clinic physicians and scientists are often sought after by industry to consult, provide expertise and education.
To assure professional and commercial integrity in such matters, Cleveland Clinic maintains a program that reviews these collaborations and, when appropriate, puts measures in place to minimize bias that may result from ties to industry. Cleveland Clinic publicly discloses the names of companies when (i) its physicians/scientists receive $5,000 or more per year (or, in rare cases, equity or stock options) for speaking and consulting, (ii) its physicians/scientists serve as a fiduciary, (iii) its physicians/scientists receive or have the right to receive royalties or (iv) its physicians/ scientists hold any equity interest for the physician's/scientist's role as inventor, discoverer, developer, founder or consultant.* In publicly disclosing this information, Cleveland Clinic tries to provide information as accurately as possible about its physicians' and scientists' connections with industry.
As of 12/6/2021, Dr. Thompson has reported the financial relationships with the companies listed below. In general, patients should feel free to contact their doctor about any of the relationships and how the relationships are overseen by Cleveland Clinic. To learn more about Cleveland Clinic's policies on collaborations with industry and innovation management, go to our Integrity in Innovation page.
Fiduciary Role. Dr. Thompson serves in a fiduciary capacity, such as an elected officer, director or chief medical officer, for the following companies or other entities:
Public Health Service-Reportable Financial Conflicts of Interest. Cleveland Clinic scientists and physicians engage in basic, translational and clinical research activities, working to solve health problems, enhance patient care and improve quality of life for patients. Interactions with industry are essential to bringing the researchers' discoveries to the public, but can present the potential for conflicts of interest related to their research activities. Click here to view a listing of instances where Cleveland Clinic has identified a Public Health Service (PHS)-Reportable Financial Conflict of Interest and has put measures in place to ensure that, to the extent possible, the design, conduct and reporting of the research is free from bias.
* Cleveland Clinic physicians and scientists subscribe to the guidance presented in the PhRMA Code on Interactions with Healthcare Professionals and the AdvaMed Code of Ethics on Interactions with Health Care Professionals. As such, gifts of substantial value are generally prohibited.