Department Thoracic and Cardiovascular Surgery
Primary Location Cleveland Clinic Main Campus
Type of Doctor Adults Only
Languages English
Surgeon Yes
Locations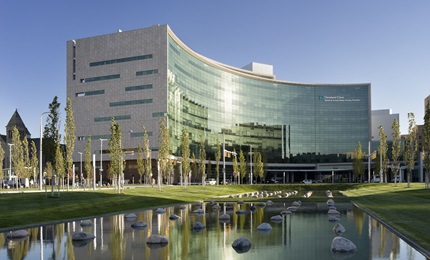 Primary Location
Appointment:

216.445.6860

Desk:

216.445.8140

Fax:

216.445.6191
Specialties & Treatments
Treatment & Services
Bronchial Biopsy
Bronchoscopy
Bronchus Surgery
Chest Surgery
Claggetts Window
Diaphragm Surgery
Diverticulectomy
Esophageal Surgery
Esophagectomy
Esophagogastroduodenoscopy
Esophagus Endoscopy
GERD Surgery
Heller Myotomy
Laparoscopic Antireflux Surgery
Lobectomy, VATS Lobectomy
Lung Lesion Surgery
Lung Surgery
Mediastinal surgery
Mediastinum Surgery
Minimally Invasive Thoracic Surgeries
Nodulectomy
Pericardial Window
Pleurectomy
Pneumonectomy
Robotic Esophagectomy
Robotic Lobectomy
Robotic Thoracic Surgery
Thoracentesis
Thoracic Surgery
Thoracic Surgery Department
Thoracoscopic Surgery
Tracheal Resection
Tracheostomy
Video-Assisted Thoracic Surgery (VATS)
Wedge Resection
View all 35 Treatment & Services +
Specialty in Diseases & Conditions
Achalasia
Barrett's Esophagus
Cancer
Carcinoid Syndrome
Chronic Obstructive Pulmonary Disease (COPD)
Collapsed Lung
Collis Nissen/Nissen
Diaphragm Hernia
Emphysema
Epiphrenic Diverticulum
Esophageal Cancer
Esophageal Perforation
Esophageal Stricture
Esophagitis
Esophagus Disease
Gastroesophageal Reflux (GERD)
Hiatal Hernia
Interstitial Lung Disease (ILD)
Lung Abscess
Lung Cancer
Malignant Mesothelioma
Mediastinal Tumor
Mesothelioma
Pectus Excavatum
Pericardial Effusion
Pleural Effusion
Pneumothorax
Pulmonary Hypertension
Swallowing Disorders
Thymoma
Tracheal Stenosis
Tracheoesophageal Fistula
Tracheomalacia
Zenker's Diverticulum
View all 34 Specialties +
Insurance
Insurance
Is Cleveland Clinic Part of Your Insurance?
Review a list of accepted insurance plans for our Northeast Ohio locations or learn more about purchasing a contracted managed care plan.
View All Plans
Biography
About Alejandro Bribriesco, MD
Alejandro C. Bribriesco, MD, is a thoracic surgeon in the Department of Thoracic Surgery in the Sydell and Arnold Miller Family Heart & Vascular Institute. He sees patients at the Cleveland Clinic main campus.
Specialty Interests: Lung transplantation, minimally invasive and robotic thoracic surgery, pulmonary (lung) nodules, lung cancer, esophageal cancer, repair of hiatal and paraesophageal (next to the esophagus) hernias, acid reflux surgery, achalasia, mediastinal (between the lungs) tumors
Number of Patients Treated: Cleveland Clinic thoracic surgeons annually perform more than 1,700 thoracic procedures, with each thoracic surgeon completing 350 to 450 surgeries a year. During his fellowship training, Dr. Bribriesco developed specialized expertise in lung transplantation and minimally invasive and robotic surgery for patients with lung or esophageal cancer. 
Education and Training:  Dr. Bribriesco earned his undergraduate degree in biology magna cum laude from Yale University, New Haven, Connecticut, and his medical degree from the University of Pennsylvania School of Medicine, Philadelphia, Pa. He completed his residency in general surgery and a fellowship in cardiothoracic surgery at Washington University/Barnes-Jewish Hospital, St. Louis, Mo. His fellowship included subspecialty training in thoracic cancer surgery at Memorial-Sloan Kettering Cancer Center, New York, NY, and lung transplantation at the University of Toronto, Ontario, Canada. Dr. Bribriesco joined the Cleveland Clinic medical staff in 2017.
Research, Publications and Speaking: During his residency, Dr. Bribriesco also completed a two-year research fellowship in the Department of Cardiothoracic Surgery at Washington University School of Medicine. His laboratory research included basic science investigation of the immune system after lung transplantation. He has published papers in medical journals, primarily on lung transplantation, and presented his research on that topic at conferences including the American Association of Thoracic Surgery annual meeting in 2016.
About Dr. Bribriesco: "It is important to remember that caring for patients involves much more than just treating their disease.  Building trust through open and honest communication is at the heart of patient care, and I make sure my patients know that we are partners throughout the process.  For me, the patient is the most important person on the health care team.  Taking the time to listen and explain everything is essential."
Leisure Activities: In his leisure time, Dr. Bribriesco enjoys spending time with his family, watching sports, exercising and visiting museums.
Education & Professional Highlights
Education & Professional Highlights
Appointed
2017
Education & Fellowships
Fellowship - Washington University
Thoracic Surgery
St. Louis, MO USA
2017
Residency - Washington University
General Surgery
St. Louis, MO USA
2015
Medical School - University of Pennsylvania
Philadelphia, PA USA
2008
Undergraduate - Yale University
New Haven, CT USA
2004
Certifications
Specialty Interests
Lung transplantation, minimally invasive and robotic thoracic surgery, pulmonary (lung) nodules, lung cancer, esophageal cancer, repair of hiatal and paraesophageal (next to the esophagus) hernias, acid reflux surgery, achalasia, mediastinal (between the lungs) tumors
Research & Publications