Innovation in the UAE: Part 2
February 24, 2021
Jump back into part two of our conversation with Dr. Rakesh Suri, CEO, Cleveland Clinic Abu Dhabi. The doctors dive into digital innovation, how caregivers in Abu Dhabi helped us in Cleveland during the pandemic, and how CCAD is working to tackle healthcare disparities in their corner of the world. Dr. Suri will become the President of International Operations for Cleveland Clinic on March 31, 2021.
Subscribe: Apple Podcasts | Google Podcasts | SoundCloud | Spotify | Stitcher | Blubrry
Innovation in the UAE: Part 2
Podcast Transcript
Will Morris, MD:
Welcome back to our conversation with Dr. Rakesh Suri, President and CEO of Cleveland Clinic Abu Dhabi.
Rakesh Suri, MD:
Let me fast track into digital innovation. We were in the unusual situation of being closer to Wuhan in January 2020 than any other U.S. Academic medical center. Moreover, we exist at the crossroads of global travel. When some of our leaders stood in our auditorium for our daily safety huddle at 7:30 each morning in January, early January 2020, we heard of the first cases coming out of the Far East in Wuhan. We turned to each other and we said, "What if such a patient, a febrile patient with a strange respiratory illness, ends up in our emergency department?" Which is a very common scenario. How would we know this is coronavirus? It wasn't called COVID-19 at that point, of course. How would we diagnose it? How would we care for that patient? And how would we protect our caregivers? These are the things we asked ourselves as organizational leaders.
Rakesh Suri, MD:
What we quickly aligned on is the fact that we had to bring PCR testing in-house. It was a mandate. We couldn't wait for a CDC or an FDA or an Ohio government to tell us because there was no such direction. We literally turned to our pathology PLMI colleagues and said, "Please source the best test possible and bring it in-house." They're so innovative and so creative and so nimble, that they literally had us performing PCR at Cleveland Clinic Abu Dhabi and Mubadala Healthcare within a couple of weeks. Just a phenomenal example about how quickly innovation and speed to care for our patients and caregivers, moves at Cleveland Clinic Abu Dhabi. It's truly been a privilege to serve them all in my role.
Will Morris, MD:
Well, in addition, I'd be remiss not to acknowledge recently that your own nursing staff had traveled to Cleveland to serve the patients as we experienced our third peak. And so that systemness, I'd say that's innovative. That's the ability to share our blessings of capacity and willingness to help, even if it means an unbelievable plane ride. Thank you and unbelievable.
Rakesh Suri, MD:
No, it's our pleasure. And I hope I'm conveying the fact that innovation is a part of everything we do, and it's probably good to define innovation from our perspective. Innovation is creativity productively applied, or invention practically applied. We utilize this principle in literally everything we do.
Rakesh Suri, MD:
Let me speak a little bit about digital innovation. When our new Chief Information Officer, Bryan Lord was promoted to CIO back in 2018, we had a conversation and it roughly went like this. "We want to offer our patients and our providers the best experience possible in healthcare anywhere." Acknowledging that the three enduring problems, there's many problems in healthcare globally, or challenges, but the three enduring ones that everybody, everybody focuses on, whether it's Los Angeles, Rochester, Minnesota, Boston, London, or Shanghai are the following. Access, patients just can't get the access to our services that they want, prefer, or need. And we have to be brutally honest with ourselves.
Rakesh Suri, MD:
Number two, is coordination of care. Whether you're in dermatology clinic and need to go to heart surgery clinic, or you're having your blood drawn and you need to go to the dental clinic, it is inordinately complex for patients to navigate our systems. Therefore, coordination of care within the healthcare milieu and between us all, needs a significant uplift. The third is the experience for patients and providers. We all know that burnout is at a historic high due to many reasons, including COVID being one of them. Also, patient satisfaction with our services, despite the fact that they're becoming more and more complex and more and more innovative, have seen some of the lowest of the lows. Therefore, we need to be focusing on experience for patients and experience for caregivers, because we know these things are synergistic. So access, coordination, and experience.
Rakesh Suri, MD:
If we stand back and we see technology for what it is as an enabler and not as an end in itself, we had that very sort of forward-looking approach, that we would deploy that very avidly through all aspects of the patient care continuum. From keeping patients healthy in the community, to diagnosing them early on, keeping them in their homes for as long as possible, to allowing them to book appointments real time, be able to choose a physician or nurse and change appointments real time on their smartphone, to having them be reminded of their appointment, wayfind to their appointment, register for their appointment, perform the preoperative checklist, to be able to way-find between appointments, to ordering their pharmaceuticals on their way out the door, to home delivery, to the use of wearables in the community, all feeding into our databases and machine learning algorithms.
Rakesh Suri, MD:
We now have a home-built, in-house built end-to-end app that allows us to in an iterative way tackle each of these things. Our philosophy is, prototype quickly, fail fast, re-pivot quickly, and study how you're doing. I'm very, very proud of our team, not only clinically, but information technology, in fact the entire executive team and everybody that they lead, for bringing forth this app, launching it, and touching the lives of literally thousands and thousands of patients, all fast-forwarded through the COVID pandemic.
Will Morris, MD:
I'm going to ask, when are you going to bring that to Cleveland? [crosstalk 00:07:00]
Rakesh Suri, MD:
We're very avidly sharing everything that we have here, and we know that there's a bilateral paradigm that exists, and actually multilateral, right? We've learned from Florida through Connor, and [Welbarsoum 00:07:18] from London, Brian Donnelly. In fact, our former Chief Information Officer from Abu Dhabi now leads London main campus. And then soon, our other centers coming online. Well, Canada of course exists and then Shanghai. We're very, very excited about this new era of multi-nodal, multifaceted collaboration that is going to drive innovation across our global enterprise.
Akhil Saklecha, MD:
So, the way that you described all of this Rakesh, it sounds very much to me like it really was a startup in a way. Abu Dhabi, I mean, the buildup you described and even division that you laid out and leading to a combination around the app that you just noted, very much like a startup. I like the comment about, recognizing failure and failing fast when needed. I'm curious, if you think about the startup community in the Middle East itself. Obviously, it's not as robust, but it's still present. I mean, I've seen startup companies actually succeed quite well in the Middle East. How does the organization engage with startups there? How do they work with the entrepreneurs? What access do you give them? Any examples of any of that?
Rakesh Suri, MD:
Yeah. Very many. This is milieu in an environment that was Silicon Valley 30 years ago. All of the essential components exist. It's the same. You take the same parallels that I mentioned from clinical care. There is a desire for new technology, there's a very visionary perspective from all leaders, all the way from the top, at all levels of society. And then there are strong partnerships, Microsoft, Google, tech companies from around the world, all partnering with NYU, Cleveland Clinic, and other healthcare systems. We are actually seeing a tremendous investment in tech and startups, and there are some very novel incubators being put together in Abu Dhabi and Dubai, and in fact, the whole region. Our prediction here is that you're going to see, and we're going to see a rapid escalation of these onto the world stage very, very quickly.
Rakesh Suri, MD:
Let me give you a couple of examples. The UAE has the second, most highly densely vaccinated population on the planet for COVID-19. I bet you didn't know that. And not only was it at one point, and maybe still is, the most highly tested population on the planet, with innovating PPE and then to the testing, the PCR tests, and deploying it, closing the borders, tracking, isolating, caring for the population that led to a rapid flattening of the curve, but very quickly pivoted to be deploying one of the most effective and widely utilized vaccines anywhere on the planet, right here in Abu Dhabi and the UAE. We now today have, I think over two million people vaccinated out of a country's population of nine million people. If you think about that sort of cadence of innovation and some of the randomized trials being performed here in July, and now the data has been submitted to new England Journal and other high-end journals. That will be very, very important to affirm the integrity of that innovation, and to build a sense of confidence globally, and what can be done here in Abu Dhabi, the UAE and the region.
Rakesh Suri, MD:
So the bottom line, this is one small example, of very many things that are ongoing, and are just under the radar, but just about to be launched and come to awareness on a global level. Again, the prediction of us all is that this will be Silicon Valley, or Oregon, or the Boston of yesteryear, and certainly compete with those iconic centers on a global level.
Will Morris, MD:
Just listening, you speak with such humility and reverence for the diversity of people coming together all with a singular mission and cause, without kind of bias of this is how we've done things, but this is what we could do, and what great things can do unencumbered. We're coming up on time. Back to the community efforts, tell us a little bit about kind of how healthcare has been. In the United States, we have health disparities and one of our vexing issues beyond COVID is how we can address these needs. What is your role kind of on the community side? I mean, not just serving the patients those in need, but really establishing the level of care, breaking down barriers, and like you said before, access and affordability.
Rakesh Suri, MD:
When you think about care for population, this is again something that the visionary leaders of Abu Dhabi and the UAE have deployed very early on. Everybody living in the UAE has healthcare insurance. If you think about it, it makes so much sense. Because, these are people you're welcoming to your nation who are productively contributing to society, the economy, schools, in our case, the health of the nation. It's important to take care of them and their families. When you take care of people that you work with, or their families, they take great care of patients. When everybody sort of has this mutual interest in doing what's right, then all of society aligns. That's what I mentioned earlier was one of the three characteristics that really made tackling COVID and flattening the curve so successful here, is that everybody was willing to collaborate and comply without being forced to do so.
Rakesh Suri, MD:
It was really heartwarming and very humbling. When I think about how we functioned within that greater healthcare milieu, and another story is worth mentioning. Very early on when we're seeing these curves rise globally, and also in the UAE and in Abu Dhabi at one point, we did the math and utilized the calculators, and we were overwhelmed with the specter of what could have happened in overwhelming and swamping the ICU's. Therefore, it was very clear we couldn't tackle this on our own. It was at that point that as I mentioned, the very foresightful leaders of Abu Dhabi and the nation came into play, and set up a task force for Abu Dhabi in the nation. They coordinated all, not only at the PPE, but the food, the water, the medicines, the vaccines, the testing, and the healthcare spaces, and the healthcare workers, to all have us work in concert without brand priority or superiority.
Rakesh Suri, MD:
Our role in the pandemic was to treat the sickest of the sick, with Cleveland Clinic quality, innovative care. In doing so, we set up some of the most complex intensive care units anywhere. We had the expertise of Jorge Guzman and [Medu Sasidhar 00:15:26] who had tackled SARS and H1N1, and Ebola in their prior lives. We had Mark Petri who had set up a number of really remarkable salvage systems at Cleveland in Northeast, Ohio, Sue Behrens, our chief nursing officer, who had dealt with similar things in Illinois, and the list goes on and on and on. What we're able to do is come together, and form the backbone of salvage for the nation, for the sickest of the sick. So people would only come to us, if they failed two or three other hospitals. We were their safety net. And Jorge and Medu and others utilized proning that we use at main campus.
Rakesh Suri, MD:
And then Murat Tuzcu, chair of Heart and Vascular Institute brought in all the ECMO machines in the nation. We're the nation's backbone for providing extra corporeal membrane support for those poor patients who failed every modality and were on death's doorstep. And I'm very proud through all those coordinated efforts, both within CCAD and within the greater healthcare milieu around Abu Dhabi in the nation, we saved very, very many patients who would otherwise have died. That was an aha experience for all of us. We have never seen before in our prior lives, this level of coordination, humility, collaboration, and interdisciplinary effort, being brought forth to save and uplift the health of a community in a nation. And it was something that made us all very proud and we're humbled to see every day. Again, I want to call out the heroic caregivers like Cleveland Clinic Abu Dhabi, and through Abu Dhabi in the nation, who literally put their own health and safety at risk, when this virus was still as yet undefined.
Rakesh Suri, MD:
Of course, now we look back at the science, et cetera. I mean, we were facing this, this virus COVID-19 in January and February, 2020 before any publications were out there. So it's really a remarkable story that none of us will ever, ever forget, and truly makes us proud to be Cleveland Clinic caregivers.
Will Morris, MD:
Well, I can't thank you enough and your team. And frankly, your passion, your sage comments on what it means to serve both the patients, the community, those in the UAE, but then more importantly, as a global icon of beacon of how we collaborate, how we break down barriers and ultimately, how we can better serve our patients. Dr. Suri, thank you so much for joining myself and Akhil. It has been an absolute pleasure. I certainly learned so much about what it took in your journey, but more importantly, where this journey will go. And we watch with excitement with reverence and appreciation. So thank you.
Rakesh Suri, MD:
Thank you both. And a message to everybody out there. Cleveland Clinic Abu Dhabi is a wonderful place to work. We're always looking for great talent and we invite you to visit and experience it firsthand.
Will Morris, MD:
I love it. On the podcast for those who cannot see, we're visualizing Dr. Suri's background, which I assure you is not snowy and gray. It is absolutely spectacularly beautiful. With that, this is Will Morris with another Health Amplified, thank you.
Health Amplified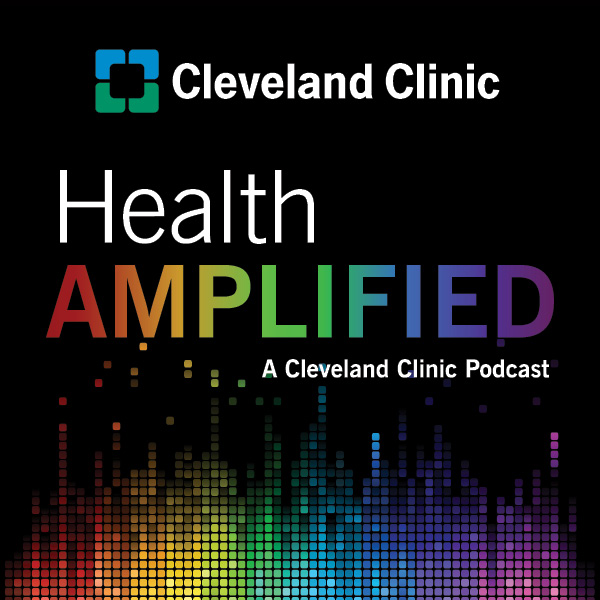 A Cleveland Clinic podcast about innovating, venturing, and amplifying powers of healthcare change through strategic business and product development. Listeners will gain knowledge of healthcare's latest trends, areas of opportunity, and up-and-coming health solutions through Cleveland Clinic's network of dynamic thought leaders. Join hosts Will Morris, MD, and Akhil Saklecha, MD, executives and clinicians at Cleveland Clinic, as they explore the world of healthcare innovation from the city of Rock & Roll.
Subscribe: