Innovation in the UAE: Part 1
February 15, 2021
In part one of this two-part series, Drs. Morris & Saklecha sit down with Dr. Rakesh Suri to talk about Innovation at Cleveland Clinic Abu Dhabi. Listen in as the doctors discuss opening an outpost halfway around the world, hiring the right talent to wear the Cleveland Clinic name, and scaling innovation in the United Arab Emirates.
Subscribe: Apple Podcasts | Google Podcasts | SoundCloud | Spotify | Stitcher | Blubrry
Innovation in the UAE: Part 1
Podcast Transcript
Will Morris, MD:
Hello, this is Dr. Will Morris with another Health Amplified podcast, a Cleveland Clinic innovation podcast. We're absolutely honored to have Dr. Rakesh Suri, who is the president and CEO of Cleveland Clinic Abu Dhabi. Joining myself and as always, Dr. Akhil Saklecha. Dr. Suri is obviously the CEO of our Cleveland Clinic venture out in Abu Dhabi. And before that, he was chief of staff responsible for bringing many international caregivers around the world to this unbelievable endeavor, driving both innovation and care transformation, and ultimately the culture of the Cleveland Clinic to the region. We are honored to have Dr. Suri here to discuss innovation, the landscape of innovation around the United Arab Emirates and get his perspective on the differences, the contrast between local innovation and that in the region, perhaps in the EU and then the United States. So Dr. Suri, thank you so much for joining us, and it is an absolute pleasure.
Rakesh Suri, MD:
Will, and Akhil, the pleasure's all mine and I speak on behalf of 6,000 remarkable caregivers at Cleveland Clinic Abu Dhabi. So looking forward to our hour ahead.
Will Morris, MD:
So, I'll kick it off and obviously you're running an unbelievable clinical enterprise, which rivals all in the region, but innovation is still part of our culture. And perhaps as a surgeon and innovator, how do you actually drive the culture of innovation, particularly when you're hiring such talent from such a diverse geolocation?
Rakesh Suri, MD:
So the first thing that I'd like to mention is this started out as a vision many years back. Toby and Tom were both innovators in their own right and that's why when we began discussing potentially working together many years ago, it was a natural fit. The core value of the Cleveland Clinic that's different from Mayo Clinic, where I came from is innovation. And that was something very, very important to all of us that I mentioned. Now, Toby obviously set the vision for Cleveland Clinic Abu Dhabi some 16 years ago with His Highness Sheikh Mohammed. And if you think about it, that was truly a bold and innovative move, meaning how could we create for the first time ever a purpose built ground-up US medical center outside of continental US. It had never before been done.
Rakesh Suri, MD:
So truly a bold and innovative step. And then there was Marc Harrison, who built the building, Tom and I and others who opened it, and now we have the privilege of running this magnificent organization. But from that initial innovative concept to how the building was built to how it was opened and launched, how the service lines grew and how we continue to pivot through operations is really a magical story of innovation. And we're delighted to share it with you today in some small part. Let me take you back to heart surgery. Toby was an innovator in how to fix the mitral valve long before most surgeons were even considering it. And of course, the advantages of saving a patient's mitral valve are now well known. We know that patients live longer, they have less complications and they're able to be free from lifelong anticoagulation. That was truly a groundbreaking concept when he was at the peak of his career.
Rakesh Suri, MD:
Therefore, Tom and I very much admire him and then contemporaneously him at Cleveland and me at Mayo, brought robotics to take that concept and bring it into the closed chest milieu with our respective teams. We developed a fondness and respect for each other, despite being competitors. And then once this new vision came on the scene of taking innovation from Ohio and Florida and bringing it to Abu Dhabi, it was really an intersection of lifelong ambitions of Tom, Toby and I. So, many people don't know that story, but I think it's a fitting backdrop to how we all got here.
Will Morris, MD:
Well, I think it's a testament that innovation is not necessarily the things we do to better patient care, and those are all important, but actually it sounds like it's an important recruitment strategy. And it was for you finding a place that respected kind of people who are dissatisfied with the status quo and are already questioning how do we do things better?
Rakesh Suri, MD:
Exactly. And it wasn't only about doing things better, quicker, cheaper, more value-based, but it was in recognition that we as physicians and caregivers at two great organizations, Mayo and Cleveland had this passion of transforming healthcare for populations. And then if you perform or you map out a six-hour flight radius around our typical surgical jurisdictions in the US, whether it's Cleveland or Rochester, Minnesota 400 to 500 million people's lives we can touch. If you do that same flight radius, six to seven hours around Cleveland Clinic Abu Dhabi, it's a staggering 3 billion people. And we're seeing that in really expanding ways month after month. We've grown 20% to 30% month after month since we opened our doors in 2015. In fact, let me back up. We have grown 20% to 30% year-on-year with growth that has been amortized month after month through that period.
Rakesh Suri, MD:
And we see no signs of it stopping even through the COVID pandemic and emerging from it, demand for Cleveland Clinic quality and innovative care has never been higher. We're already exceeding our budgets in January in terms of outpatient, surgical, inpatient, and other types of ways we touch patient's lives. So we're very, very excited.
Akhil Saklecha, MD:
Are there examples, when you were talking about innovation being brought to Abu Dhabi, are there examples that the innovation came to you and it translated well, and then innovation that maybe have to be modified or changed based on the demographics, the culture, the setting? Any ideas on that, because I'm very curious as to how things adapt or translate?
Rakesh Suri, MD:
So I think for our audience, it's probably helpful to map out the value chain that we offer our patients and it overlaps nicely with how we acquire our patients, how we diagnose them, allocate them to the appropriate therapy and then follow them up. So immediately when we arrived and open our doors, we recognized that we were a sort of a diamond in the rough, meaning we existed in isolation. And therefore, we had to figure out innovative ways to acquire patients. Many patients didn't know they had heart disease or brain disease or digestive disease, and subsequently other programs we've added transplantation, cancer, we are the nation's only multiorgan transplant program. And now we're building a 10-floor state-of-the-art globally highlighted cancer center. So, these things all came in sequence, but we had to begin with the patient, how are we going to find and acquire and touch the lives of patients who needed us most?
Rakesh Suri, MD:
So, we had to be very nimble. Tom and I, and others, other leaders in the organization went back to being on-call. We saw patients in the emergency department, we opened the chest, we closed it skin-to-skin. We slept by our patient's bedsides when they were in the intensive care unit for the first night. We had to be innovative about how we saw our patients in clinic, how we cared for them in the ICUs and then how we follow them up. And that was a very eye-opening experience. It was very humbling, but it was very grounding and it taught us how we can still be doctors and nurses and bring back the joy of caring for patients firsthand for end-to-end, and also be innovative in terms of how we acquired our patients, how we treated them and how we led an organization. Truly, truly innovation at every single level.
Rakesh Suri, MD:
So if you fast forward beyond that, we began to understand that we were a staff of all consultants and therefore without residents and fellows, we need to be very nimble and very foresightful about how we could expand our reach to patients. And therefore, we made a very bold move in hiring clinical associates in 2015 and into 16. And this was a new concept for Cleveland Clinic Abu Dhabi and in fact, the UAE, because we had very, very high standards, not only in terms of the consultants we brought to Cleveland Clinic Abu Dhabi, but also the associates. And every associate, I remember the early days when Tom and I and other leaders were speaking so avidly about this concept, had to be worthy of being endowed with the Cleveland Clinic Abu Dhabi and the Cleveland Clinic logo.
Rakesh Suri, MD:
And therefore, no one who works at Cleveland Clinic Abu Dhabi would be someone who we wouldn't hire at the main campus. And this again, an innovative concept. So, we had to extend our capabilities as consultants. We had to hire a whole new cadre of individuals never before seen here in this region. We also had to hire and train and approve nurse practitioners. Again, a new concept. And then once we built the pipeline, we had to get used to seeing patients who are undifferentiated. So I still remember the early days when Tom and I were in clinic and we would literally see patients with hypertension or hyperlipidemia. And of course, there's mitral valve surgeons who only went to clinic and saw 12 patients requiring high-end mitral valve repair every day. This was a very humbling and very authentic relearning process of what it would take to get a patient into Cleveland Clinic and Cleveland Clinic Abu Dhabi.
Rakesh Suri, MD:
Once we evolved about a year or two down the line, our reputation grew and the referral patterns from non-aligned primary, secondary physicians grew, but yet we still needed to build that robust in-house capacity. So we made another pivot where we developed a whole primary care section. We were never envisioned or were planning to develop primary care as a core offering at Cleveland Clinic Abu Dhabi because we're abroad to deliver the most complex and coordinated care available, essentially anywhere in the region, preventing people from having to travel abroad. But we figured out pretty quickly that we needed to develop that in-house referral as screening and triage system in order to be able to feed eye care, brain care, heart care, digestive disease, and then transplantation and cancer. The innovations go on and on and on, but let me leap forward into what I think you're getting at, and that is the traditional innovations that we see in North American medicine, which roughly can be broken down into drugs, devices, or IT.
Rakesh Suri, MD:
We started out of the gates, thanks to the very visionary perspective of my forebearers, Marc Harrison and Tom Mihaljevic with the best of the best equipment. These are pieces of equipment that we utilized day in and day out, back at the main campus or Mayo or other places and these roughly can be summarized in the following way. Robotics, transcatheter, minimally invasive digestive disease operations that Matt Crowe pioneered at main campus and around the world. Awake brain surgery that some of our brain surgeons have pioneered in Europe, North America and others. We truly have not only the talent, but also the devices to be able to deliver this type of care. Moreover, as new devices, particularly in my own field of percutaneous mitral valve repair became available in Europe, we were able to fast-track the deployment here in the UAE because we were unencumbered by prior legacy systems that we would typically face in the US.
Rakesh Suri, MD:
And number two, we partnered very fruitfully with the regulators and the leaders of healthcare. And in fact, the leaders of the nation to fast-track approvals through historic barriers. So when you take that small example and you replicate it thousands of times across your organization, what you're really creating and seeing at Cleveland Clinic Abu Dhabi is a innovative hub, where literally everything that we do is challenged, tweaked, improved and followed with appropriate metrics to ensure that we're always getting better and never resting on our laurels.
Will Morris, MD:
So, we could make this like a three-day podcast. You touched upon two things. One is you're building the pipeline through the clinical associates, right? So you're trying to build the supply, so to speak, your capacity to meet the demand. But just looking at the numbers of your just year-on-year growth, how do you scale? And I think about the US and what we're facing, obviously with COVID and using telemedicine and digital, I'm curious, what is it like culturally? What is it like from a policy perspective? Where do you see technology, technology is never just the solution, it's an enabler of something, but how do you see telehealth play as a strategic asset in your toolbox?
Rakesh Suri, MD:
So I think another context-setting statement is helpful to you all and the audience that we're beaming out to. There's three things that we've learned at Cleveland Clinic Abu Dhabi that help us deliver our model of care globally. The first is bringing our offerings to a population that needs us, and there was a desperate need for Cleveland Clinic services, offerings and innovation. Not only in Abu Dhabi, the UAE, but in this hemisphere. So there was a dire need for what we're offering to prevent people from traveling abroad. The second is we had very visionary leadership in Abu Dhabi, in the nation and again, the region. There's a true appreciation of the fact as the late Sheikh Zayed said, who was a patient at Cleveland Clinic in Ohio and the visionary behind what would become Cleveland Clinic Abu Dhabi said that the wealth of a nation is linked to the health of its people, paraphrased.
Rakesh Suri, MD:
And that truly visionary perspective has cascaded forwards into the sons and family of the late Sheikh Zayed. And we're privileged to be supported and be partnering with those leaders, truly, truly visionary. And the third, there needs to be very invested stakeholders who are willing to commit, lean in through the ups and downs, and then be there to pivot moving forward. And in our case that's Cleveland Clinic brought forth by Toby Cosgrove and that now Tom and Mubadala Health, Mubadala as one of the largest sovereign wealth funds in the world and represents essentially the Abu Dhabi government. So it's these three things, need to the people, visionary leadership and great global stakeholders willing to lean in, take a chance and commit to each other.
Rakesh Suri, MD:
This sets up a milieu for success, because it hasn't always been easy. As I said, there's been ups and downs and challenges and fits and starts, but what's certain and what's been amazing to now look back is it's been... Despite the undulations, an upward trajectory, whatever we speak about. From clinical care, to safety, to quality, to patient experience, to now cost, all improving the value equation. So that's the context. How do we continue to... I think your question specifically was how do we continue to innovate? Is that, Will?
Will Morris, MD:
How do you scale with such demand, right? And I'm going to use telehealth, but perhaps there are other means. I'm curious both, what is the appetite for the community in which you serve for innovation and these novel ways to experience healthcare? Again, what I hear is they need the basics, they need the expertise, they are dying for your service, just bar none. What is the strategy to kind of take it to the next level to provide perhaps digitalized services, a digital Cleveland Clinic Abu Dhabi to a broader community? Is there an appetite?
Rakesh Suri, MD:
Yeah. So scale, appetite for innovation and digital, all of these three things have slightly different narratives. So let me take them one at a time. Scale is not a problem. Let me explain why. This hospital was built to offer our [inaudible 00:19:19] services, surgical and procedural and critical care. And as such, we can care for those needs for the entire nation. While we started locally and had to build our own healthcare ecosystem, we also brought in services into the building, which undoubtedly in the future under very visionary leadership that we enjoy here in the UAE and in Abu Dhabi will allocate right patients, right providers, right location, right services, right time. So we see that as being fast-tracked in a big way here in Abu Dhabi and the most immediate ecosystem that we're part of is Mubadala Healthcare.
Rakesh Suri, MD:
They've developed and now launched on January 1st, an integrated healthcare network that will collaborate not only within the assets, but also with adjacent assets, whether they're a competing public healthcare system called, SEHA, which formerly had Sheikh Khalifa Medical City, our first hospital that we manage here in Abu Dhabi, as well as the private partners in Abu Dhabi and eventually the nation. So, that's where this is going well. As the nation eventually develops a coordinated primary and secondary healthcare network, and these providers exist. They just need to be connected in a way that's incentivized to bring value to the patient population and healthcare ecosystems and nation, then these things are all going to coalesce into a coordinated milieu. And when it does, we're going to be able to reallocate some of the services in Cleveland Clinic Abu Dhabi to our partners, and really focus on our core center of excellence care, which again, are eye, brain, respiratory critical care, heart and vascular, digestive disease and now is the nation's only multiorgan transplant program and state-of-the-art cancer center will add those.
Rakesh Suri, MD:
Important to speak about transplantation, transplants never had been performed in the nation before we arrived and cadaveric transplants. The brain-dead donor law was passed in 2017. And since that's happened, we performed approximately 107 transplants. In fact, as we speak, Will and Akhil, there's a cadaveric liver transplant going on downstairs. And it's not only cadaveric, these are split liver living-related transplants, pancreas transplant, pancreas-kidney, liver-kidney, heart-lung, and other combinations. So truly innovation, real time being deployed. So that's the ecosystem and the capacity for growth, that we're blessed with phenomenal facilities. We have a great amount of space in order to really develop these centers of excellence for the nation and that's where we see this going.
Rakesh Suri, MD:
We speak about innovation. What's wonderful about the Emiratis is they are built for innovation. If you think about the sort of historic Bedouin tribes, they traveled through hundreds of miles through the desert, under the scorching sun to be able to find water and feed and clothe and nourish and hydrate their families and their herds, and be able to pearl dive without assisted oxygen technology down to the depths of the ocean to harvest these pearls. Truly an innovative pedigree. And that is carried forward to today, to hydrocarbons and really making this a country that has utilized efficiently and responsibly the wealth of the nation to provide for its people. And now, turning away from hydrocarbons, diversifying away from hydrocarbons into societies that are beyond just oil and gas.
Rakesh Suri, MD:
So what do I mean by that? The vision of Sheikh Mohammed, both of them, Dubai and Abu Dhabi as well as the leadership of the nation is to bring the best healthcare, education, alternative energy, arts, culture, and other types of ecosystem generating industries such as aerospace. So, we're a part of that and the same innovation that I've touched on from having the Louvre here next door to NYU, Abu Dhabi is also supported here at Cleveland Clinic Abu Dhabi. Everything we do, we are not only encouraged, but pushed and supported and held accountable to our ability to deliver the best on the planet at the most efficient cost and value point. So we love it. It takes some getting used to, but we love being encouraged to be innovative in everything we do.
Will Morris, MD:
Please join us for part two of our conversation with Dr. Rakesh Suri, president and CEO of Cleveland Clinic Abu Dhabi. This is Will Morris. Join us again for a Cleveland Clinic Health Amplified podcast.
Health Amplified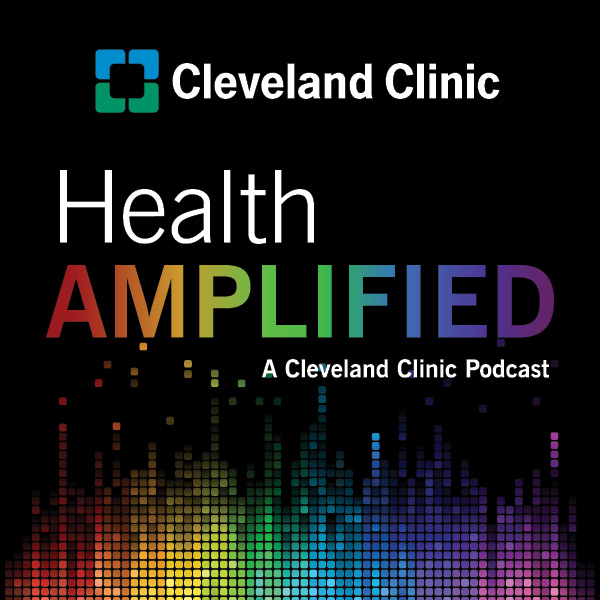 A Cleveland Clinic podcast about innovating, venturing, and amplifying powers of healthcare change through strategic business and product development. Listeners will gain knowledge of healthcare's latest trends, areas of opportunity, and up-and-coming health solutions through Cleveland Clinic's network of dynamic thought leaders. Join hosts Will Morris, MD, and Akhil Saklecha, MD, executives and clinicians at Cleveland Clinic, as they explore the world of healthcare innovation from the city of Rock & Roll.
Subscribe: