Overview
Overview
Thank you for your interest in the Pediatric Infectious Diseases Fellowship at Cleveland Clinic Children's. Our 3-year ACGME accredited program provides well-rounded training in both clinical infectious diseases and research. Our goal is to train pediatricians to be outstanding infectious diseases clinicians who are prepared for a career in clinical infectious diseases, research and/or infection control, with a strong emphasis on academic medicine. The inpatient service is very busy and is supplemented with outpatient and travel clinics. Cleveland Clinic Children's is the only children's hospital in Northeast Ohio that in addition to kidney and bone marrow, performs heart, liver, intestinal and multi visceral transplantation.
Our faculty is experienced and committed to the education of our fellows and includes clinical microbiologists. Fellows learn "hands on" clinical microbiology through weekly rounds in the clinical microbiology laboratory attended throughout the 3 years of training in addition to a 6 week rotation in the microbiology laboratory. Clinical cases and laboratory diagnostics are presented and discussed by the microbiology and infectious diseases staff. Other didactics include weekly pediatric infectious diseases lectures, research meetings and case conferences. Our program has a strong emphasis on transplant infectious diseases, including a shared adult/pediatric weekly conference dedicated to transplant infections and related topics. The curriculum is year round.
Each Fellow's research experience is personalized to meet individual career goals and interests. Opportunities include clinical projects (including infection prevention/quality improvement), clinical or basic science laboratory projects. Research opportunities are available within the Cleveland Clinic and the Clinic's Lerner Research Institute, but also at other academic institutions throughout the city. We help each fellow to identify a mentor to guide the research project to ensure that by the end of fellowship each fellow gains expert knowledge in the selected area of interest.
Cleveland is a fun a and very affordable city in which to live, featuring a world class orchestra, international film festivals, a vibrant sports and restaurant scene, a ring of parks that encircle the city with walking/running trails, among other attractions.
We are excited to offer this truly unique opportunity for training in Pediatric Infectious Diseases at Cleveland Clinic Children's.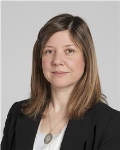 Blanca E Gonzalez, MD
Pediatric Infectious Diseases Program Director
Staff
Staff
Carla Saracusa
Nahza Abughali
Belinda Yen-Lieberman, PhD
Application Process
Application Process
Eligible trainees must be graduates of the Accreditation Council of Graduate Medical Education (ACMGE) approved residency in the United States. Applications are only received through the Electronic Residency Application Service (ERAS) and positions filled through the National Residency Match Program (NRMP).
Interviews will be offered the last week of late September through October.
For More Information, Please Contact
Sarah Spurbeck, C-TAGME, Education Manager
216.444.6003
sprubes@ccf.org
Benefits & Resources
Benefits & Resources
Vacation
15 vacation days per year
5 interview days in PGY5 and 6
Conference Attendance
Travel and logistical support is provided to the fellow for presentations at a regional or national meetings.
Salary
Please visit the GME website for more information.
Additional Benefits
Free on-site Pediatric Board Review course provided during your PGY4 year
Free iPhone for the duration of the fellowship
Moonlighting opportunities during PGY5 and 6
Greater Circle Living - $5000 forgivable loan grant
Cleveland Clinic discounts (dining, computers, cellphone carriers, and more!)
Free access to Cleveland Clinic Fitness Facilities (state-of-the art cardio and weight machines, Olympic sized swimming pool, basketball courts, fitness classes)
Curriculum
Curriculum
Cleveland Clinic, in partnership with Cleveland Clinic Lerner College of Medicine, is a unique community with tremendous resources in career development, education, foundations of research, leadership and personal growth. Fellows gain access to many of these resources:
Case Western Reserve CRSP 401 Intro to Research Course (one month during PGY5)
Leadership and career development seminars through Cleveland Clinic Learning Academy
Quality and Patient Safety curriculum is covered throughout your fellowship, with a QI project completed prior to graduation.
Coursework in clinical research fundamentals at the Case Western Reserve University during your PGY5 year.
Available research support staff and mentors for consultation, through our research center and in conjunction with the Lerner Research Center.
Scholarly project: Under the guidance of faculty mentors, the fellow will complete a scholarly project during fellowship
Longitudinal educational series in ethics, professionalism and research with all pediatric fellows
Through our office of physician recruitment classes in job search, CV preparation, interviewing skills, and contract negotiations are available yearly.
PGY-4

Six (6) modules Inpatient consult service rotations
One (1) module in microbiology/parasitology laboratory
Outpatient clinic: once/ week when not on inpatient service
Five (5) Research modules
Call is 2 weekends/ month when on the inpatient consult service ; and once a month all other modules

PGY-5

Two (3) modules of Inpatient consult service
One (1) module Adult inpatient transplant service
Eight (8) modules Research including one (1) module at CWRU for the Clinical Research Course
Call Is one weekend per month (module) when not on inpatient service

PGY-6

Three (3) modules Inpatient consult service
Nine (9 ) modules Research
Elective : TB clinic
Call is one weekend per module when not on the inpatient service
Didactic Education & Resources
Didactic Education & Resources
Weekly Pediatric Infectious Diseases sign out. Fellows and faculty sign-out service and discuss management: one of the favorite sessions, and ensures excellent continuity of care of patients.
Weekly Fellows didactic session: faculty and fellows present topics that cover the American Board of Pediatric Infectious Diseases core curriculum.
Weekly transplant lecture: Lectures are given by adult and pediatric infectious diseases faculty who are experts in transplant infectious diseases.
Weekly joint adult and pediatric case conference. Fellows from both tracks present interesting cases with focused discussions of key concepts or controversies.
Weekly microbiology rounds at our state-of the art Laboratory.
Weekly HIV lectures
Weekly Infectious Diseases Grand Rounds.
Monthly Pediatric Citywide conference. 1st Monday of the month.
Monthly Pediatric Infectious disease board review. 2nd Tuesday of every month.
Monthly research conference and journal club. 3rd Tuesday of every month.
Pediatric Research Day (May each year)
Monday

Tuesday

Wednesday

Thursday

Friday

8 a.m. - 9 a.m.

Pediatric Citywide Monthly Conference


Transplant lecture

Adult and Pediatric Infectious Diseases conference

Infectious Disease Grand Rounds

Adult and Pediatric Infectious Diseases conference

9 a.m. - 10 a.m.

10 a.m. - 11 a.m.

11 a.m. - Noon

Noon - 1 p.m.

Pediatric Infectious Diseases Sign Out

Pediatric Infectious Diseases
Journal Club/ Research/ Case Conference

HIV lecture

1 p.m. - 2 p.m.

Microbiology rounds

2 p.m. - 3 p.m.

3 p.m. - 4 p.m.

4 p.m. - 5 p.m.

Adult and Pediatric Infectious Diseases Conference
(4:30 p.m.-5:30 p.m.)
Fellows
Fellows
Current Fellows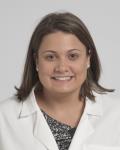 Heather Daniels, DO - PGY5
2015-2018
I am originally from Virginia and consider myself an East Coast native, but was so impressed by the congeniality of the staff and residents during my pediatric residency interview that I ranked Cleveland Clinic Children's as my first choice. I completed both my pediatric residency and chief year here before staying for my Pediatric Infectious Diseases fellowship as I wanted a program that I know trained excellent clinicians. At Cleveland Clinic Children's we see a wide range of patients from all over the world giving us experience with general pediatric infectious diseases as well as solid organ and bone marrow transplant. Our staff each have unique interests and are all a source of mentorship. During my first year I have gained valuable knowledge through weekly joint pediatric/adult case conferences and infectious diseases grand rounds; microbiology lab rotation; city-wide conferences with other children's hospitals; outpatient clinic and our wealth of resources. Outside of work, Cleveland has been a great place to live with low cost of living, many neighborhoods, restaurants and cultural activities to enjoy.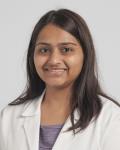 Yamini Mandelia, MD - PGY4
2017-2020
"I am a first year fellow in Pediatric infectious Disease at the Cleveland Clinic. I am from India and came to USA to gain more knowledge and a different perspective of medicine. Growing up, I have seen a wide variety of tropical infections, which has always drawn me to learn more about Infectious Diseases. I completed my residency at the Cleveland Clinic and rotated through the Pediatric ID department for a 4 week elective. I had the pleasure to work with different staff during that time. All of them had one common goal- provide best patient care and along the way, create a very open learning environment for the fellows and residents. The Cleveland Clinic Children's hospital sees a wide variety of patients from all over the world. The ID team here works in parallel with different hospital teams and is involved in taking care of simple pediatric infections to infections in very complex transplant patients from different geographical backgrounds. This makes it a complete learning experience for the fellows as it prepares them to practice in any part of the world. The fellowship program is very flexible about taking into account fellow's professional needs and future goals in life. As I start my fellowship as a bright eyed Pediatric Infectious Disease fellow, I am looking forward to the next three years and hoping to have a great learning experience on the road to being a fantastic Pediatric Infectious Disease specialist. "
Graduates
Ritika Coelho, MD
2012-2015 Pediatric Infectious Diseases
2015-2016 Clinical Scholar in Quality and Safety
Training at the Center for Pediatric Infectious Diseases at Cleveland Clinic Children's Hospital is a very rewarding experience. We have the opportunity to work with staff with different clinical experiences and knowledge. This really helps us develop a strong foundation in infectious diseases and navigate through challenging situations. Coupled with excellent research opportunities and relevant didactics the program guides us well to grow academically. I had an interest in healthcare associated infections, and was channeled to meet with leaders in the field early in my fellowship. This gave me the opportunity to help in the development of a sustainable surveillance system for surgical site infections, which can also broadened for antimicrobial stewardship and national event reporting. The program went a step further and supported me for additional year as a chief fellow in quality and patient safety, where I also worked with national leaders to create a core curriculum and continued my research. It taught me to collaborate with stakeholders across the health care system to implement evidence-based practices, accelerate and amplify improvements in quality and safety for more than just pediatric patients.
There is no doubt that whichever path a fellow chooses, the program will help accommodate their interests and support them all the way.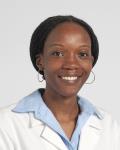 Victoria Nakimbugwe, MD - PGY6
2014-2017 Pediatric Infectious Diseases
The Pediatric Infectious Diseases program at the Cleveland Clinic appealed to me when I pursued a fellowship and the experience has been as expected. I have had the great honor of working closely with four clinical staff, each with unique perspective and style of practice. The success of collaboration is hinged on their shared drive to provide the best care to patients as well as openness to others' ideas. I have always been given an open platform to share my thoughts on patients' presentation and management and this room to grow and learn has been invaluable to my development as an Infectious Diseases specialist. My approach is validated when it is appropriate (even when different from my mentor on the day) but most importantly my misconceptions have been heard without censure and then carefully deconstructed and corrected when wrong – a clear service to the patients I will see with new perspective. We have an abundance of patients with diverse presentations and teams of caregivers of every cadre that work together. This collegial interplay with other providers and specialties further broadens the horizons for learning. One of the greatest strength of the program is its flexibility and outward looking approach to fellow research. Rather than fitting fellows into a traditional routine, the program seeks to understand long term career goals and, to every extent possible, nurtures those goals or helps to clarify them if unclear. When I presented my goal of returning to international work, the program went out of the way to foster this goal by seeking out collaborative mentors outside the hospital system. This collaboration has been invaluable to my career development allowing me to delve into an area that I may never have otherwise had the chance to explore but even more importantly, has already opened doors in my career that I could only have imagined. To call my experience here satisfying would be to grossly understate the fact. I would choose this experience again every time.
About Cleveland
About Cleveland
Located approximately 2 miles from the Cleveland Clinic campus, downtown Cleveland features a host of cultural and recreational attractions for an ethnically diverse mid-sized city. Many of Cleveland's neighborhoods such as Ohio City, Tremont, Lakewood, and Cedar-Fairmount are overflowing with cultural heritage, as well an eclectic offering of restaurants and nightlife.
Take advantage of all this beautiful city has to offer! Champion sports teams, culture, outdoor adventure, and a food scene that was recently ranked by TIME as #7 on their 20 'Best Food Cities' in America and is home to two James Beard award-winning restaurants. There really is something for everyone here in Cleveland.