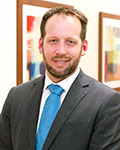 Geoffrey Hall is chief executive officer of the Cleveland Clinic Rehabilitation Hospital, Edwin Shaw. In this role, Mr. Hall oversees the day-to-day operations of the hospital and closely collaborates with medical and administrative staff to develop and deploy clinical programs. Those programs focus on quality, safety and outcomes with a commitment to delivering a world-class care experience to patients and their families.
Mr. Hall has more than 20 years of experience as a health care administrator. Previously, he served as administrator at Rusk Rehabilitation at NYU Langone Health System, executive director of behavioral medicine at Christus Spohn Hospital in Texas and held a variety of social services roles across several health, state and education systems.
Mr. Hall holds a master of business administration degree in management and operations from Walden University, a master of science in social work from East Carolina University and a bachelor of science in social work from Auburn University.