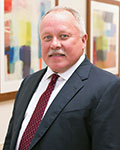 R. David Richer is chief executive officer of Cleveland Clinic Hospital, Beachwood and also serves as market executive for all three Cleveland Clinic Rehabilitation Hospitals (Avon, Beachwood and Edwin Shaw).
In this role, Mr. Richer oversees daily hospital operations and closely collaborates with medical and administrative staff to develop and deploy clinical programs focused on quality, safety and outcomes with a commitment to delivering a world-class care experience to patients and their families.
Mr. Richer has nearly 40 years of experience as a hospital administrator and practicing occupational therapist. Previously, he was the chief executive officer at Fairlawn Rehabilitation Hospital and HealthSouth Rehabilitation Hospital, both in Massachusetts. Before stepping into senior management roles, Mr. Richer served as director of rehabilitation services, director of occupational therapy and clinical supervisor on the brain injury unit at various New England-based rehabilitation hospitals. Earlier in his career, Mr. Richer was a staff occupational therapist at Massachusetts General Hospital in Boston.
Mr. Richer holds a master of arts in business administration from Framingham State College, a bachelor of science in occupational therapy from Utica College of Syracuse University, and an associate degree in occupational therapy from Quinsigamond Community College.