Overview
Overview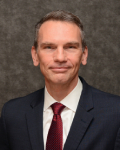 Randy Fuerst
Executive Director
Randy Fuerst has served Medina Hospital Foundation since 2011 coming to Medina from the Philanthropy Institute on Cleveland Clinic's main campus. He is responsible for the development, implementation, administration and evaluation of the foundation's fundraising efforts on behalf of Medina Hospital.
He and his family have lived in Medina since 2004. He is president of the Medina County Estate Planning Council, and a member of Leadership Medina County class of 2015.
---
Ellen Hunter
Chair, Board of Directors
Ellen is vice-president/co-owner of Hunter Insurance Agency, Inc. in Medina with her husband Dan. An active civic volunteer, Ellen currently serves on the Medina Summer Reinforcement Program Board and is the immediate past chair of the Medina County Women's Endowment Fund. Ellen is also an Associate Member of the Women's Advisory Board for her alma mater, The College of Wooster, from which she graduated as a Phi Beta Kappa with a BA in German. A graduate of Leadership Medina County, Ellen has been a Medina resident since 1981 and has two grown children, Evan and Leah and two granddaughters. Ellen has been a member of the Foundation Board since 2016.
---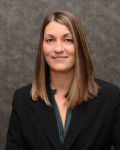 Amy Immel
Development Associate
Amy Immel joined the Medina Hospital Foundation staff in September 2021. Prior to her work at the foundation, she spent nearly 10 years fundraising in higher education. At the foundation she is responsible for donor communications and event fundraising. Amy also works with individuals on how they can make an impact at Medina Hospital through their philanthropy.
Amy resides in Montville Township with her husband Kris, and their two young boys Konnor and Alex. They've lived in Medina County since 2015.
---
Board of Trustees
William Hutson, Vice Chair
Donielle Finding, MSN, MBA, Secretary
Ron Plazek, Treasurer
David Burke, MD
Russell Corwin
Terry Grice
Janet Harris
Jarrod Long
James Madasz
Don Miksch
Ann Salek
History of Medina Hospital Foundation
History of Medina Hospital Foundation
Medina Community Hospital opened on October 22, 1944. The hospital was originally the four-bedroom home of the Theodore Weidner family. In 1936, the Weidner's youngest son was stricken with a serious illness requiring round-the-clock medical attention. Mr. Weidner then vowed that if his son recovered, he would sell the house for conversion into a hospital. A group of public-spirited Medina citizens helped that pledge become a reality by starting a fundraising campaign to buy and convert the home. Since 1944, Medina Hospital has endured thanks to the personal investment of many in Medina County and others who have been touched by the hospital's care. The non-profit hospital began as Medina Community Hospital, then transitioned to Medina General Hospital, and is proudly now Medina Hospital, a Cleveland Clinic hospital.
To ensure this rich history of community-supported healthcare would continue, the Medina Hospital Foundation was created in 1991, through the vision of community leaders serving on the Board of Directors of Medina General Hospital along with the hospital's Administration. Both groups cited the growing population of Medina County and the growing demands on the healthcare delivery system as catalysts in initiating this effort. These concerns have proven to be true and are perhaps even more valid today.
The Foundation serves to provide a vehicle to gather, accumulate and judiciously disburse the community's charitable gifts to the hospital for local patient care. William H. Kelly, a hospital Board member at that time and one of the original Foundation Board members, provided the first individual gift of $10,000. Mr. Kelly continues as an Honorary Foundation Board member today.
The Foundation has a Board of Directors, different from that of Medina Hospital, that has general supervision and charge of the operation, property, affairs, and finances of the Foundation while ensuring that donors' intentions are followed.
Over the Foundation's history, we have received many gifts from individuals, businesses and civic organizations resulting in distributions to Medina Hospital, a Cleveland Clinic Hospital, totaling over $12 million to implement a wide variety of projects.