About Orientation
About Orientation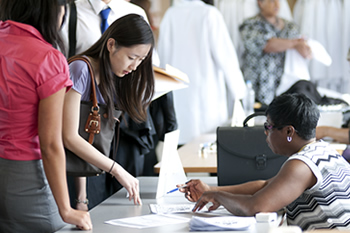 During the week of June 1, 2021, all new medical students will receive a personalized email welcoming you to the Cleveland Clinic Non-employee Onboarding System, SilkRoad. The email will include your user name and password.
This online system will help streamline the orientation process for new students and ensure compliance requirements are met for matriculation. Information will periodically be emailed to you about tasks that you will need to complete. You can view and complete assigned tasks at Cleveland Clinic SilkRoad after you receive your user name and password.
Orientation 2021
Date: Tuesday, July 6, at 7:30 a.m. – Sunday, July 11, 2021 at 2 p.m.
Orientation 2021 events have not been confirmed yet. Some events will be in person and some will be by Zoom. Everything below is tentative right now.
Location: Health Education Campus
9501 Euclid Avenue
Cleveland, Ohio 44106
Parking: To be determined. We will validate your parking for you.

You are expected to participate in all scheduled orientation activities. Please plan personal activities during scheduled free time. Activities include:
Finalizing your registration
Receiving TB test
Meeting key figures in the school
Getting introduced to computer and information resource technology
Socializing with faculty and your new classmates
Orientation Checklist
Orientation Checklist
Complete and provide below items by the deadline. Be sure to check the Student Services page for important information about Medical Insurance and Student Health.
1. Submitting Your Transcript
Official transcripts verifying your undergraduate and/or graduate degree(s) and premedical courses are now due. If you have not already done so, please have transcripts mailed as soon as possible to:
Karen Wright
Cleveland Clinic Lerner College of Medicine
CCLCM@ccf.org
Please Note: Anyone not having all required transcripts on file with the Admissions Office will not be permitted to register the day of matriculation. It is your responsibility to make sure all documents have been received. If there is some reason why a final transcript will be delayed, please submit an explanation in writing to Karen Wright at wrightk6@ccf.org.
Due: June 9, 2021
2. Orientation Day
Driver's license (or other form of ID) and license plate number to register for a parking permit.
Due: Monday, July 5, 2021
3. AAMC Matriculation Questionnaire
The Association of American Medical Colleges (AAMC) administers the Matriculating Student Questionnaire (MSQ) to all first-year medical students. Each student will receive a unique survey URL via email from msq@aamc.org to complete the questionnaire. Please complete the questionnaire by Friday, July 9, 2021.
If you have questions, contact Darlene Gray at grayd4@ccf.org or 216.444.7170.
Due: July 9, 2021
Special Events
Special Events
Monday, July 6: Formal Welcome
You will be expected to wear professional attire when interacting with patients, professional attire is required at all times. Men should wear a collared shirt, tie, slacks, socks and closed shoes with a white coat. Women should wear a blouse or sweater with a skirt, or a dress or ankle-length slacks, hosiery or socks, and flat or moderately-heeled dress shoes with a white coat. You will receive your white coat on Tuesday morning.
Sunday, July 12: White Coat Ceremony
The ceremony, held at Severance Hall, runs from 11 a.m. to 1 p.m. and is preceded by breakfast from 8 to 9:30 a.m. at the InterContinental Hotel and Conference Center for you and your family. You must arrive at Severance Hall by 10 a.m. The White Coat Ceremony is an impressive event we hope your family will be able to attend. Dean Pamela B. Davis will preside and host a reception after the ceremony for you and your family.
Questions?
Questions?
For questions, please contact;
Darlene Gray
Student Affairs Coordinator
Cleveland Clinic Lerner College of Medicine
9501 Euclid Ave, EC10
Cleveland, OH 44195
Email: grayd4@ccf.org
Phone: 866.735.1912 (toll free) or 216.445.7170
Fax: 216.636.3206