COVID-19 toolkit gets a refresh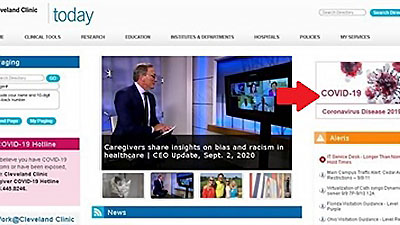 The COVID-19 toolkit housed on the intranet is the main source of information for the latest COVID-19 processes, guidelines, resources and news. The toolkit was recently refreshed to group materials into common topics and help caregivers more easily locate documents.
Materials in the toolkit are organized under the following categories:
Testing – testing workflows, swabbing and specimen information
Personal Protective Equipment (PPE) – guidelines, policies, and instructions for PPE use
Infection Prevention Precautions – setting-based Infection Prevention guidelines and signage
Visitation – current visitation status in Ohio and Florida, and virtual visitation instructions
Surgical Reactivation – surgical workflows, checklists and scripting
Caregivers – workplace and well-being resources, exposure workflows and manager resources
Epic and Distance Health – distance health playbook, MyChart, Epic and Zoom reference guides
COVID Positive and Persons Under Investigation – workflows for patients confirmed or suspected to have COVID-19
You can also find resources for Nursing, Emergency Department, Inpatient and Ambulatory settings.
The COVID-19 toolkit can be accessed from the homepage of Today and doc|com by clicking the COVID-19 tile on the right side of the homepage. If you have questions about the new layout or toolkit resources, contact COVID19_RH@ccf.org.