CEO Update | How We Are Safely Resuming Services
CEO Update | How We Are Safely Resuming Services
Fellow Caregivers,
Thank you for your patience and teamwork throughout this pandemic.
The virus itself is novel, which means we are all learning about it together. We have made careful decisions on how to respond using the best information available.
When looking at our response, a different theme emerges for each month.
In March, we paused to understand the pandemic and how to contain it.
In April, we prepared for a surge of patients and grew our use of virtual care.
Now in the month of May, we begin to resume non-COVID care as we learn to live with the disease.
Everything we do follows our primary goal: Protect patients and caregivers while fulfilling our mission.
We have shown that our hospitals and locations are among the safest environments.
For nearly two months, we have:
Limited visitors to our facilities.
Provided appropriate personal protective equipment for caregivers.
Disinfected surfaces frequently.
Checked the temperature of everyone who walks through our doors.
And used virtual visits to replace in-person appointments.
We also deferred nonessential care, in alignment with state orders. These orders were intended to preserve hospital beds and personal protective equipment should a surge of patients take place.
Now, as we resume some surgical services, we will continue to focus on safety and enhance it even further. This will be done in phases.
All patients will undergo COVID testing three days before procedures in our operating rooms and ambulatory surgery centers. Patients who enter our emergency departments will also be tested.
The new environment of care checklist expands on our precautions. It requires screening at our entry points, enables social distancing in common areas and work spaces, and guides our facility cleaning schedules.
Patients and visitors may notice these changes with a temperature check, or how furniture is arranged. We will also strongly encourage them to wear a mask when they enter our locations.
Caregivers are protecting each other by wearing their own masks. In addition, we continue to sterilize and restock personal protective equipment.
The availability of healthcare worker personal protective equipment will also help determine when Ohio hospitals can resume other deferred services.
Testing is a key component as states look to fully reopen their economies. We are supporting this effort by partnering with local governments.
We were among the first healthcare providers to bring testing to our communities in South Florida.
In northeast Ohio, we quickly partnered with University Hospitals to open drive-through testing. Last week, we opened a new testing site in Summit County.
We expect to open even more testing sites as early as this week.
Both patients and caregivers have now experienced the benefits of virtual care. It is convenient and high quality.
Our clinicians are doing an extraordinary job using these tools to serve patients.
Last month, we performed more than 200,000 virtual visits. Before the pandemic, we averaged only 5,000 each month.
Using these technologies is important to our future. They will let us touch more lives, in more communities, around the globe.
We all acknowledge that life after COVID-19 will be different. The world is changing before our eyes.
What will not change is what we stand for at Cleveland Clinic. We will continue to do what is right for our patients, each other, this organization and our communities.
I want to thank you for all your hard work and dedication. Because of you, we are now able to take steps toward recovery.
Your leadership during this time will long be remembered.
Thank you.

Tom Mihaljevic, MD
CEO and President
Second Salute Flyover to Honor Healthcare Workers and Others on May 7
Second Salute Flyover to Honor Healthcare Workers and Others on May 7
The 910th Airlift Wing is launching a second 'Hercs Over America' flyover on Thursday, May 7, as a way for the Air Force Reserve to continue to salute the thousands of healthcare workers, essential employees and other first responders on the frontline of the COVID-19 pandemic.
The 910th received positive response from its first flyover on May 4. The 'salute' flyover, consisting of two of the 910th's C-130H Hercules aircraft, is scheduled to take place around 10:45-11:30 a.m. — give or take a few minutes — over Ashtabula County Medical Center as well as Euclid, Hillcrest and Union hospitals.
These flyovers are scheduled during one of the Airlift Wing's training missions and will incur no additional cost to taxpayers.
Man With History of Stroke Saved by Emergency Department Visit
Man With History of Stroke Saved by Emergency Department Visit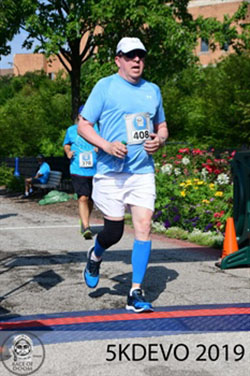 COVID-19 is not just a fight against a virus; it is often a fight against fear.
Our patient, Lawrence Bach, was hesitant to go to the Emergency Department (ED) at first due to the pandemic.
But something was wrong. Bach, who was relatively active, had gone for a bike ride, had dinner and went to bed. The next morning, when he woke up, he says, "I knew something was off. My right leg felt funny and I wasn't walking right."
He contacted his neurologist, Andrew Russman, DO.
Dr. Russman, working along with a dedicated team of nurses who coordinate patient care in the Cerebrovascular Center, arranged a virtual visit with Bach. After talking through the symptoms, Dr. Russman sent Bach to the Akron General Emergency Department in Bath, Ohio.
Although he was reluctant, Bach said the second he got there, he was relieved. He saw all the safety precautions in place, also noting how orderly and calm it felt. "I felt so much better," he says.
While in the ED, Bach had various imaging performed, including a Magnetic Resonance Imaging (MRI), and a Computed Tomography (CAT) scan. Dr. Russman was also able to continue caring for him while he was in the ED through a virtual visit using FaceTime.
"Being able to continue talking with Dr. Russman through the virtual visit in the ED was awesome," Bach says.
It turned out Bach had suffered from a mild stroke caused by the blockage of a small blood vessel in his brain. This blockage led to reduced blood flow and oxygen to that small area of the brain, which resulted in the symptoms of a stroke.
He was treated with a combination of medications in the ED to reduce his likelihood of suffering another stroke and to allow time for his body to recover without further insult to the brain.
Bach had a history of strokes. Had he not gone to the ED, his chance of another stroke was higher. He would most likely have suffered further worsening of his stroke symptoms, such as problems with weakness, speaking or walking.
"I'm so thankful I went and received the care I needed," he says.
Dr. Russman is grateful too. He says the option of a virtual visit made all the difference in this patient's care.
"After talking to him, it was clear to us that this patient needed to go to the ED for his stroke symptoms. We were able to explain it to him through this virtual capability. It may have prevented another stroke," Dr. Russman says.
Occupational Health Will Increase Services Starting May 11
Occupational Health Will Increase Services Starting May 11
To further support our caregivers and maintain the 24/7 Caregiver COVID-19 Hotline (216.445.8246), Occupational Health will increase services starting Monday, May 11.
As our recovery planning process continues, Occupational Health will help ensure a safe environment by continuing to provide N95 respirator mask fit-testing, TB testing and immunizations for caregivers who require Occupational Health services.
The Occupational Health locations below will provide N95 respirator mask fit-testing, TB Testing and immunizations on a walk-in* basis:
Avon: 7:30 a.m. to 4 p.m., Wednesdays
CCAC: 7:30 a.m. to 6 p.m., Monday – Friday
Euclid: 7:30 a.m. to 4 p.m., Tuesdays
Fairview: 7:30 a.m. to 4 p.m., Mondays, Tuesdays, Thursdays and Fridays
Hillcrest: 7:30 a.m. to 4 p.m., Mondays, Wednesdays and Fridays
Lutheran: 7:30 a.m. to 4 p.m., Mondays
Main campus, H18: 7:30 a.m. to 4 p.m., Monday – Friday
Marymount: 7:30 a.m. to 4 p.m., Thursdays
Medina: 7:30 a.m. to 4 p.m., Monday – Friday (*Please call ahead to Cleveland Clinic AtWork at 330.721.4955.)
South Pointe: 7:30 a.m. to 4 p.m., Wednesdays
Because nurses, advanced practice providers and physicians now staff our 24/7 Caregiver COVID -19 Hotline (216.445.8246), we can address any COVID-19-related concern caregivers have at any time.
Continue to share our 24/7 Caregiver COVID -19 Hotline information with your teams. If one of your team members tests positive for COVID-19, find guidance here.
Note: Occupational Health services at Akron General and Union Hospital are not subject to these changes.
Love in the Time of COVID-19
Love in the Time of COVID-19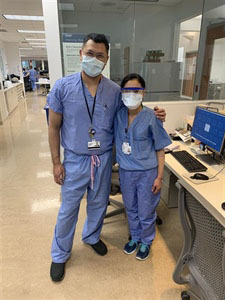 Critical care physician and Marymount Hospital ICU Director, Jonathan Castro, MD, and infectious disease physician, Tricia Bravo, MD, are not only working together to battle COVID-19, but also happen to be married.
They met in medical school in the Philippines and relocated to Cleveland. Dr. Bravo completed her residency and fellowship at Cleveland Clinic in 2003 and Dr. Castro joined the staff in 2015. Before this pandemic, they worked at separate locations and now are helping patients, leading teams and occasionally rounding together at Marymount Hospital.
What's changed in your clinical practice since COVID-19?
"Many things have changed in the COVID era such as increasing our use of virtual visits and reliance on technology which changes our standard management plans," says Dr. Bravo. "These new tools are wonderful but it also challenges us as doctors to figure out complicated issues like physical examinations and lab work. Additionally, there is heightened anxiety both among patients and healthcare workers, but we know that we need to be there for our patients and provide a reassuring presence for them to try and prevent fear and isolation."
What is the atmosphere like at Marymount?
"There has been intense, constant planning and preparation but the sense of community is unbelievable," Dr. Castro says. "We are beyond grateful for the overwhelming support. We have signs as we enter the hospital, donated lunches and snacks and a feeling that we are all in this together."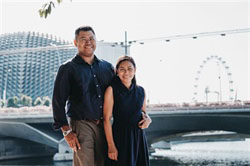 What is the new normal at your house?
"Many times, we are torn between providing the much needed care to our patients and at the same time providing the psychosocial support our kids need during this crucial time," Dr. Bravo says. "We try to find ways to provide them with a feeling of normalcy and security."
"Our kids are now used to us taking off all outside clothes, shoes, bags and leaving them outside before we enter our home. Shedding whatever we had or wore at the hospital outside so we can be safe inside," notes Dr. Bravo.
Do you talk about work at home?
"We keep the clinical discussions at work," says Dr. Castro. "We do however share those special moments of connection from patients and their families, with each other. It's restorative to discuss the impact we're having and to share the messages of thanks."
Rehab Team Uses Specialized Training to Help Fellow Caregivers
Rehab Team Uses Specialized Training to Help Fellow Caregivers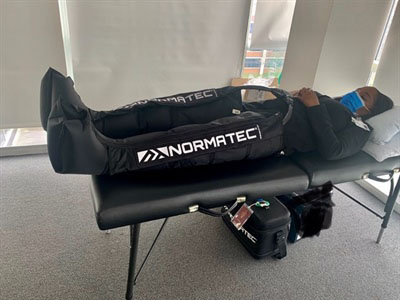 In April, as we adjusted services, caregivers moved locations and responsibilities changed in response to COVID-19, Tracy Smith, DPT, wanted to help fellow caregivers.
The Director of Rehabilitation at Cleveland Clinic Weston Hospital in Florida knew colleagues could benefit from our physical therapists and rehabilitation staff.
The rehabilitation team — trained in muscle and tissue manipulation, relaxation and postural recovery — saw their fellow caregivers working long hours in mentally and physically strenuous conditions. Using physical therapists, physical therapy assistants, exercise physiologists and athletic trainers, an on-site physical recovery suite was born.
Gary Calabrese, PT, DPT, Senior Director of Therapy Services, saw the success of the Florida program and wanted to bring relaxation to our caregivers in Ohio. First adopted at Hillcrest Hospital, there are now relaxation stations at Marymount, Fairview and Avon hospitals.
"It's important to take care of each other so we can take care of patients," says Richard Parker, MD, President Hillcrest Hospital. "These trained specialists provide a vital service so we can continue to care for our communities with healthy and resilient caregivers."
Using a large conference room to allow for appropriate social and physical distancing, the rehabilitation stations are equipped with soft tissue massage stations, recovery boot compression stations, mats for yoga and stretching plus a self-serve nutrition center. To ensure the safety of our caregivers, all equipment is sanitized after each use.
Calabrese and team called upon relationships with the Cleveland Cavaliers, John Carroll University and Air Relax Inc. who donated recovery equipment and nutritious snacks.
Questions? Contact Gary Calabrese at calabrg@ccf.org.
Nurses Comfort Patient During Last Breaths
Nurses Comfort Patient During Last Breaths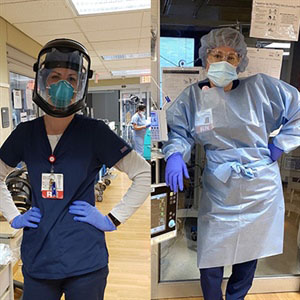 Brandy Beresh, BSN, RN, and Crystal Schuler, BSN, RN, ensured a patient had company at their bedside as the patient took their last breaths.
Because family was unable to be there in person, Schuler called the family's daughter on an iPad. Beresh sat on a stool nearby, holding the patient's hand and stroking their face while Schuler held the iPad and the patient's hand as she passed away.
Both nurses know how difficult these moments are for everyone.
Family is important to Beresh and Schuler. They haven't been physically near their own relatives in weeks, in an effort to protect them from potentially becoming infected with COVID-19. This physical separation deepens the meaning of their ability to act as "extended family" to our patients.
Beresh has been a nurse at Akron General since 1998. She has spent most of those years in critical care and believes that being highly compassionate is one of the top skills she brings to her work.
"I'm grateful to be able to be there to support our patients," Beresh says. "I've led end-of-life initiatives at the hospital for many years. We created handmade blankets blessed by chaplains and two-piece heart lockets, both given to the family after someone dies."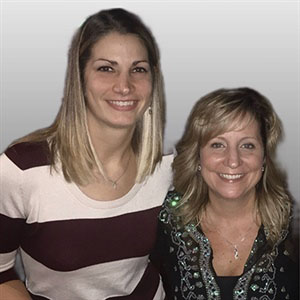 Schuler and Beresh.
Schuler, who has been at Akron General for 13 years — five in intensive care — also wouldn't think twice if asked to help a patient or their family.
"It's sad when a family doesn't get to be there for their loved one's last moments," Schuler says. "But I find peace knowing I can be there and that they don't have to die alone.
While hard times are challenging, we find joy in celebrating the good moments that happen, such as when a patient is successfully extubated. Our team forms a circle and applauds."
Beresh and Schuler represent the selflessness and care of all the nurses on the front lines of this pandemic.
Beresh and Schuler were recognized in Hero Huddles during our tiered daily huddles — one way we recognize and support caregivers and patients. Spread words of encouragement and thanks on the kudoboard.