U.S. Congresswoman Marcia Fudge Reminds Us All to Not Neglect Our Healthcare Needs
U.S. Congresswoman Marcia Fudge Reminds Us All to Not Neglect Our Healthcare Needs
A number of Northeast Ohio hospital systems, including Cleveland Clinic, worked together with U.S. Congresswoman Marcia Fudge to find ways to remind people to not neglect their healthcare needs during this time. The Congresswoman taped public service announcements for both TV and radio that encourage individuals to seek the care they need. Watch it here and share it on Facebook or Twitter.
Need Extra Support for Your Family This Summer? Our Connecting Caregivers Resources Can Help
Need Extra Support for Your Family This Summer? Our Connecting Caregivers Resources Can Help
As the school year ends and camps remain closed, families may need access to more creative options when planning activities for the coming months.
Our revamped in-home child care and senior care webpage in Connecting Caregivers makes it even easier for you to find the support you and your family need.
For example, during this period of non-traditional learning, tutors can help students stay on track to prepare for fall classes. Visit the Connecting Caregivers webpage to review our list of individuals available to help with educational activities over the summer.
Other available in-home services include:
Child care
Senior care
Special needs care for children and seniors
Tutors to help with homework
Pet care
Housekeeping, cooking and laundry services
Click here to review the list of applicants available for you to interview. For your convenience, the list is arranged by service and region.
Share this link with students or others you know who may be interested in a summer position providing child care or senior care, helping with homework, or providing another service.
Questions? Email childcare@ccf.org.
VeloSano's 2020 Bike to Cure Weekend Moves to a Virtual Fundraising Experience
VeloSano's 2020 Bike to Cure Weekend Moves to a Virtual Fundraising Experience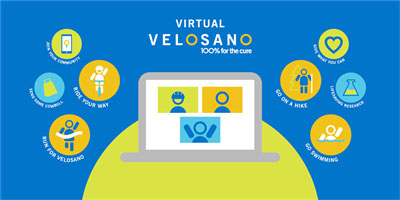 For the seventh year, VeloSano is providing a shared purpose for cancer patients and their families, doctors, researchers, and the community to participate in VeloSano and raise money to fight cancer. The year-round fundraising initiative raised more than $21 million for cancer research at Cleveland Clinic since its inception in 2014.
As the COVID-19 pandemic continues to evolve, VeloSano's highest priority is keeping participants, supporters and the community safe and healthy. Transitioning the traditional annual flagship bike ride to a virtual format will help ensure their safety while continuing the critical mission to raise funds for cancer research, which is particularly important during this unprecedented time.
"Cancer doesn't stop for COVID-19. It's more vital than ever that we collaborate to support our patients," said Brian Bolwell, M.D., chairman of Taussig Cancer Institute. "While we won't be physically together this summer, we look forward to virtually engaging with the VeloSano community across the world and are grateful for their generosity. It's important we continue to work together to fund and ultimately discover new cancer treatments; helping the patients of today and tomorrow."
Virtual Events
VeloSano is excited to expand the celebration and inspiration of "Bike to Cure" weekend, starting with a virtual kick-off party featuring live-streamed interviews with teams/participants, cancer survivors, researchers, physicians and sponsors the evening of Friday, July 17.
Virtual VeloSano "Day" on Saturday, July 18, will feature a simulated starting line to kick off the day, virtual group photos, and will engage participants across the globe riding or working toward their activity goals, in part by using #VirtualVeloSano on social media to share their stories.
Fundraising
VeloSano removed the obligation in 2020 to meet fundraising minimums. Participants can start or join an existing team and register as either a "Rider" or a Virtual Fundraiser. If registering as a "Rider", participants will select a distance, similar to how they would register for the traditional ride.
If registering as a Virtual Fundraiser, participants can choose their own activity other than biking – like running a 5K or walking a certain number of miles a week with your family – and set their own goal to show their involvement in VeloSano.
Deadlines
All participants have until Oct. 1 to complete their activity and fundraising. Virtual volunteer opportunities are also available.
Leaning on Technology
Using the Strava app and by joining the VeloSano Strava Club, participants can track their activity and share their progress to let their donors know how they are supporting cancer research.
100% for the Cure
Thus far, VeloSano has supported 150 cancer research projects. Those projects often go on to earn research grants from the National Institutes of Health and elsewhere. The total return from additional external funding now surpasses $22 million, making the impact of VeloSano more than $43 million.
Complete details about Virtual VeloSano are available at velosano.org.
Our Researchers Create Innovative Emergency Ventilator for Coronavirus Pandemic