CEO Update | Help Us Recognize Our COVID-19 Heroes
CEO Update | Help Us Recognize Our COVID-19 Heroes
In the most difficult times, character, talent and courage are revealed. Throughout the COVID-19 pandemic, caregivers throughout the Cleveland Clinic health system have worked tirelessly to care for our patients, our community and each other.
These outstanding efforts deserve to be recognized. This year, as part of our annual Caregiver Celebration awards, we will shine a spotlight on the extraordinary dedication, creativity and teamwork exhibited during this pandemic with the COVID-19 Heroes Award.
Any caregiver across our global health system can nominate a colleague or team of colleagues now through August 15th. Log on to the Caregiver Celebrations page, click "Recognize" and choose COVID-19 Heroes Award. Describe how the caregiver or teams went beyond the call of duty during the pandemic and served as role models for our values.
Let our caregivers know we recognize and appreciate their heroic efforts.
Cleveland Clinic has been at the forefront of innovation during the COVID-19 pandemic. We added to our research accomplishments by developing the world's first risk prediction model for healthcare providers to forecast an individual patient's likelihood of testing positive for COVID-19 as well as outcomes from the disease.
The study – led by Chief Research Information Officer Lara Jehi, M.D., and Michael Kattan, Ph.D., chair of Lerner Research Institute's Department of Quantitative Health Sciences – was published in CHEST. The nomogram has been deployed as a freely available online risk calculator.
While the coronavirus pandemic has been difficult on everyone, it has been especially hard on African Americans. For a variety of reasons, African Americans are more likely to acquire and die from complications of the COVID-19 virus. However, as our caregivers point out in this recent Public Service Announcement, we can work together to save lives and beat this pandemic.
Our next virtual Ideas for Tomorrow is scheduled for next Tuesday, June 23, at 5 p.m. with Stephen A. Schwarzman, Chairman, CEO and Co-Founder of the investment firm Blackstone. Click here to register.
Yesterday, Gov. Mike DeWine invited me to join his daily coronavirus update. The appearance allowed me to discuss the troubling decrease in the number of patients seeking care for heart disease, cancer and stroke.
Congratulations to Cleveland Clinic Children's on being nationally ranked in all 10 specialties in U.S. News & World Report's 2020–21 "Best Children's Hospitals" rankings.
For 12 consecutive years, Cleveland Clinic Children's has ranked among the nation's top 50 pediatric hospitals. In this year's rankings, seven of our pediatric specialties — cancer, cardiology and heart surgery, gastroenterology and GI Surgery, neonatology, nephrology, neurology and neurosurgery, and urology — ranked best in Northeast Ohio. For a comprehensive look at these rankings, read the press release on our newsroom or visit usnews.com.
Your dedication to our mission is what makes Cleveland Clinic Children's stand out. Thank you to all caregivers for taking such good care of our youngest patients.

Tom Mihaljevic, MD
CEO and President
Caregivers' efforts and patient's willingness make for impressive rehab progress post COVID-19 diagnosis
Caregivers' efforts and patient's willingness make for impressive rehab progress post COVID-19 diagnosis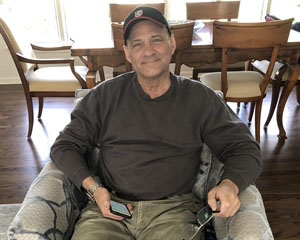 Michael Auletta, 60, is thankful to be back at work at the business he owns, Gino's Jewelers on Cleveland's East Side, after a lengthy battle with COVID-19 this spring. He has the distinction of being the first person to "graduate" from a post-COVID-19 recovery unit at Cleveland Clinic's Edwin Shaw Rehabilitation Hospital (a joint venture with Select Medical) in Bath Township, near Akron, Ohio.
Auletta's story started on March 22, when local paramedics took him to Cleveland Clinic Hillcrest Hospital to be seen for shortness of breath. He tested positive for COVID-19 and was sent home. However, he quickly got much worse and was back in the hospital 16 hours later. By March 26, Auletta was so sick that he had to be put on a ventilator — for 20 days.
"Mr. Auletta was very sick, requiring very high ventilator settings and a good amount of sedation and paralysis to barely keep the oxygen above the lower limit of normal. We had to flip him on his belly, aka 'prone him,'" recalls Ravi Sunderkrishnan, MD, a critical care specialist at Hillcrest Hospital.
Auletta's caregivers connected with his wife, Angela, daily for virtual rounds, and they noticed one day that she did not look well. They advised her to get tested for the virus as well. Their observation was accurate; the test came back positive.
"In such difficult times, we as caregivers are not only responsible for our patients but also their loved ones," Dr. Sunderkrishnan says.
"I really appreciate them being the eyes and ears to look after her while I was unable to be there," says Auletta.
Fortunately, Angela's case was much milder than her husband's and she was able to recover at home with help from their 26-year-old son who lives with them. The Aulettas also have a 24-year-old son who lives out of state.
Following his caregivers' advice
Upon discharge from Hillcrest on April 24, Auletta was transferred to Edwin Shaw, which created a 14-bed unit dedicated to helping patients regain their strength after lengthy COVID-19 illnesses. Initially Auletta resisted going there, preferring to go directly home instead, but he deferred to his caregivers' advice.
He quickly became convinced of the program's value, as he underwent multiple therapies: occupational, physical and speech for as many hours a day as they'd let him because he was so eager to go home. Auletta went from needing help getting to the bathroom to being able to shower, shave and climb steps on his own. In addition, the team led him through cognitive exercises, such as simple logic puzzles, to get his mind fully engaged again.
"When he arrived, he could only walk 30-50 feet with a walker and assistance," says Anthony Hayek, DO, medical director at Edwin Shaw. "By the time he left, he was able to walk 1,500 feet with no device or help. Patients typically stay a little longer than he did, but he was very eager to go home and we were impressed with his progress."
After six weeks away from his family, Auletta was discharged on April 29, armed with at-home exercises as he continues on his path to recovery.
"It was amazing how he recovered and completed rehab, which during the peak of his illness was unthinkable! I am proud to be a part of such a hardworking team at Hillcrest," Dr. Sunderkrishnan says.
Auletta believes his will to live, support of friends and family, excellent care and the grace of God are what got him through this difficult time.
"I didn't feel like anyone who treated me was 'just doing their job'," he says. "Everyone was compassionate and helpful."
One sad note is that Auletta's mother died from an aneurysm while he was on the ventilator. He didn't learn about it until two weeks later.
"I was so shocked. I wanted to call her and tell her I had survived, but I wasn't able to," he says. "I still want to call her every day."
What is Juneteenth? Learn more and connect
What is Juneteenth? Learn more and connect
Juneteenth, also called Emancipation Day, or Juneteenth Independence Day, is a holiday commemorating the end of slavery in the United States, observed annually on June 19.
In 1863, during the American Civil War, President Abraham Lincoln issued the Emancipation Proclamation, which declared more than 3 million slaves living in the Confederate states to be free. More than two years would pass, however, before the news reached African Americans living in Texas. It was not until Union soldiers arrived in Galveston, Texas, on June 19, 1865, that the state's residents finally learned that slavery had been abolished. The former slaves immediately began to celebrate with prayer, feasting, song, and dance.
The following year, on June 19, the first official Juneteenth celebrations took place in Texas. The original observances included prayer meetings and the singing of spirituals, and celebrants wore new clothes as a way of representing their newfound freedom. Within a few years, African Americans in other states were celebrating the day as well, making it an annual tradition. Celebrations have continued across the United States into the 21st century and typically include prayer and religious services, speeches, educational events, family gatherings and picnics, and festivals with music, food, and dancing.*
Connect with Cleveland Clinic's African American employee resource group on Connect Today.
Microsoft Teams Whiteboard: A shared digital canvas
New resources acronym help guide discussions about proper PPE use
New resources acronym help guide discussions about proper PPE use
We appreciate your attention to the additional safety measures we implemented to help protect our patients, visitors and caregivers during the pandemic.
As we continue to adapt our practices amid COVID-19, help build accountability among fellow caregivers to retain the extra measures we established, such as masking requirements for caregivers and visitors, social distancing guidelines and personal protective equipment (PPE) recommendations.
Discuss the importance of PPE
Under the "PPE Recommendations for COVID-19" tab in the COVID-19 toolkit, find two new resources to help caregivers guide discussions related to PPE:
To keep appropriate PPE use top of mind, use PEEP — Eyes on Protection:
Please
Everyone
Execute
Protection(with PPE)
Refer to the COVID-19 toolkit and Infection Prevention's intranet site for more PPE-related resources to help model best practices, educate team members and communicate with fellow caregivers. Participate in discussions about appropriate PPE use during rounding, and remind team members to speak up when they have concerns about safety.
Questions? Contact your local infection preventionist.