Cleveland Orchestra musicians salute healthcare heroes with free chamber music concerts
Cleveland Orchestra musicians salute healthcare heroes with free chamber music concerts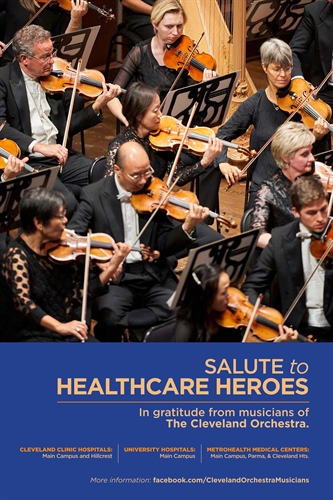 To show appreciation for Northeast Ohio healthcare heroes, several Cleveland Orchestra musicians will present free chamber music concerts as part of the Arts & Medicine's Performing Arts Program. These events kick off Monday, June 15, at main campus and Hillcrest Hospital. Concerts will also take place at other Cleveland-area health centers.
Location: Main Campus - Miller Pavilion Lobby
Dates: June 15 & 22
Time: Noon-1 p.m. and 3-4 p.m.
Dates: June 29 & July 6
Time: Noon-1 p.m.
Location: Hillcrest – Atrium
Dates: June 15 & 22
Time: Noon-1 p.m. and 3-4 p.m.
Dates: June 29 & July 6
Time: Noon-1 p.m.
Please note that these locations were selected due to the regular Arts & Medicine Performing Arts Programs there.
The concerts are not open to the general public. However, patients — as well as caregivers from other locations — are welcome to enjoy the event.
The musicians will wear masks and adhere to social distancing guidelines. Those protocols will also be in place for those watching.
Thank you to Cleveland Clinic Arts & Medicine for helping coordinate the free concerts.
4:30 a.m. chat with caregiver provided Cleveland State basketball coach much-needed hope
4:30 a.m. chat with caregiver provided Cleveland State basketball coach much-needed hope
At 4:30 on a mid-March morning, Chris Kielsmeier pushed the call button as he lay in bed at Cleveland Clinic Hillcrest Hospital.
One of the hospital's first patients to be treated for the novel coronavirus, Kielsmeier was having considerable challenges from the effects of COVID-19, unable to sleep or receive visitors, and frightened for his life. The 44-year-old Cleveland State University women's basketball head coach recalls he just needed someone to talk to. However, he wasn't sure what he would tell Angela Tekalec, RN, when she entered his room.
"I don't know what I was going to say, other than 'I just feel awful and I'm having a bad moment here,'" says Kielsmeier, who has continued his recovery at home, months following his six-day stay at Hillcrest. "And she sat by my bed for an hour and a half and talked to me about her life. My life. We just shared our stories."
Tekalec says she understands how hard it's been for patients who have felt a bit isolated and haven't had as much human and family contact because of visitor restrictions due to the pandemic.

"We enjoyed each other's company, talking about everyday life, and things not in the news," shares Tekalec. "Focusing on things other than the pandemic provided him relief and strength."
Being diagnosed with COVID-19
In his second year as Cleveland State's head coach, Kielsmeier was feeling uncharacteristically tired on Monday, March 9, the day his Vikings were preparing to play top-seeded Indiana University – Purdue University in the semi-finals of the Horizon League tournament in Indianapolis.
"I was fatigued, just like every basketball coach in the country is in March. But I really didn't think anything about being sick," says Kielsmeier. "The next night, I woke up with the worst aches, chills and pains that I'd ever experienced."
Still thinking he likely had the flu, Kielsmeier waited until Thursday before visiting Cleveland Clinic Broadview Heights Medical Center, which quickly referred him to Hillcrest, where he learned he had COVID-19.
He began to self-quarantine, but a few days later started coughing up blood, which prompted his hospital admission.
Alison Poling, RN, was another nurse who cared for Kielsmeier during his stay. She recalls at first she felt powerless when comforting patients with COVID-19.
"I was at a loss what to say," she says, "so I just sat and listened to his concerns. He teared up as he spoke about his family. I remember reaching out and putting my hand on his shoulder, just trying to offer him some kind of hope."
Kielsmeier was treated with the immunosuppressive drug, hydroxychloroquine, in addition to antibiotics. Days later, despite feeling lethargic and achy, he was well enough to go home. He took acetaminophen to aid in his recovery. He thinks often about how Tekalec and Poling lifted his spirits during his time of need, and how a team of Cleveland Clinic caregivers worked tirelessly to restore his physical and mental health.
"They're putting their life on the line because they care so much," Kielsmeier adds. "Angela, Alison and the other nurses were right there with me, helping me recover. They changed my life. And there are things about that stay in the hospital that I'll remember forever."