CEO Update: Take good care of yourself this holiday weekend
CEO Update: Take good care of yourself this holiday weekend
Fellow Caregivers,
No other day embraces the simple pleasures of summer quite like Independence Day. Steeped in public pastimes, it is a holiday made all the better by warm weather and good company.
Of course, this year's observance should look much different — and not only for the absence of baseball.
The reality is coronavirus is rebounding in the United States. New cases of COVID-19 are rising among all age groups, especially in those ages 20–34.
Our models, which predict how many people will become infected and hospitalized, are based on our willingness to maintain social distancing, use face masks and practice good hand hygiene. As it relates to July 4, we will not see the effects of good or poor adherence to these behaviors for about two weeks from now.
So, how can you stay safe and take care of your loved ones? Remember these three factors when deciding to participate in a gathering.
Space: If you are going to be around others, it is generally safer to be outside. If the activity is indoors, is it in a well-ventilated space where you can keep distance between you and others?
People: Small gatherings enable safer distancing. Are others who will be there likely to follow safety recommendations, such as social distancing and wearing a cloth face covering?
Time: The longer you are in close contact with others, the greater the risk that the coronavirus could spread.
If you do decide to participate in an activity or event, here is what you can do to protect yourself and others as much as possible:
Maintain 6 feet of distance from others.
Wear a cloth face covering.
Stay home if you are sick.
Wash your hands frequently.
Do not touch your eyes, nose or mouth with unwashed hands.
We showed earlier in this pandemic we can contain the virus. While these behaviors may feel awkward and inhibiting, they are essential to staying safe. It is why we continue to follow these practices in our facilities, and why our facilities remain safe for patients and caregivers.
As a caregiver, you can model the right behaviors for your family and friends. Thank you for doing your part to make this holiday safe for everyone.
Happy Independence Day!

Tom Mihaljevic, MD
CEO and President
Pandemic changes the how, not the why, for Environmental Services
Pandemic changes the how, not the why, for Environmental Services
Our Environmental Services (EVS) caregivers always pride themselves on three things: teamwork, thoroughly cleaned rooms and exceptional patient experience.
When the COVID-19 pandemic reached Northeast Ohio, not much changed for these caregivers. Instead, their intensity to excel at all three grew stronger.
New role, same goal
Preventing the spread of COVID-19 had an immediate impact on EVS caregivers, thrusting them into the first line of defense to ensure a sterile and safe environment for patients and caregivers.
For caregivers like Rejana Malasi, an EVS area cleaner at Cleveland Clinic Fairview Hospital, the new role was one that came naturally.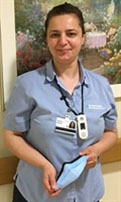 Rejana Malasi
"Although we were extremely thorough with our cleaning before, COVID-19 raised the bar for us," Malasi says. "We adapted to the new products and guidelines and remained focused on the safety of our patients and fellow caregivers."
Some of those new guidelines included the use of personal protective equipment, altered cleaning schedules and an enhanced focus on high-touch surfaces and common spaces.
While EVS was focused on patient safety, Malasi noticed that the patients — even in the midst of their own recovery — were concerned about her.
"It was heartwarming to see how much our patients cared for our safety," she shares. "It is an experience I won't soon forget."
A strengthened sense of being a caregiver
At any given moment, an EVS caregiver is dropping in on a patient. Anita Williams — always expressing an upbeat attitude and a smile — is one of those caregivers.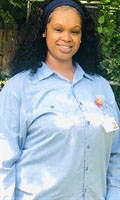 Anita Williams
An area cleaner in the H Building on main campus, Williams says the pandemic has made a profound impact on her role as a caregiver.
"Even though we are caring for very sick patients, working with such incredible people makes each day easier," says Williams. "I've learned a lot from them and from our patients."
Williams was able to get to know one of her patients after they awoke from a coma. Their conversations included life experiences and family. Observing, and supporting, the patient's recovery was for her an "eye-opening experience" as a caregiver and drives her to keep going.
"Although I didn't take the same oath as our doctors and nurses," she adds, "this situation has strengthened my resolve for being a caregiver."
Teamwork, teamwork, teamwork
We serve our patients best when we work as a team of teams. For EVS, that shined through with the care teams on our COVID-19 units.
According to Mary Liotta, "as the situation became more critical, our entire care team continued to rise to meet every challenge."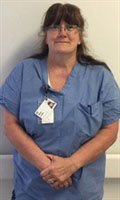 Mary Liotta
Liotta, an area cleaner at Cleveland Clinic Marymount Hospital, was part of the care team on one of the first COVID-19 units at the facility. As the number of patients treated increased, EVS and nursing caregivers came together in a renewed partnership to care for some of our sickest patients. Working together, they developed a cleaning checklist for isolation rooms.
"As the pace quickened and the sense of urgency grew, I saw our team grow stronger and help each other out," Liotta says. "It is rewarding to be part of such an important team."