CEO Update | New approach to manage visitation in Ohio and Florida
CEO Update | New approach to manage visitation in Ohio and Florida
Fellow Caregivers,
Our clinicians have closely studied the spread of COVID-19. We collaborate with public health partners to model its behavior and understand trends. As the spread fluctuates in severity, we will remain alert and adjust our policies to maintain the safest environment.
Today, we implement a standard approach to manage visitation across our Ohio and Florida locations. This approach uses a system of color coding. The purpose is to visibly portray changes to visitation.
Here's how it works:
We monitor a variety of data sources, which include patient and caregiver COVID positivity, and state guidelines to assign a color code.
The color code then determines visitation guidelines for every Cleveland Clinic location in that state.
Our visitation guidelines are publicly available at clevelandclinic.org/visitation. As changes are made at the enterprise level, we will communicate with patients and caregivers.
See this flier, which explains each color code and how it affects visitation.
Visitation guidelines are subject to change based on a location's ability to provide physical distancing.
Compassionate exceptions always apply and are at the discretion of the local care team.
In Ohio, we are at level red. In this level, our current visitation guidelines for Ohio are not changing.
In Florida, we are at the highest level, purple. As a result, the following changes to visitation are now effective across all of our Florida locations:
Each COVID-negative inpatient is allowed one single visit from one individual during the entire hospital stay. Daily visits are not permitted.
Pediatric patients are allowed one visitor.
In the emergency department and outpatient settings, only patients who require special assistance may have one visitor if physical distancing permits.
Additional restrictions apply to patients who are COVID-positive. For a complete list of guidelines, visit clevelandclinic.org/visitation.
I understand many of us feel anxiety or even melancholy about these changes. Empathy is paramount to navigating this pandemic with everyone involved. Connecting our patients with their loved ones by any virtual means possible is actively encouraged.
We will continue to treat patients and fellow caregivers like family and be there to care for one another during these times.
Thank you for your dedication.

Tom Mihaljevic, MD
CEO and President
New color-coded visitation guidelines for Ohio and Florida
New color-coded visitation guidelines for Ohio and Florida
We have taken a number of steps to ensure our facilities are safe to protect our caregivers and patients and help limit the spread of COVID-19.
As we learn to live with COVID-19, we continue to adjust our approach. Beginning Wednesday, Aug. 12, Cleveland Clinic will implement new data-driven protocols that provide state-wide color-coded visitation guidance for all locations in Florida and Ohio. COVID-19 metrics and public health data will be used to determine the state-wide visitation color and corresponding guidance to implement in each state, for all locations.
Caregivers and patients will know which visitation guidelines are in place based on four colors: yellow, orange, red and purple.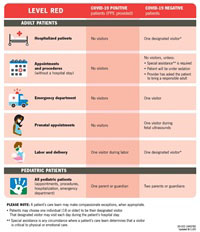 Visitation guidelines (level red) at all Ohio locations, as of Aug. 12. (Click the photo to make it larger.)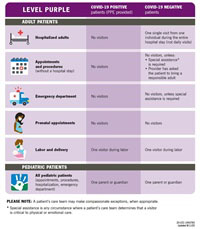 Visitation guidelines (level purple) at all Florida locations, as of Aug. 12. (Click the photo to make it larger.)
The four visitation phases are yellow, orange, red and purple
Please reference this flyer for visitation guidelines that apply to each color. (You can find this flyer in the COVID-19 toolkit on the intranet.)
Beginning Wednesday, Aug. 12, all Ohio locations are at visitation level:RED.This colored designation does not require any visitation changes in Ohio locations at this time.
Beginning Wednesday, Aug. 12, all Florida locations are at visitation level:PURPLE.This will require changes to visitation in all Florida locations.
Cleveland Clinic's new visitation guidelines will apply state-wide and are not divided by county or facility. For example, Cleveland Clinic Akron General and Cleveland Clinic Hillcrest Hospital will follow the same visitation guidelines, even though they are located in different counties with potentially different COVID-19 risk levels.
We will inform caregivers and their leaders when we plan to change visitation phases for Ohio and Florida before the change goes into effect.
Families and visitors are an important part of a patient's care team. As the COVID-19 pandemic continues to evolve, we want to keep our caregivers and patients safe while also including families in our care whenever possible through virtual means.
For current visitation levels by state, visit ClevelandClinic.org/visitation.