Akron General Will Provide COVID-19 Testing Beginning April 30
Akron General Will Provide COVID-19 Testing Beginning April 30
Cleveland Clinic Akron General will provide COVID-19 testing beginning Thursday, April 30, at the Akron General Health and Wellness Center in Green, Ohio.
The testing site will be open 11 a.m. to 5 p.m. seven days a week and helps increase the capacity for testing to help slow the spread of COVID-19 in Northeast Ohio.
The site will provide testing for caregivers, pre-operative patients and individuals with COVID-19 symptoms who have a doctor's order for a test. To obtain a doctor's order, those with COVID-19 symptoms should start with a virtual visit using Cleveland Clinic's Express Care® Online or call their Cleveland Clinic primary care physician.
We are prioritizing surgical and high-risk patients, which includes those who are age 61 and older. These patients need to meet with a provider, either virtually or in person, and see if they meet testing criteria and are symptomatic. If they meet criteria, then they will be called and given a date and time for a testing appointment.
The Akron General Health and Wellness Center in Green provides a safe location in the area to do COVID-19 testing because it has a dedicated entrance that allows people to get in and out without coming into contact with anyone else in the building. This location is a central option for Akron, Canton, Medina, Youngstown, as well as Tuscarawas County, where Cleveland Clinic serves patients at Union Hospital.
Akron General will test patients regardless of their ability to pay and will not charge copays for the test.
Daily CEO Update | Acts of kindness
Daily CEO Update | Acts of kindness
Fellow Caregivers,
We often speak of our work as a calling. Caregivers in all roles embrace this through genuine acts to alleviate suffering. Every day, we hear remarkable stories of your kindness and compassion.
Our Hero Huddles shine a light on many of you. Mary Liotta works in Environmental Services at Marymount Hospital. She observed a patient diagnosed with COVID-19 sobbing alone in her room.
Mary learned the woman's mother was also hospitalized at the same time and recently passed away. She comforted the patient and then later revisited with a bouquet of flowers. The patient expressed how they were her mother's favorite color pink. Mary's gesture was deeply meaningful to her.
We are taking good care of each other. The Office of Caregiver Experience is supporting caregivers and their families affected by this disease. They are also providing meals for the families of caregivers who are helping out hospitals in New York and Michigan.
One nurse wrote: "I take care of my grandparents. The Office of Caregiver Experience arranged a shipment of groceries to my grandparents while I'm away. My grandmother called me in tears because she was so thankful. My heart is so full."
Today, I appeared on Fox Business's "Mornings with Maria." We spoke about the necessary deferment of nonessential care to contain COVID-19 and its financial impact on providers, as well as the safety of hospitals for both patients and healthcare workers. Watch the interview.
Cleveland Clinic Florida received approval to begin clinical trials for a variety of new treatments. Among those is a convalescent plasma therapy study, which collects antibody rich plasma from donors who have recovered from COVID-19.
Since implementing drive-thru testing in mid-March, our Florida sites have talked with patients who are interested in making plasma donations. Plasma will be collected by OneBlood, an independent not-for-profit blood bank serving Florida.
Tomorrow, our Akron General team opens Cleveland Clinic's second COVID testing site in the state of Ohio. The site is located at the Akron General Health and Wellness Center in Green.
I leave you today with a note of appreciation on our kudoboard: "I couldn't have asked for a better group of nurses, nurse techs, housekeeping staff and all others involved in my care. Whatever fears I had about having surgery during a pandemic were quickly allayed by a confident, caring and vigilant staff. Thanks for doing what you do, and making this out-of-towner feel right at home!"
Thank you for your dedication.

Tom Mihaljevic, MD
CEO and President
We're Expanding the Caregiver Hardship Fund During This Pandemic
We're Expanding the Caregiver Hardship Fund During This Pandemic
At Cleveland Clinic, we treat each other as family. We are here for each other during challenging times.
COVID-19 has resulted in unexpected financial stress for some caregivers. Our Caregiver Hardship Fund is here to help.
We have now expanded the fund to assist caregivers who are experiencing unexpected financial hardship or expenses related to COVID-19. Hardships can include utility shut-off notices, spousal job loss, food insecurity and more.
All employee caregivers are eligible to apply. Caregivers working at Akron General, Indian River, Martin Health and Union Hospital should refer to their hospital's specific programs and guidelines. Professional staff members should contact the Office of Professional Staff Affairs for assistance with hardships.
How to apply
Complete and submit the Caregiver Hardship Program Application to hardship@ccf.org or fax to 216.448.0884.
A Caregiver Hardship Committee reviews and approves applications. Applicants will be notified via email if their application is approved within three business days of submitting their request.
Approved grants will be processed (separate from paycheck) as direct deposit into the caregiver's bank account on file. Funds are grossed-up so caregivers receive the full grant value after taxes are deducted.
If you have questions, please contact the ONE HR Service Center at 216.448.2247.
How to give
If you are not experiencing a hardship and would like to support your fellow caregivers, consider making a gift to the fund.
Physician Assistant Encourages Her Patient Through Recovery from COVID-19
Physician Assistant Encourages Her Patient Through Recovery from COVID-19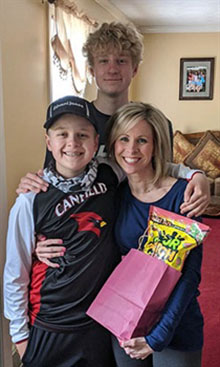 "You are healthy. You are a fighter. We are here for you."
The words we say to our patients matter. We give them strength. We provide comfort.
When Shauna Gales, PA-C, called Renee English to let her know she had tested positive for COVID-19, those were her words of encouragement.
English had been at the Cleveland Clinic Mellen Center on a Friday for her monthly infusion of the disease-modifying medication used to manage her multiple sclerosis (MS). Early the next morning, she felt unwell — headache, fever, cough, throat and ear pain. "This was completely not normal for me after my infusion," English says.
After an Express Care Online visit, it was determined she met the criteria to be tested for COVID-19. English made the three-hour roundtrip drive to the testing location at main campus by herself.
While waiting in her car at the drive-thru testing, English says she felt terrified. But as the nurse approached, she was reassured by the kind look in her eyes, which is all English could see given that the nurse was outfitted in full personal protective equipment.
"I will never forget her eyes," says English. "She was very calming, and for that, I am forever grateful."
By Monday morning, Gales had the results and let English know the test was positive. They discussed her MS symptoms and Gales explained that although English was not having an MS relapse, the infection with COVID-19 was intensifying her MS symptoms.
"For our patients with MS, I would imagine getting that diagnosis of COVID is very nerve-wracking," Gales says. "I answered her questions and reassured her that we are here for her. I stayed in touch with her frequently for the next two weeks."
The goal was for English to recover at home with supportive measures — resting, drinking lots of fluids, taking Tylenol — and talking daily to a Cleveland Clinic caregiver to review symptoms and progress. Fortunately, English was able to recover while staying home.
Her physician, Marisa McGinley, DO, says, "Renee is our first patient at the Mellen Center known to be diagnosed with COVID-19. Her story should give hope and show that even with a disease such as MS, and while taking medications that can impact your immune system, you can recover."
While the ways in which Gales and other clinicians are there for patients may have changed — many appointments have transitioned to virtual visits — the strength and comfort they bring remains the same.
"Even with a virtual visit, it's reassuring to patients to know we are here," she says, "All of the Mellen Center resources are here for them to continue to use."
Read more about English's story here.
Akron General Virtual Town Hall Focuses on COVID-19 and African American Community
Akron General Virtual Town Hall Focuses on COVID-19 and African American Community
Cleveland Clinic Akron General led a virtual town hall on April 27 on the impact COVID-19 has had on the African American community in Akron and Summit counties.
About 40 community leaders and 20 caregivers joined Brian Harte, MD, President of Akron General; Nazleen H. Bharmal, MD, PhD, MPP, Medical Director of Community Partnerships for Cleveland Clinic Community Care and Population Health; and Charles Modlin, MD, FACS, Founder and Director of the Minority Men's Health Center and the Cleveland Clinic Center for Health Equity. Andre Lessears, Director of Diversity and Inclusion for Akron General, moderated the discussion.
Topics included COVID-19 testing and how health disparities are negatively impacting the African American community. African Americans are experiencing more COVID-19 infections and deaths than other groups.
All those who joined the call received Cleveland Clinic information and resources for COVID-19 testing and treatment.
Cleveland Clinic Florida Leaders Share Insight, Ideas with Gov. Ron DeSantis
Professional Staff Virtual Meeting on COVID-19: Wednesday, May 6
Professional Staff Virtual Meeting on COVID-19: Wednesday, May 6
Our work to prepare for COVID-19 requires many changes that affect your practices, and we want to keep you informed.
Join CEO and President Tom Mihaljevic, MD, and Chief of Staff Herb Wiedemann, MD, for the Professional Staff Meeting where we will share COVID-19 updates, including our surgical reactivation plans, on Wednesday, May 6, at 7 a.m.
Enterprise subject matter experts will update you and will respond to your questions. Email questions ahead of time or during the meeting to execadmin@ccf.org
ALL staff should participate virtually.
Access the meeting from your computer or phone.
To watch at the time of the meeting from your computer on the Cleveland Clinic network, click here.
To watch from your mobile device or outside of the network, click here.