Ways you can adapt plan of care visits to maintain safety in the pandemic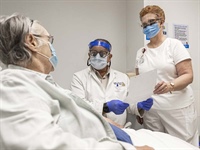 To help improve teamwork, communication and patient safety across the enterprise, the Office of Patient Experience introduced plan of care visits as a standard, yet adaptable, best practice in April 2019. These daily bedside conversations between patients, nurses, physicians and advanced practice providers allow patients to be more involved with making decisions about their care.
The challenges we've faced during the COVID-19 pandemic have required us to change some of our practices and approaches to patient care, including plan of care visits. However, during this time we've realized that communication among patients, their loved ones and fellow caregivers is just as — if not more — important than it was prior to COVID-19.
While additional safety precautions, such as social distancing, can make plan of care visits more challenging to coordinate, we must continue to perform these visits to enhance communication and understanding between patients and caregivers.
Some teams have found creative ways to organize plan of care visits during the pandemic — read about those experiences and other tips below.
Plan of care visits during COVID-19
Make them happen. Taking a few extra minutes to meet with a patient early in the day may save you and fellow caregivers' time.
Respect team members' time and responsibilities. Collaborate with others to coordinate plan of care visits. Recognize all care team members' input and contributions to patient care.
Connect over the phone. Consider sending one care team member into the patient's room during their plan of care visit while other team members call in.
First, ask questions. Before reviewing a patient's plan of care, ask them how they are feeling. Provide patients an opportunity to ask questions. "This changed my practice," says Pat Grady, MD, staff physician in Hospital Medicine at Cleveland Clinic Avon Hospital. "Consider the potential emotional impact of visitor restrictions and other implications of COVID-19. A patient's priorities on any given day may vary from the provider's priorities at that time."
Sit down, if space allows. Simply pulling up a chair to sit next to the patient's bedside changes the dynamic of the visit, for the better. "Sitting versus standing while visiting with a patient emphasizes you have time to address their questions and concerns," Dr. Grady says. "It's another way to say, 'I'm here for you.'"
Supplement verbal communication when necessary. Personal protective equipment (PPE), such as masks and face shields, can prevent us from hearing others and from being heard. Use these communications tips when speaking with patients and team members to ensure understanding when plan of care is discussed.
Call the patient's family, if you are able. "Connections with loved ones go a long way for a patient's psyche and peace of mind, especially during the pandemic," Dr. Grady says. Ask the patient if they would prefer to use their cell on speaker phone, or call from the patient's room phone.
Tell us your plan of care visit tips and successes by emailing CaregiverCommunications@ccf.org.
Find more plan of care visit resources on the Office of Patient Experience intranet site, including this infographic.