Our Nurses Find An Unconventional Way to Help Hospitalized Patient See His Family
Our Nurses Find An Unconventional Way to Help Hospitalized Patient See His Family
While patients are protected by visitor restrictions, they also can find it emotionally hard to be separated from loved ones, especially if they are hospitalized.
Recently, a nursing team found an unconventional way to help a patient to see his family.
Drew a 22-year old patient, was recently diagnosed with a kidney disorder. He was in the hospital for two weeks, unable to be with his family. Rebecca Aboumerhi, BSN, RN; Sarah Nash, BSN, RN; and Melissa Neff, BSN, RN; found a safe way to help this man see his family. They created a visit for them through the windows of our lobby.
"We developed a bond with the patient," says Neff. "He expressed how difficult it was to not visit with his family, and wanted to make that possible."
Nash, a Nurse Manager, helped the team make this possible. She could empathize.
"My brother has cancer and is going through chemo," says Nash. "I drive to his house and talk to him through the car window. I understand the need to see and hold family. I'm glad our team was able to help Drew have time with his loved ones."
Our nurses and other caregivers often come to the rescue for our patients. Often, they go beyond taking care of patients' physical needs; they act as an extended family by giving compassionate care and support.
Expansion of Pre-Op COVID-19 Testing Facilities
Expansion of Pre-Op COVID-19 Testing Facilities
Updated May 7, 2020 -- 6 p.m.
We have initiated a gradual transition from using the Walker Center and Akron/Greene to utilizing other pre-existing ambulatory facilities for outpatient and pre-op COVID-19 testing. This week, scheduled testing for asymptomatic, pre-surgical patients is planned to begin at Willoughby Hills Express Care (May 6), Brunswick Express Care (May 7) and Rocky River Urgent Care (May 8). Testing is by appointment only.
Testing hours are as follows:
Willoughby Hills Family Health Center – Monday-Friday, 8 a.m. - 4 p.m. (expansion to 7 days to follow)
Brunswick Family Health Center – Monday-Friday, 8 a.m. - 4 p.m. (expansion to 7 days to follow)
Rocky River Urgent Care – Monday-Sunday, 8 a.m. - 4 p.m.
Note that ambulatory facilities are not responsible for managing testing schedules. Rather, patients should be directed to the central scheduling system (216-444-2273) to cancel or reschedule testing appointments.
Additional COVID-19 testing facilities will be opened on a phased basis over the next month. Further details about additional testing sites will be communicated as information becomes available.
The Walker Center and Akron/Greene will remain open for COVID-19 testing until further notice.
Daily CEO Update | Serving Our Patients
Daily CEO Update | Serving Our Patients
Fellow Caregivers,
On Monday, May 4, we began resuming outpatient appointments, surgeries and procedures that were paused due to COVID-19 in both Ohio and Florida.
As we continue to resume services, the safety of our patients and caregivers remains our top priority. Many precautions will be in place at our facilities. We will test patients for COVID-19 within three days before surgical procedures and continue to screen caregivers, patients and permitted visitors for potential COVID-19 symptoms, including a temperature scan, at entrances.
A new 'Reactivation' section of the COVID-19 Toolkit provides enterprise-approved standards for establishing consistent, safe care settings, including an environment of care checklist for ambulatory and surgery sites. (Both can only be viewed on the Intranet)
Ohio surgical volume is growing. Today we performed 312 surgeries and expect to reach 375 by mid-week, up from a low of 170 cases. This will further increase next week as we begin the phased re-opening of ambulatory surgery centers.
The state of Ohio continues to work on its testing plans to support the economic re-opening of the state. Testing will focus on hospitalized patients and healthcare workers, those at risk because of living facilities, age or comorbidities, and minimizing the risk of transmission.
This is Nurses Week, a time to celebrate the skill and compassion of Cleveland Clinic nurses. In the face of this pandemic's uncertainty, our nurses have shown heroism, kindness and tirelessness. Thank you to every one of our Cleveland Clinic nurses. Each of you has made a lasting impact on our organization. (Click HERE for a video celebrating our nurses.)
Yesterday, the 910th Airlift Wing of the Air Force Reserve offered a well-deserved salute to those on the front lines of the COVID-19 battle, flying two large aircraft over our main campus, Cleveland Clinic Children's, Akron General and Fairview Hospital. (Click HERE for photos and videos.)
Today is Giving Tuesday. Cleveland Clinic will participate in #GivingTuesdayNow – a global day of giving created as an emergency response to COVID-19. Nonprofits around the world will ask their communities to give back, just like you are doing through our Caregiver Giving Program. Nearly 650 caregivers have donated and together raised more than $200,000. Gifts of all sizes make a difference and we are grateful for any gift caregivers choose to make. We are humbled by your generosity.
Gifts made to Cleveland Clinic accelerate our discoveries. In a video discussion, Serpil Erzurum, M.D., chair of the Lerner Research Institute, explains that philanthropic gifts move research forward immediately. As our scientists and researchers expand our understanding of COVID-19, we will continue to incorporate their discoveries into our care.
Thank you for reading our communications. It is important to me that you feel informed with timely and relevant messages. As we begin reopening services, I will continue to communicate frequently with you throughout the week. We are committed to communicating with you openly and often.
Thank you,

Tom Mihaljevic, MD
CEO and President
Generations of Nurses: Celebrating Special Bonds Among Nurses
Generations of Nurses: Celebrating Special Bonds Among Nurses
In celebration of the 200th birth anniversary of Florence Nightingale, the World Health Organization has designated 2020 as the Year of the Nurse. Approximately half of all healthcare workers around the world are nurses, and during the global COVID-19 pandemic, their contribution to patient care is more important than ever.
Nightingale, the founder of modern nursing, once said, "For the sick, it is important to have the best." At Cleveland Clinic, we are proud of our 23,000 nurse caregivers, who are among the best in their profession. As we celebrate Nurses Week, we present the stories of five caregivers for whom nursing runs in the family and one relationship between a nurse and her mentor. All of the nurses highlighted exemplify the character traits touted by Nightingale – honesty, integrity, compassion, humility and thankfulness.
---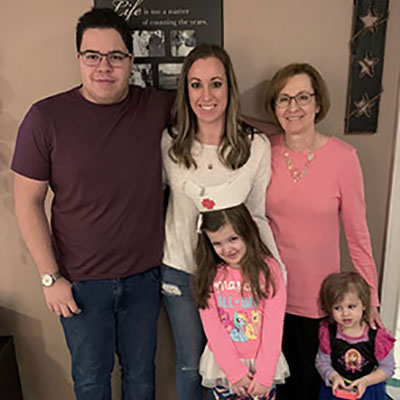 A family affair: Three generations share a passion for nursing
"My greatest passions in life have been my family and my calling to be a nurse. I began my career at Marymount Hospital in 1978, and I have been blessed to spend my entire career here.
I have always aspired to instill my values of service to others and compassion and empathy to my children. One of my most treasured memories is a note I received on Nurses Day from two of my daughters, Andrea and Stephanie, when they were 10 and 8 years old. They wrote, in part, 'You are the best nurse! You take care of us when we are in pain. You helped us through good and bad …We are sure that all of your patients at Marymount appreciate what you do for them like we do.'
This note is framed in my office to this day and has been my motivation and inspiration through many challenges.
I am very proud of my youngest daughter, Stephanie Taylor, BSN, RN, an assistant nurse manager in the Women's Health Institute at main campus. Stephanie truly exemplifies the spirit of nurses who do small things with great love and care. I believe we have grown closer together as mother and daughter because of our passion for nursing.
I am hopeful that Stephanie and I are fostering a love for nursing in our family's next generation. My grandson, Jared Kraus, has been a nursing assistant for a year and recently accepted a PCNA position at Marymount Hospital. He plans on attending nursing school in the near future. I am very proud that we now have three generations of Cleveland Clinic caregivers in our family. And I can already see the heart of a nurse in Stephanie's 6-year-old daughter, Ashlyn. She is the first to offer words of comfort when a family member is hurt or sick, and she likes to play nurse with her Papa, putting bandages on his cuts and pretending to give him shots.
I can truly say that every day I love what I do as a nurse. To see my daughter and grandson do the same is a priceless gift beyond measure."
Denise Snyder, BSN, RN, is a Nursing Quality Program Manager at Marymount Hospital.
---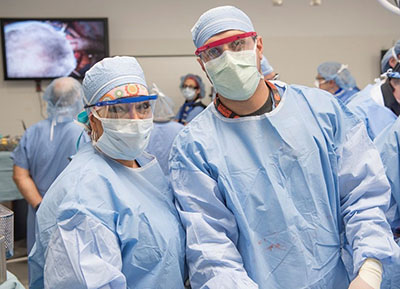 Special delivery: Mother/son assist in birth from transplanted uterus
"I am proud to be part of a mother/son team in the OR at Cleveland Clinic's main campus. I am on the liver/multi-visceral/uterine transplant team, while my mother Mary Monica Rogerson, RN, is part of the gynecological/genitourinary team. Being able to work in the same place as your mom is something not a lot of people get to do. I get to see her in the morning after my night shift and before her day shift, and sometimes, if I'm lucky, eat lunch with her.
My mom is my inspiration. All her life, she wanted to be a nurse. After having four boys, she finally got the opportunity to go back to school and earn her degree. She graduated from nursing school the year before I graduated from high school. Seeing her give it her all to fulfill her dream had a major impact on my life, and I followed in her footsteps.
Last year, my mom and I were both part of the first baby delivery from a transplanted uterus in North America. It's an experience I will never forget for the rest of my life. The team went to countless meetings to make sure the delivery went smoothly, which it did. There wasn't a dry eye in the room when we heard that first cry from the baby. Being a part of this transplant team was indescribable: We helped bring life into the world to a woman who previously was unable to give birth. To work alongside my mom – and all my other colleagues who are like family – was incredible!"
Nicholas Rogerson, RN, is a clinical nurse on the liver/multi-visceral/uterine transplant team in the Digestive Disease & Surgery Institute.
---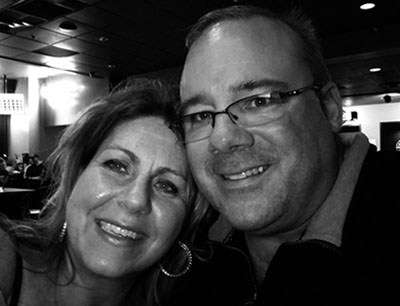 Love connection: Husband and wife met on nursing floor
"I met my wife Kristen Holbrook, RN, 20 years ago when I was a CT transporting a patient to vascular surgery, where she was charge nurse. My face was sunburned, and Kristen asked, 'What happened to your face?' I joked that I had a rash and returned to the emergency department. Feeling bad, I later called her to let her know it was not a rash and said that to make it up to me, she should let me take her to dinner. I knew I had her! The following Saturday was our first date. Fast forward two decades, and we are happily married with three great boys.
Kristen now works in the post-anesthesia care unit, and I'm still in the ED. It's comforting that we both work at Cleveland Clinic. After a stressful day in the ED, she is the first person I call to decompress when I get to the car. By the time we get done talking, I have forgotten all about work.
Now during the COVID-19 pandemic, I'm so grateful we are going through this together. We are able to talk to each other at the end of the day and keep each other grounded because we each realize first-hand what nurses are going through.
Kristen was the biggest influence and supporter of my nursing career. She pushed me in nursing school, and without her I probably would not have been successful. I credit her for being the nurse I am today. But it's probably a good thing we don't work in the same department. It wouldn't go well (LOL!). She is the boss at home."
Brian Holbrook, RN, is a clinical nurse in the Emergency Department at main campus.
---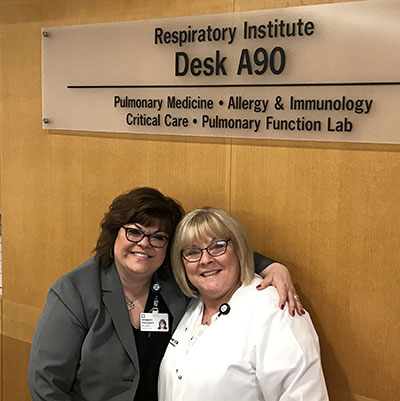 Pillar of support: Nurse mentor offers unwavering guidance and friendship
"Cleveland Clinic has been an amazing place to work as a nurse during the last 40-plus years of my career. The healthcare organization provides an abundance of opportunities and, with leader support, anyone can pursue their dreams. One of the people who has supported me as a mentor throughout my career is Jodi Krizmanich, BSN, RN, department administrator for the Respiratory Institute.
I met Jodi when I took a position in bronchoscopy and she was the senior, most experienced nurse. She was one of the few nurses who went to the operating rooms to assist providers with procedures done under anesthesia, and I was lucky to be included in this specialized team and learn groundbreaking treatments for progressive lung conditions. Our paths crossed again when I became a coordinator in the Respiratory Institute and Jodi served as manager. She guided my growth with her patience and knowledge.
Jodi encouraged me to pursue my BSN, and I started classes online at Ohio University as a 58-year-old woman. My very first assignment on the computer left me in tears as I tried to navigate how to submit a written paper by midnight. (I turned it in at 11:59 p.m.) When I showed up at work the next morning exhausted and feeling defeated, Jodi grabbed me in her arms and gave me a pep talk, ensuring me that I could do this!
When I became a nurse manager, Jodi continued to mentor me. With her gentle guidance, she has helped me grow as a nurse and a leader. Jodi is one of the most giving, thoughtful, professional women I know, and it has been an honor to call her not only my mentor, but also my friend."
Dottie Vasas, BSN RN, is ambulatory nurse manager for the Respiratory Institute.
---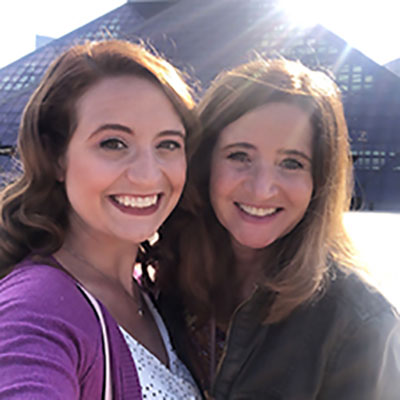 Dynamic duo: Providing compassionate care drives a mother and daughter
"My mother and I both have deep roots in the west side of Cleveland. We were both born and raised here and graduated from St. Joseph Academy. We also are both nurses in the Cleveland Clinic healthcare system. My mother, Michele Ljubi, BSN, RN, OCN, CBCN, is a breast health nurse navigator who provides education and support for those diagnosed with breast cancer. I'm a clinical nurse in the pediatric emergency department at Hillcrest Hospital.
I feel extremely lucky to have a nurse for a mother. When I was diagnosed with type 1 diabetes at age 11, my mother was the first to recognize the signs. Her quick action and nursing knowledge made it so I only had to spend one night in the hospital. In high school, when it was time for me to consider a career, my mother was the first one to suggest nursing. I loved the sciences and was interested in healthcare, and she impressed upon me the impact I could have on a person's health by channeling my compassion into their care. She was my No. 1 supporter when nursing school became difficult!
I will forever be grateful to my mother for her positive influence on my life and career. I am proud to tell people we both work for Cleveland Clinic. Although we have completely different skills and backgrounds in terms of our nursing experience, it is very special to be able to use our respective talents at the same organization, working toward the same mission. I can only hope that my nursing career will have the same positive impact on others as my mother's 30-plus year career has had on my life and the lives of her patients."
Colleen Chambers, BSN, RN, is a clinical nurse in the pediatric emergency department at Hillcrest Hospital and a student in Kent State University's pediatric nurse practitioner program.
---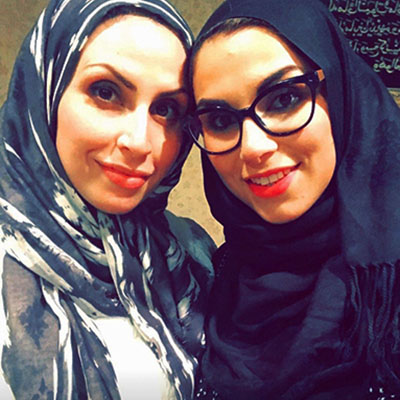 Sister act: Siblings support each other through school and at work
"Nursing has always been a dream career for me. I was so lucky to begin my nursing journey together with my sister, Yasmin Jaffal, BSN, RN. We attended Cuyahoga Community College side-by-side from 2013 to 2015, graduating with our nursing degrees. We helped each other overcome struggles in school, and I would not have made it through without Yasmin! Afterward, we completed our bachelor's degrees at different schools.
Today, we both work at main campus. I'm in the cardiology stepdown unit at main campus, and Yasmin is a clinical nurse in the pulmonary/integrated care unit. We both love being able to help people. Nursing is the best way to help people during the best times of their lives and the worst. Yasmin and I also wanted to provide a better future for ourselves and our families. As nurses, we are given so many opportunities to grow and be positive role models for our children.
Because we both work at main campus, we try to see each other when we can. We don't always work the same shifts, but when we do we try to meet up for coffee. We also like to surprise each other with snacks and lunch to help us through our shifts. It's always comforting to see someone you love at work.
I love the support we have for each other, as well as for all the nurses at Cleveland Clinic. Only a nurse can understand another nurse! Working full time, going back to school and being a mom is hard, but together we can do anything. Cleveland Clinic made it possible for Yasmin and me to work together and achieve our goals together."
Warda Jaffal, BSN, RN, is a clinical nurse in the cardiology stepdown unit at Cleveland Clinic's main campus.
Making a Patient Connection in This Time of Social Distancing