Personal protective equipment update effective March 24 2020
Personal protective equipment update effective March 24 2020
Follow the current personal protective equipment (PPE) recommendations our leaders have developed (see links below). These recommendations align with international and national guidelines, as well as best practices shared from healthcare leaders across the U.S. Check the intranet for updates.
Recommendations for PPE
Use the visual guides below to know when to wear a facemask or an N95 respirator mask; protective eyewear; and a gown and gloves when in contact with patients who are COVID-19 positive or are persons under investigation (PUIs) in the following settings:
How to don and doff PPE
Watch video tutorials under the "Protect" tab in the toolkit to prepare yourself for patient care in isolation and the associated required PPE. View visuals from the Centers for Disease Control and Prevention.
Questions? Contact your local infection preventionist.
Child Care Website Available, Continue to Share This Application
Daily CEO Update | Cleveland Clinic
Daily CEO Update | Cleveland Clinic
Fellow caregivers:
Thank you for staying with us throughout this pandemic. Your hard work shines as a beacon of hope in uncertain times.
We understand you and your families have fears about what is happening. We hear how you are feeling.
Cleveland Clinic will continue to care for you as part of our family.
It is why I communicate with you every day.
Giving you access to timely and accurate information is the safest way to manage through this situation.
We know some caregivers have concerns about personal protective equipment (PPE).
I want to assure you this is a safe place to work. Here are the measures we have taken:
We have aligned our PPE guidelines with the World Health Organization and Centers for Disease Control and Prevention.
We have restricted access into our facilities.
We are checking caregivers for fever when they enter our patient care areas.
These measures ensure our hospitals are safer than many public places. As a leadership team, we are reviewing our practices every day. We are committed to your safety.
There is no evidence that face masks provide protection outside of high-risk areas. We will continue to give caregivers appropriate protection when caring for patients with COVID-19, or when ruling out patients for the disease.
These measures will also conserve supplies for a potential surge of patients.
We currently estimate the peak of patient activity to happen by mid-May in Northeast Ohio.
The goal in public health is to make COVID-19 easier to manage over a longer stretch of time. It will take everyone in our communities practicing the right behaviors, such as:
Social distancing and isolation
Frequent handwashing
Good cough etiquette
Regularly disinfecting surfaces
And calling in for medical care, or using a virtual visit
By adopting these habits everywhere, we will limit exposure to the virus. And through that, reduce hospitalizations.
Cleveland Clinic cares about your well-being. We are part of your support system throughout these challenges.
Our Caring for Caregivers team is now available for what we call "Boost Appointments."
Try it out. You can talk with a qualified professional about how COVID-19 has impacted your life. You will also get tips on resilience.
With surgical services postponed at many of our locations, you are helping us staff a labor pool.
We will find temporary roles for caregivers in areas with the greatest need. As caregivers wait for new assignments, they will continue to be paid for their regularly scheduled shifts.
I am proud to see our Florida caregivers implement phone screening and drive-through testing for COVID-19 in their communities. They've screened thousands of patients and tested hundreds.
In Cleveland, we have limited drive-through testing to appointment-only due to the overwhelming demand. We are prioritizing high-risk patients, which includes those who are currently hospitalized and those who are age 61 and older.
The Ohio governor's office announced a stay-at-home order, with exceptions made for healthcare workers and other essential services.
It is a reminder that our service to society is indispensable. We continue to care for thousands of patients every day who rely on us to meet their needs.
I know this has been a lot of change. Social distancing and isolation is especially challenging for families. It is very difficult to not spend time with your friends and loved ones.
These actions do not come easy. They create discomfort. Yet they are also necessary to contain COVID-19.
You are not alone. I am confident that we are going to come through this successfully, together as a team.
Thank you for being with us on this journey.

Tom Mihaljevic, MD
CEO and President
A Message from a Recovering COVID-19 Patient
A Message from a Recovering COVID-19 Patient
This message was authored by a seriously ill COVID-19 patient who recovered and was discharged from the MICU on March 23.
While he was being treated, caregivers frequently communicated by writing on the glass door of his isolation room. Upon his recovery, he reciprocated with his own message.
Your teams are doing incredible work. You uplift and inspire us all.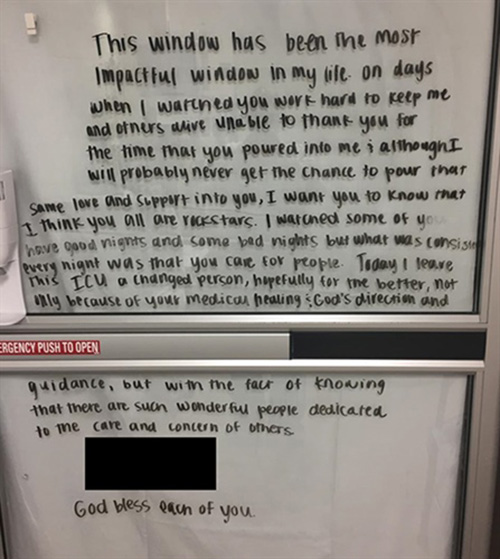 Caregiver Comfort Station Opens on Miller Pavilion Rooftop
Caregiver Comfort Station Opens on Miller Pavilion Rooftop
On a daily basis, our caregivers are going above and beyond to care for our patients, our communities and each other.
To show our appreciation and provide a moment to relax and recharge, we have opened a Caregiver Comfort Station on the Miller Pavilion Rooftop (J Building) at main campus.
Open 24/7, this station offers caregiver snacks, hot and cold beverages, plus amazing views of Downtown Cleveland. Snacks and beverages include:
Beverages: bottled water and sodas, coffee and hot tea.
Snacks: apples, bananas, oranges, granola bars, baked chips and pre-packaged snacks. Snacks may vary based on availability.
The space will be regularly cleaned by our Environmental Services team and is set up to meet social distancing requirements (6-foot rule).
For questions about the rooftop comfort station, email opsdivision@ccf.org.
Additional Comfort Stations
In partnership with the Office of Caregiver Experience (OCE), we are working across the enterprise to set up additional Caregiver Comfort Stations. Particular areas of focus include our locations with increased patient traffic, first responders, Emergency Departments, ICUs and the Walker testing center.
For questions about these additional comfort stations, email ces@ccf.org.
Thank you to all of our caregivers for your hard work, your dedication and your compassion.
Cleveland Whiskey Collaborates With Us to Supply Hand Sanitizer
Cleveland Whiskey Collaborates With Us to Supply Hand Sanitizer
Cleveland Clinic and the Cleveland Whiskey team are working together to formulate, blend and bottle hand sanitizer for the health system. A sufficient supply of hand sanitizer is key to protect the health and wellness of healthcare providers who are critical to not just those who contract COVID-19 but to everyone who needs medical attention during this time.
"We jumped at the chance to collaborate with Cleveland Clinic to help supply the system with hand sanitizer," says Tom Lix, Founder and CEO of Cleveland Whiskey. "Our mission is to make good whiskey and do the right thing, and this is definitely doing the right thing. It's the best way we can help our community."
"We are grateful for Cleveland Whiskey's support as we navigate this evolving situation," says Allison Riffle, assistant director of Pharmacy at Cleveland Clinic. "Hand sanitizer is a vital component that helps us protect our caregivers and patients. It was important to us to identify a local supplier that could meet the FDA requirements and work quickly with us to meet our health system's demand."
An initial run of almost 1,000 bottles were produced and distributed among Cleveland Clinic locations for use by caregivers. More bottles will become available as production picks up and other partners join the initiative.
The Manufacturing Advocacy and Growth Network (MAGNET), an organization that helped design the technology that Cleveland Whiskey uses to produce whiskey, is looking for ways that companies can retool to combat this crisis. MAGNET provided financial support to make this change to hand sanitizer a reality.