Leaders humbled by caregivers' compassion and courage
Leaders humbled by caregivers' compassion and courage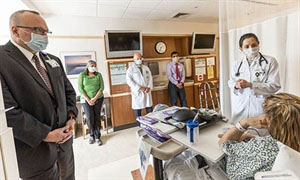 Our caregivers' courage has always shined. COVID-19 has only exemplified that.
Adam Myers, MD, Chief, Population Health and Director, Cleveland Clinic Community Care, and Michelle Medina, MD, Associate Chief, Clinical Operations, Cleveland Clinic Community Care, have been talking to caregivers and seeing that bravery and compassion firsthand during recent Community Care Leadership Rounds.
The two have visited COVID-19 units at our Cleveland Clinic locations throughout Northeast Ohio. At each visit, they were joined by facility leaders and hospitalist teams.
"The experience has been illuminating and humbling," Dr. Medina says. "We have incredibly dedicated physicians, APPs, nurses and hospital caregivers."
During the rounds, caregivers shared that there was a lot of fear and anxiety when the pandemic began.
"Despite that fear, they leaned in — showing true courage and all have shown empathy," says Dr. Myers. "The social distancing and precautions we have in place has created emotional distancing for many patients during a very fearful time for them.
"The ability of our teams to see past their own fears and provide comfort humbles me."
Caregivers shared that leaning on each other — using the buddy system to don/doff personal protective equipment, sharing best practices and taking turns at difficult tasks — helped them to deal with anxieties. Educating themselves by learning about the disease, safety precautions and listening to regular leadership updates, adds Dr. Medina, also alleviated stress.
The ability of multidisciplinary teams to quickly come together to innovate and problem solve was evident during the visits.
Dr. Myers notes that rapid cycle innovations have facilitated in-room dialysis, no room entry adjustment of ventilators and the ability to quickly recognize subtle warning signs of a worsening patient condition that in most circumstances would not be that alarming.
"There is a lot of good amidst the bad news, and you can feel empowered by doing this work," says Dr. Medina. "I am eternally grateful to work with a team who gives their all every day, and expects no other reward than the satisfaction of knowing a patient — someone's mother/ father/ spouse — received incredible care in their hands."
"These teams," adds Dr. Myers, "exemplify the very best of what Cleveland Clinic can do."
You can now donate PTO hours to a caregiver in need plus other ways to donate
You can now donate PTO hours to a caregiver in need plus other ways to donate
Our caregivers treat each other as family.
In this time of unexpected need, sharing what you have earned with someone can be a rewarding experience. That's why we revised how you can donate your paid time off (PTO) to other caregivers.
Effective June 1, here are the ways you can give PTO through Workday:
Contribute a specific number of your PTO hours to a colleague who has a medical emergency. When you donate this way, you help caregivers who may not have enough PTO for recovery (e.g., surgery) or to care for a family member who is ill. We take the value of your PTO hours and convert them to the value of the recipient's PTO for the actual time off from work.
Donate your PTO hours to either or both of the following funds. Your PTO hours will be converted to monetary value based on your hourly pay rate.

The Caregiver Hardship Fund provides grants to any eligible caregiver facing unexpected financial hardships such as eviction notices, food insecurity, utility shutoffs, funeral expenses, etc.
The COVID-19 Emergency Fund provides aid to front-line caregivers, including meal delivery service for those who are home due to illness, take-home meals for caregivers during their shifts, and self-care resources, as needed.
Learn more about our Caregiver Giving Program.
To donate PTO hours:
Log in to ccf.org/onehr and click on the "Requests" icon.
Go to "Create Request" and select "PTO Donation Request."
Click here to read FAQs that have important details for donors and recipients.
Questions? Contact the ONE HR Service Center at 216.448.2247.
We're listening: Caregiver Pulse Survey is June 8–23
We're listening: Caregiver Pulse Survey is June 8–23
The unprecedented management of COVID-19 has required you to be flexible in the face of change.
Thank you for your dedication to our mission.
Through it all, our vision remains the same: We strive to be the best place to receive care anywhere and the best place to work in healthcare.
How do we get there?
We write this story together. But we can't do it without your honest feedback.
Help us to understand your needs. Take the Caregiver Experience Pulse Survey, open June 8-23, 2020.
Watch for an email from Press Ganey, which is scheduled to arrive in your inbox on June 8. It will contain instructions to access and submit the Caregiver Experience Pulse Survey.
This confidential survey, which we administer through our partner, Press Ganey, takes less than 10 minutes to complete.
We want to hear from you about your well-being, and about your views on Cleveland Clinic leadership, safety, teamwork and communication.
Your feedback will guide us to make meaningful changes and continue with providing programs and services you find valuable. As a result of past surveys, leaders and teams were able to improve the caregiver experience all across Cleveland Clinic.
We also want to ensure we are checking in with you consistently over time as part of our process to improve our caregiver experience and engagement.
Thank you for your participation!
To learn more about our experience initiatives, visit the Office of Caregiver Experience site (Connect Today Page).