CEO Update | Nursing's healing touch during COVID-19
CEO Update | Nursing's healing touch during COVID-19
Fellow Caregivers,
While the COVID-19 pandemic is unprecedented, we were ready for it because of our culture. Our values have always steered us to do the right thing in the face of adversity.
Cleveland Clinic nurses put our values into practice every day. Their efforts over the past few months have been extraordinary.
Today, I am joined by Dr. Kelly Hancock, our Executive Chief Nursing Officer, to learn about their work. Watch the video above to hear our conversation.
I believe we are fortunate to have the most compassionate caregivers in healthcare. You have been there for patients when they are most vulnerable. Your kind words and healing touch have made all the difference.
Thank you very much for treating our patients, and each other, like your own family.

Tom Mihaljevic, MD
CEO and President
Physicians Speak on COVID-19 and Minority Health
Physicians Speak on COVID-19 and Minority Health
For a variety of reasons, African Americans are more likely to acquire and die from complications of the COVID-19 virus. We can work together to save lives and beat this pandemic.
For the heroes among us: Nominate a COVID-19 Hero
For the heroes among us: Nominate a COVID-19 Hero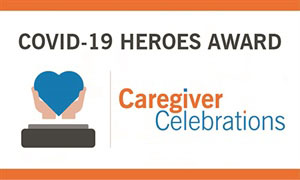 Cleveland Clinic is proud of our caregivers and teams for going above and beyond in response to this pandemic. We have all rallied around our patients, fellow caregivers, and communities in need.
These attributes — courage, empathy, creativity, and teamwork — deserve to be recognized.
All caregivers can submit nominations for the COVID-19 Heroes Award now through Aug. 15. Our annual 2020 Caregiver Celebration awards will focus on these heroes. While the awards may have a different look and feel this year, our heroes' stories are sure to make this a year to remember.
About COVID-19 Heroes Award
It honors the extraordinary dedication, heroic efforts, and outstanding contributions of caregivers and teams during the COVID-19 pandemic in 2020.
All caregivers can nominate anyone across the enterprise.
Senior leaders at each institute/division/hospital will first review nominations.
A leadership committee from across the enterprise will then review the final selection of nominations and choose the winners.
Nominate a fellow caregiver today
Log in to http://www.caregivercelebrations.com/, click "Recognize" and choose COVID-19 Heroes Award.
Describe how the caregiver or teams:
went beyond the call of duty during the pandemic.
role-modeled our values.