State of Ohio and National Guard honor caregivers for work at Wolstein Center
When a COVID-19 mass vaccination site at Cleveland State University's Wolstein Center opened in March, our caregivers were key to its success.
Last week, several of them were invited to the site's closing ceremony and were honored for their planning and operational support.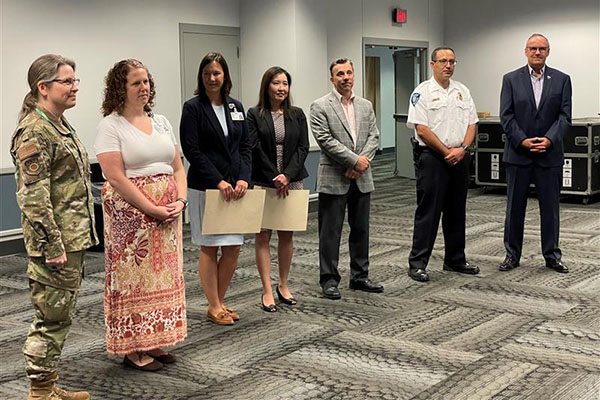 Cleveland Clinic caregivers receive special recognition for their leadership and contributions at the Wolstein Center mass vaccination site.
Those recognized include:
Sam Calabrese, Chief Pharmacy Officer
Matt Hoover, Director of Pharmacy, Procurement and Logistics
Alice Kim, MD, Medical Director of LTACH/IRF Joint Venture and Inpatient Care Coordination in Medical Operations and Staff Physician in Infectious Disease
Allison Riffle, Associate Chief Pharmacy Officer
Katie Rivard, Clinical Pharmacist, Infectious Disease
Jeff Rosner, Executive Director Pharmacy Sourcing and Analytics
The event was hosted by the Ohio Emergency Management Agency (OEMA) and Joint Task Force Magnus – the task force of personnel from each branch of the military collaborating on this initiative.
During the event, Rivard, Riffle and Dr. Kim were presented with the Ohio Commendation Medal by Brigadier General Rebecca O'Connor, leader of Joint Task Force Magnus. These medals were awarded by Governor Mike DeWine and signed by Major General John C Harris Jr.
Working as a team to protect the community
The Ohio Department of Health, Ohio National Guard and OEMA managed the Wolstein Center site with support from the Federal Emergency Management Agency, the U.S. Department of Defense, the City of Cleveland, Cuyahoga County and Cleveland State University. The Wolstein Center's clinic ran for 12 weeks, opening March 16 and closing its doors June 7. During this time, more than 260,000 COVID-19 vaccines were administered.
Cleveland Clinic provided ultra-cold storage and transportation of the Pfizer vaccine, as well as full pharmacy oversight. Over the course of the operation, more than 100 pharmacists, pharmacy technicians and pharmacy students contributed to Wolstein pharmacy operations to ensure proper handling, reconstitution and administration of the vaccine.