Smiling behind their masks for the whole world to see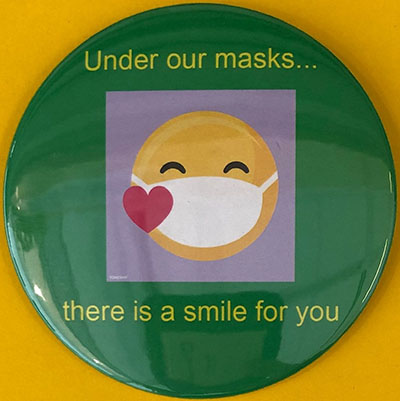 Button idea brings smiles to many
"Smile at strangers and you just might change a life."– Steve Maraboli
The importance of a smile has been a recent topic of discussion at our outpatient phlebotomists' H.E.A.R.T (Patient Experience) Chats. However, things feel a little different now that we are all wearing masks. We may feel that our faces are totally covered. But they are not! Your smile can still be seen – even behind the mask.
Vicky Tabakovic, an outpatient phlebotomist on main campus, didn't want the masks to get in the way of a great smile. So, during a recent H.E.A.R.T. session, she suggested creating a pin to make it clear that our caregivers are still smiling under their masks. Liz Zehe, Supervisor of Outpatient Phlebotomy, ran with the idea and designed and ordered buttons for her staff. As you can see in the photo, the smiling caregivers are proud of their new buttons.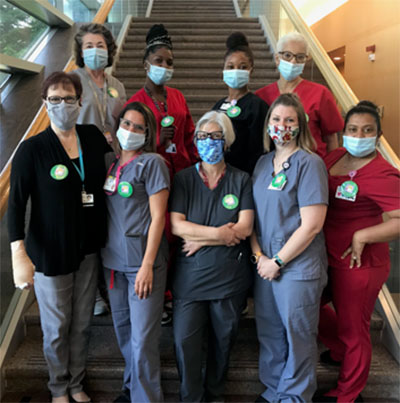 When you smile at others, it gives them a boost of happiness, helps them to lead a healthier life, and influences how they perceive you. And, according to scientists, smiling causes an influx of positive emotions that help in relieving stress and lowering your blood pressure.
So, each time you smile, you benefit your own health and happiness.