Daily CEO Update | You are our superheroes
Daily CEO Update | You are our superheroes
Fellow Caregivers,
Our clinical leadership is finalizing plans to resume some nonessential patient care at our Ohio locations. As Governor Mike DeWine announced yesterday, providers may resume health procedures that do not require an overnight hospital stay, beginning May 1. I will share plans when they are final.
To further protect patients and caregivers, we are assessing all of our waiting areas, common areas and other spaces to ensure social distancing. This aligns with the governor's announcement.
In sharing his announcement, Governor DeWine also stressed that growth in statewide availability of personal protective equipment will inform future decisions to resume other services.
Services are still permitted to alleviate suffering. Our clinicians have and continue to use good judgment to determine when services are needed. We follow this criteria, which had been released by the State of Ohio in March:
Threat to the patient's life if the surgery or procedure is delayed.
Threat of permanent dysfunction of an extremity or organ system if delayed.
Risk of metastasis or progression of staging if delayed.
Risk of rapidly worsening to severe symptoms if delayed.
In addition, the governor added yesterday this criteria: Presence of severe symptoms causing an inability to perform activities of daily living.
In the State of the Florida, a similar order is due to expire on May 8. We continue to closely follow the state's current guidance and will remain ready for services to resume should anything change.
Our caregivers in Florida remain highly engaged. Tomorrow, our Florida leadership team hosts another virtual town hall with caregivers throughout the region. It is a great opportunity for them to hear from leaders and safely participate.
At Cleveland Clinic Canada, our caregivers are helping local organizations lead through the pandemic. Our Corporate Medical Director program has been in high demand. It provides strategic guidance to organizations on how to keep their employees and businesses healthy.
Since March 17, our Toronto locations have provided 100% virtual care. Visits address on-demand medical issues, as well as sports medicine, rehabilitation, psychology, nutrition, personal training and more. We have received excellent feedback from patients.
Today is National Superhero Day. At Cleveland Clinic, we are very proud of our caregivers and recognize them as the new superheroes for people to look up to. Watch this special video.
Thank you for your dedication.

Tom Mihaljevic, MD
CEO and President
We recognize our caregivers on National Superhero Day
We recognize our caregivers on National Superhero Day
Superheroes look a little different these days. Some wear capes and others wear scrubs and masks. Thank you to all our Cleveland Clinic superheroes.
How Ohio Communities and a Global Company Responded to Cloth Mask Needs in a Big Way
How Ohio Communities and a Global Company Responded to Cloth Mask Needs in a Big Way
Several teams exemplified the team of teams approach in evaluating options and obtaining cloth masks for our caregivers in Ohio, Florida, Nevada and London, England.
"An entire team from Supply Chain and Innovations called countless companies to see who could deliver on our commitment to quickly provide 50,000 total masks to our Northeast Ohio locations by the start of our program in early April — plus 60,000 masks every three days thereafter," says Laura Johns, Administrator, Supply Chain. "Material scarcity made this really challenging."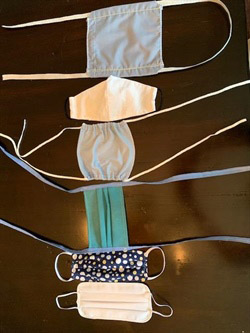 Examples of cloth masks produced by Original Mattress Factory, Stitches USA and community members.
"Finding fabric was most difficult at the beginning, as we needed to make masks quickly," adds Sarah Stamp, General Manager of Innovations, who found 15,000 yards of fabric from Checkers, a company in Toledo, Ohio. About 3,000 yards of the fabric went to Stitches USA, an Amish-staffed sewing company, to make the initial 50,000 supply of masks.
In addition, Stamp's team purchased fabric from Cleveland Sewing Company in North Olmstead, Ohio, and National Bias Fabric, a Cleveland company that helped speed up production by pre-cutting the fabric.
Thanks to quick, creative thinking and concise planning, Renee Kolonick and Nehemiah Smith found a way to operationalize the program in the Northeast Ohio region and at main campus, respectively, by distributing the initial 50,000 mask supply to more than 130 locations in Ohio within a matter of days.
"This has been the most collaborative and rewarding experience I have had in my 25 years at Cleveland Clinic," says Kolonick, Executive Director of Hospital Operations. "From daily community mask donations and support from our external partners, to caregivers who came together across the enterprise to count and deliver masks — they all leaned in to help in a time of need, and it was amazing to be a part of it."
The donors and business partners below have provided more than 350,000 masks for caregivers, patients and visitors.
National and local support sparks cloth mask donations
On March 26, the Philanthropy Institute launched our COVID-19 Community Response Campaign to secure important financial contributions, PPE supplies and homemade cloth masks in Ohio and Florida. We then began collecting homemade cloth masks at four locations in Northeast Ohio and six locations in Florida. So far, Philanthropy caregivers have volunteered 92 hours at the drop-off locations.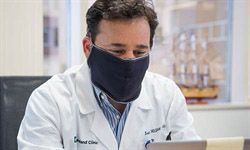 Dr. Joshua Miller, Vice President of Regional Hospitals and Family Health Centers, wears his cloth mask, which was produced by Fanatics using Cleveland Indians jerseys.
The campaign has collected more than 13,700 donated homemade cloth masks from community members in Ohio and Florida. Fanatics, a global leader in licensed sports merchandise, initially donated an additional 5,000 cloth masks that were distributed to caregivers at regional hospitals in Northeast Ohio in early April.
Fanatics produced the cloth masks using Cleveland Indians jerseys at their facility in Easton, Pennsylvania. Their distribution center in Frazeysburg, Ohio, sent the masks to main campus in Cleveland, and from there Kolonick distributed the masks to our regional hospitals in Northeast Ohio. Now, Fanatics' cloth mask donation totals more than 15,000. (Visit mlb.com to read a story featuring Sandhu discussing Fanatics' donation.)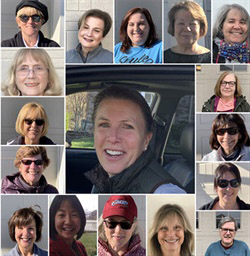 A group of nearly 20 Chagrin Falls, Ohio, residents have made and donated approximately 1,000 cloth masks to Cleveland Clinic.
In addition to Fanatics' donation, nearly 20 residents of Chagrin Falls, Ohio, have made and donated approximately 1,000 cloth masks to Cleveland Clinic. Led by Cathy Watterson, this group of neighbors have sewn the masks using donated fabric and other supplies and cloth they have purchased. Watterson drops off the masks in batches to Supply Chain at main campus.
"We have an innovative supply chain process," says Watterson, who had to re-learn how to use her sewing machine after not using it for several decades. The group, which Watterson calls a "community block party," assigned the following tasks to each individual: sew masks, cut patterns, iron fabric and make t-shirt yarn to replace elastic loops that have been in high demand.
Thinking outside the box lands crucial partnerships with Amish businesses
Suguna Rachakonda, Senior Director of Global Cardiovascular Innovation Center Product Development, met the Stitches USA team at Akron-Canton Airport several times to view their mask designs in person before selecting a design that best fit our needs. Stitches leveraged an existing design and adjusted it to make it scalable, given reduced availability of mask materials.
While Stitches USA is able to produce more than 10,000 masks for us each day, Millertech, an Amish business in Boardman, Ohio, has made and provided us a total of 49,000 masks.
"We respect the Amish community's work ethic, quality of work and lifestyle, which made the process unique for us," says Simrit Sandhu, System Executive Director, Supply Chain and Support Services. "We understood that solutions require iteration and agility. We needed to change our ways of thinking and working."
She adds, "Our collaboration with the Amish is a great example of how relationships and networking helped us find a local solution for a global problem."
Cleveland-area businesses ramp up mask making
Original Mattress Factory opened four of its manufacturing plants in Cincinnati, Cleveland, Columbus and Pittsburgh to help produce the initial 50,000 supply of masks required to launch our cloth masking initiative. Since then, they have revised their mask design several times to create a durable, washable mask that is easy to sew. Many seamstresses have used their design as a result.
In addition to the nearly 150,000 masks provided by Original Mattress Factory to date, Vocational Guidance Services in Cleveland — an agency that typically makes military uniforms — has made 3,000 masks for Cleveland Clinic. Forma Apparel in Beachwood, Ohio, has made 1,000 masks as well.
Looking ahead, Business Development, Marketing, Philanthropy and Supply Chain will work together to make a Cleveland Clinic-branded mask.
Watch an April 14, 2020 Spectrum News interview with Sarah Stamp, General Manager, Innovations.