Cleveland Clinic and Astrotech subsidiary partner to develop a rapid COVID-19 breath test
Cleveland Clinic and Astrotech subsidiary partner to develop a rapid COVID-19 breath test
The goal of the agreement is to develop a non-invasive device that will use breath samples to identify COVID-19 strains, with the potential to provide a low-cost, self-service screening option that could be deployed on a large-scale.
How home monitoring improves outcomes for patients with COVID-19
How home monitoring improves outcomes for patients with COVID-19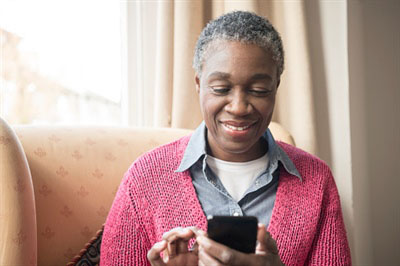 We care for our community to ensure better health for our neighbors. This means thinking outside the walls of our locations, and considering how we need to bring care to our patients. Today's pandemic is one reason why.
Taking care of patients with COVID-19 has leveraged our best clinical capabilities. Yet those who can be cared for safely at home still require our attention from a distance.
That's why we created the COVID Home Monitoring program. Launched in March, the program combines primary care, virtual care, infectious disease and other specialties.
Its goal? Help patients who are diagnosed with COVID-19 recover in the comfort of their homes — and reduce their risk of a hospital admission or poor outcome.
How it works
When patients test positive for COVID-19, we contact them by phone and offer enrollment in the home monitoring program. If they accept, they receive regular contact to assess their COVID-19 symptoms.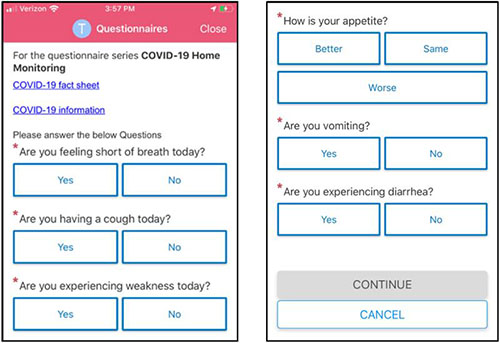 The COVID-19 Home Monitoring program asks patients to complete questionnaires as part of the process.
Patients can choose to use MyChart Care Companion, a tool based on their Epic MyChart account. This sends an electronic notification at 6 a.m. every day. The notification encourages assessment of symptoms and offers health information.
Severe or worsening symptoms, such as shortness of breath, are monitored electronically and lead to contact from a nurse, or "virtualist physician." They assess the needs and offer guidance on next steps in care. This may include a prescription or, if worrisome, referral to the emergency department.
For patients who do not have the ability to use MyChart or email, we contact them over the phone.
The results
Cleveland Clinic has enrolled more than 6,300 individuals into COVID Home Monitoring. Patients who engage with the program have:
7.5% decrease in admission risk
4% overall admission rate
0.5% mortality rate from all causes
What does all this mean? The Cleveland Clinic COVID Home Monitoring Program is here to help patients monitor their symptoms and connect to a higher level of care if needed. Those patients who engage regularly have lower admission rates than those who do not engage.
The program is also a safety net for our community. Those in home monitoring represent a larger proportion of African American and other minority populations compared to everyone who is tested. And more than a third of people in home monitoring do not have an identified primary care provider.
Our program is addressing health disparities. Each patient is treated as an individual. Our caregivers ease their distress and guide them to a safe recovery.
And don't forget — we are leading the way on MyChart Care Companion as the first organization to use it in COVID-19 disease monitoring. We have now shared our best practices with other Epic using providers to improve care everywhere.
It is an example of how technology and compassionate caregiving make a difference. This blend is where healthcare is going. Cleveland Clinic is leading the way.