Strength Gets Nurse Through Challenges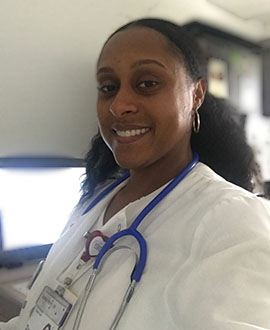 We recognize our caregivers for doing all they can to ensure high quality, safe patient care during this challenging time.
WKYC Channel 3, a Cleveland television station, surprised Heather Henry, RN, a nurse on 4South at Marymount Hospital, with a $5,000 gift to recognize her work as a nurse in the Cleveland area. Nursing leadership nominated her to receive this special recognition for her dedication to nursing excellence and compassionate care.
"Heather is willing to go the extra mile to help others, and she is a calming presence on a busy medical surgical unit," says Craig Tobias, Director of Nursing at Marymount Hospital. "She is a team player, charge nurse, and a resource to new nurses. She describes herself as an empathetic and compassionate nurse who focuses on her patients' comfort and wellness. I second those qualities."
Henry, who was diagnosed with COVID-19 a few weeks ago, is a single mother to a daughter and son. Her mother recently passed away from COVID-19, and her father from cancer.
Yet, within this past year, Henry received her Bachelor of Science in Nursing from Kent State University.
Henry's strength motivates us all to push through challenges and hardships.
"Heather is a strong patient advocate and a terrific team member," says Barb Zinner, Chief Nursing Officer at Marymount Hospital. "She has a 'can-do' attitude and always looks for ways to accomplish the delivery of excellent patient care."