Testing Site Hours on Memorial Day
Testing Site Hours on Memorial Day
Please be aware of modified COVID-19 testing site hours on Monday, May 25, due to the Memorial Day holiday.
W.O. Walker Building Garage – 11 a.m.–5 p.m. (normal hours)
Cleveland Clinic Akron General Health and Wellness Center in Green – closed
Willoughby Hills Family Health Center – closed
Brunswick Family Health Center – 8 a.m.–10 a.m.
Rocky River Urgent Care – 8 a.m.–4 p.m.
Willoughby Hills, Brunswick and Rocky River sites are only available for asymptomatic, pre-surgical patients. Regular testing site hours and locations are available here.
CEO Update | Enjoy a safe Memorial Day
CEO Update | Enjoy a safe Memorial Day
Fellow Caregivers,
The reopening of states and businesses is a change welcomed by many Americans. It also carries risk. We are only beginning to learn how to live with COVID-19. Let us continue behaviors that have helped contain the virus these past few months.
We care about the health of our fellow caregivers and patients, who need to trust that hospitals are safe. A startling number of patients are absent from emergency rooms and doctors' offices. Nationwide, there is a steep decline in new diagnoses of cancer and other serious diseases.
When patients defer timely care, it creates tragic outcomes that we work so hard to prevent.
At Cleveland Clinic, we communicate reassurance that our locations are safe. Most recently, Dr. Adrienne Boissy, our Chief Experience Officer, filmed a brief tour that shows patients what to expect when they visit us. It is a superb illustration of our environment of care.
These safety efforts are part of our reactivation to serve unmet patient needs. In a video next week, I am joined by Dr. Herb Wiedemann, our Chief of Staff, and Dr. Beri Ridgeway, Associate Chief of Staff and the Chair of Ob/Gyn & Women's Health Institute, to explain our recovery plan.
All of this work has created a safe environment for caregivers. Less than 1% of caregivers have become infected with COVID-19. We trace every infection and have shown them to be the result of community spread.
We want to maintain this low spread. The COVID-19 virus is unrelenting, so we need to take steps to protect ourselves and others. Wear a mask, wash hands regularly, practice good social distancing at work and home, and stay home when sick.
We know these safety practices are effective. Sharing them with other employers is the right thing to do. Our Creating a Safe Workplace site is an excellent resource for the community. We now have downloadable guides tailored to hotels, manufacturing, retail and other industries to help them bring employees back to work safely.
Another holiday weekend is upon us, and it is a special time for many American families. Who doesn't like a cookout? But this year's should look different. If you are going to be with family, ensure it is a small gathering. You can have a good time and be safe with appropriate caution.
Remember that we pause on Memorial Day to honor another type of hero. We are proud of the service men and women who made the ultimate sacrifice for us to enjoy our freedoms. To all of our gold star families, thank you for your sacrifices. I wish for you to find peace in the memory of your loved ones.
Be safe and well,

Tom Mihaljevic, MD
CEO and President
Microsoft Teams Enhanced Video Feature
Microsoft Teams Enhanced Video Feature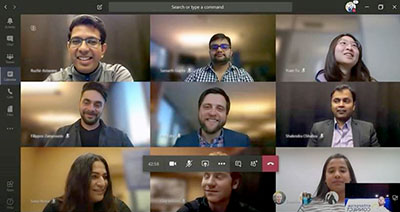 Caregivers asked and Microsoft delivered an expanded nine panel video view within Microsoft Teams. Only four people fit on the screen when the collaboration tool was rolled out in March, but now you can see nine people at once.
More cool features
Background effects: Blur the video background or add a picture to minimize background distractions when using the video camera.
Raise your hand: Meeting attendees can virtually raise their hand to ask a question or respond to a question.
Share system audio: A presenter can stream sound from their computer. Use it to play a video or audio clip as part of a presentation. Note: The computer's audio can't be included while sharing a PowerPoint file or Whiteboard.
View a Quick Reference Guide (QRG) to learn how to use these unique features.
Resources
If you don't see the Microsoft Teams application installed on your desktop, enter a self-service request via 4Help to request installation.
Log on to our Microsoft support page for self-help training, resources and FAQ.
If you have questions or issues, please contact the ITD Service Desk at 216.444.4357.
Watch and Share: Our Commitment to Safe Care Video
International Café at Main Campus Changing Hours of Operations Beginning May 22
International Café at Main Campus Changing Hours of Operations Beginning May 22
Starting Friday, May 22, International Café – located in the H Building on main campus – will return to its normal business hours.
International Café will close at 8 p.m. on May 22 and will reopen on Saturday, May 23, at 6:30 a.m. Moving forward, International Cafe will be open daily from 6:30 a.m.-7 p.m. The vending machines and seating area will be available 24/7, with the seating area meeting a six-foot distance between tables.
Panera Bread will continue to provide 24/7 service, offering online, mobile and in-person ordering. The seating area is now open, meeting social distancing guidelines with six feet between tables.
Please visit the menus and locations page on the Intranet for more information on updated hours of operations for all eateries on main campus and in the region.
Questions? Email them to foodservicesMorrison@ccf.org.
22-Year Caregiver Becomes a Patient and Knows She's in the Right Place
22-Year Caregiver Becomes a Patient and Knows She's in the Right Place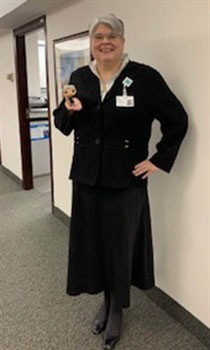 "It was the best place to be for the worst possible reason," says Marilyn "M" Schneider. The best possible place was Fairview Hospital. The worst possible reason was COVID-19.
Schneider, an executive secretary in Fairview's administration, said her symptoms came on fast. She became excruciatingly cold one evening, had muscle aches in her legs and spiked a fever.
Her temperature went from 101 to 104 in 30 minutes. Schneider called her supervisor, Alayne Fodor, who gave her the caregiver COVID-19 hotline number and stayed in touch. Schneider couldn't shake the fever. When the healthcare provider on the caregiver hotline realized that Schneider was immunosuppressed, she advised her to get tested. She was COVID positive.
After several days of fever, Schneider started to lose her appetite and sense of smell. She also had hallucinations and trouble breathing. That's when she called 9-1-1. "When I got to Fairview, they started working on me right away," she remembers. "In the blink of an eye, I was in the ICU."
Schneider says her condition improved and declined a few times while hospitalized. She was sedated and on a ventilator for seven days. When she finally was well enough to come off the vent, her first words were, "Thank God for these doctors and nurses."
As she looks back, Schneider appreciates all caregivers who attended to her. "When EVS came to my room each day to clean, they had to suit up with PPE before entering. They were pleasant and efficient. Before they left, each of them said, 'I hope you feel better.' Who does that? Cleveland Clinic does that."
She kept improving and was discharged after 13 days.
Schneider's son, mother and sister, who all live out of town, celebrated. With visitor restrictions, they mostly communicated virtually with the care team.
At home, Marilyn received daily calls as part of our home monitoring program through Cleveland Clinic Community Care. "They showed concern when asking how I was doing and what I needed." Schneider said when she first got home, she was struggling to sort everything out. She shared that with the caregiver who called. "She asked if I wanted to talk to someone and I said yes. Ten minutes later, a social worker called."
One of the memories that Schneider has of her hospitalization is a caregiver holding her hand when she was alone, confused and her blood pressure was erratic. "They told me that my BP would go down when she held my hand, so she held it for a couple hours because that's what I needed. Everyone was amazing."
Occupational Health cleared Schneider to go back to work, but out of an abundance of caution, she worked from home for two weeks.
Doctors think Schneider probably contracted COVID-19 through community spread. (She does not have patient contact at work.) However it happened, Schneider says, "I'm glad I went through this so someone else may not have to. I wouldn't wish this on anyone, but I could not have been in a better place."