CEO Update | Embracing Our Leadership Role
CEO Update | Embracing Our Leadership Role
Fellow Caregivers,
We are pleased to announce recent leadership appointments at Cleveland Clinic.
Leslie Jurecko, MD, MBA, joins our organization as Chief Safety and Quality Officer on June 15. She comes to us from Spectrum Health. Dr. Jurecko will oversee Enterprise Safety and Quality initiatives and report to Chief Clinical Transformation Officer, James Merlino, MD.

We are grateful to Dr. Aaron Hamilton, who has served as Interim Chief Quality Officer since December. His leadership has been key to our COVID-19 response and ensuring a safe place to receive care and work.
Marc Petre, PhD, is appointed Chief Operating Officer at Cleveland Clinic Abu Dhabi. He has served as Cleveland Clinic's Executive Director for Clinical Engineering since 2011.
Cleveland Clinic embraces a leadership role during this pandemic. This includes getting accurate and timely information to the public. Our experts have been routinely quoted in Bloomberg, The New York Times, The Washington Post, USA Today and U.S. News & World Report.
We also help guide the conversation in local media. Cleveland Clinic Florida leads all other hospitals in media coverage through South Florida and the Treasure Coast. The Palm Beach Post recently covered our participation in a study for convalescent plasma therapy.
People who have fully recovered from COVID-19 have antibodies in their plasma that can attack the virus. Those who meet eligibility criteria can donate plasma through the Red Cross. We are asking all of our clinicians who have treated these patients to encourage donations when appropriate.
COVID-19 clinical treatment trials are ongoing. Remdesivir, an antiviral medication, is being widely tested. Cleveland Clinic will receive a very limited quantity of Remdesivir from the State of Ohio for treatment of the most severely ill patients.
I recently filmed a discussion with our own clinical experts on the latest information regarding COVID-19 testing and treatment. I look forward to sharing it with you early next week.
Cleveland Clinic London is engaging with key corporate and embassy contacts virtually, through a series of webinars on tackling the pandemic. The webinars feature Dr. Steve Gordon, who chairs our Infectious Disease Department, London CEO Dr. Brian Donley and other caregivers.
The events, which offer clinical and workforce guidance on likely next steps, have been well received.
I leave you today with a note of appreciation from a boy in Seattle. Caleb writes that he is from northeast Ohio and thanks our caregivers "for preventing the spread of the virus." Read his letter.
Thank you for inspiring our youth.

Tom Mihaljevic, MD
CEO and President
When Patient Care Extends Outside of Hospital Walls
When Patient Care Extends Outside of Hospital Walls
Desiree Glover, RN, a nurse in the Medical/Surgical Department at Akron General, was transporting a discharged patient with COVID-19 to his wife's vehicle when she noticed the wife did not look well.
When the patient's wife explained that her heart rate was elevated and she felt unwell, Glover encouraged her to be evaluated by a healthcare team and transported her to the Emergency Department. There the care team determined the wife had developed pneumonia and required fluids and antibiotics via an IV.
Meanwhile, Glover had informed her manager, Stacey Morris, about the situation. Morris called the Operations Center and secured a double room for the couple in case both were admitted. Glover brought a wheelchair to the husband outside and transported him back to their unit. Because he was still weak from the symptoms he experienced, the husband was readmitted and joined his wife in the double room.
The couple developed COVID-19 symptoms that required hospitalization only one day apart of each other. The wife, a nurse, tested positive for COVID-19 more than a week before her husband was initially admitted to the hospital.
Glover resumed caring for both patients once they were admitted, ensuring she retained continuity of their care.
"I had the opportunity to discharge the patients a few shifts later, when they expressed their gratitude for me and our team," Glover says. "Moments like these, when we impact patients' lives, make the nursing profession fulfilling and rewarding."
Glover was recognized in a Hero Huddle during our tiered daily huddles — one way we recognize and support caregivers and patients. In the comments below, tell us about an inspiring colleague or share one of your own encouraging experiences.
Marymount Clap Out Inspires Patients As They Leave the ICU COVID-19 Unit
Marymount Clap Out Inspires Patients As They Leave the ICU COVID-19 Unit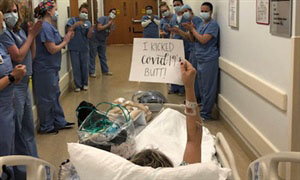 Patients in the intensive care unit (ICU) may not be aware of the severity of their conditions. But caregivers are.
Even though we may not be able to communicate with our ICU patients, caregivers still develop deep connections with them. So when patients are ready to transfer off the ICU, it is emotional.
Nurses at Marymount Hospital's ICU COVID-19 unit have been marking that occasion by lining up and applauding as the patient is being transported.
"Patients have tears in their eyes, some are sobbing, when they leave with a clap out," says Kimberly Platt, MSN, RN, Interim ICU Nursing Director at Marymount. "The recognition is overwhelming because keep in mind, the patient has no idea what they have been through."
The tradition began when the unit's first prone position ventilated patient was discharged out of the ICU. Caregivers made her a sign that said, "I kicked COVID-19's butt!" which she held while she was transported.
"It was a very emotional experience for the team," says Platt. "It is extremely rewarding to the all of the caregivers to see a success story leave the unit after all of the hours and days of care these patients require."
The clap out is only one first that COVID-19 has brought to the Marymount caregivers. Platt shares a few others:
Using prone ventilation to treat acute respiratory distress syndrome
Performing tracheostomy procedures at the bedside
Participating in a research study for the treatment and understanding of COVID-19
How We're Helping Employers Get Back to Work Safely
How We're Helping Employers Get Back to Work Safely
Government leaders are starting to ease stay-at-home orders and other restrictions as the U.S. enters the next phase of COVID-19 response. This is prompting questions from employers about how to safely re-open their facilities and return employees to work.
As a healthcare organization and large employer, we have spent the past several months understanding, containing and preparing for COVID-19. We want to help other organizations do the same.
To support employers of all sizes and industries, Cleveland Clinic has developed the following resources that provide free, expert guidance on COVID-19 safety and preparedness:
Creating a Safe Workplace website – a new employer site with comprehensive tips and resources for employee health and safety, employee well-being, managing COVID-19 symptoms and preparing work areas.
Webinar series – a weekly series hosted by our medical experts who discuss topics such as infection prevention and employee resiliency during the COVID-19 pandemic.
Industry playbooks – tailored guidance for employees in specific sectors, including healthcare, hospitality, manufacturing, retail, restaurant and office/administrative industries.
We have also established customized solutions for employers at a cost:
Hotline – access to a phone line staffed by Occupational Health experts who can answer employees' questions related to COVID-19.
Onsite assessments – site visits to assess employer capabilities and conditions and make recommendations for return-to-work and occupational health support.
Medical directorship – expert counsel on translating clinical concepts, infectious disease management and control, mental health optimization, and crisis and disaster management.
Adapting to a "new normal" is something we're all facing together. We look forward to helping our communities by sharing clear, accurate and evidence-based guidance to answer the pressing questions on employers' minds.
For employers seeking additional information
If you know an employer who might be interested in these resources, feel free to share the information above. You can also advise them to complete this form for more information from Cleveland Clinic Employer Solutions.
Here's What You Missed at the May 6 Virtual Professional Staff Meeting
Here's What You Missed at the May 6 Virtual Professional Staff Meeting
*Please note: this information was presented on May 6 at 7 a.m. As our work to respond to COVID-19 evolves, the information may have changed since the time of these presentations.
Presenters: Cleveland Clinic CEO and President Tom Mihaljevic, MD; Herb Wiedemann, MD; Beri Ridgeway, MD; Michelle Medina, MD; Josh Miller, DO; Brian Rubin, MD, PhD; Steve Gordon; MD; and Raed Dweik, MD.
CEO update
Dr. Mihaljevic reports that:
Clinical care for non-COVID-19 patients resumed May 4 and we have undertaken a significant effort to educate our patients and the public that Cleveland Clinic's hospital environment is safe. Early response is very good.
Virtual care will remain important indefinitely. Our growth has been phenomenal, rising from 5,000 to 200,000 virtual visits per month.
Our top priority remains caregiver safety. Only one COVID-infected caregiver remains hospitalized. We have sufficient supplies of personal protective equipment (PPE).
The pandemic has caused severe financial strain on hospitals and healthcare systems. Many have had to lay off or furlough employees. "I want to reiterate our commitment to keeping our caregivers employed. We will keep everyone safe and everyone whole. We will, however, evaluate every way that we can reduce the cost for the organization." Our performance in the Leapfrog Group's latest hospital safety ratings is our best yet. All Cleveland Clinic Health System hospitals were rated either A or B, with 11 A-rated hospitals.
"The world we left at the beginning of the pandemic is not going to come back. And that is not necessarily bad news, because now we have a unique chance to envision what the new world of healthcare should look like — and not only envision it but shape it. A lot of things that we did before were not very effective or productive. Now we have to think about how can we do things differently and better. What a wonderful opportunity for our generation to create that lasting impact."
Chief of Staff Update
Dr. Wiedemann praised the Professional Staff's dedication, resourcefulness, teamwork, and leadership during the pandemic. "Now we have the opportunity to carry these attributes forward. Our mental blueprint should not be just to recreate what we were doing before. Rather, we have a unique opportunity to rebuild for a different future — one that serves our patients better and also, in fact, provides us the opportunity to create a variety of work models, using distance health, extended hours, even work at home, could allow us more efficiency, flexibility, and work life balance."
Surgical Reactivation: Dr. Ridgeway
Ohio hospitals are now permitted to resume non-essential outpatient surgeries as well as continuing to perform essential inpatient surgeries. Cases that require an overnight stay must meet the essential criteria, which include severe symptoms causing an inability to perform daily living activities. These new criteria encompass most of the surgeries we perform, so we will now be able to care for the majority of our patients whose care was deferred. Our reactivation strategy is based on patient safety, caregiver safety and PPE conservation. Key provisions are testing all patients for COVID 72 hours prior to any surgery or procedure that takes place in a hospital or ambulatory surgery center (ASC), and cohorting patients by location when possible.
Cole Eye Institute, the Walker pain management facility and the ASCs associated with Marymount, Akron General, Union and Medina hospitals reopened this week. All other sites will come online in the next 12 days.
Pre-COVID volume was approximately 775 cases per day. Volume on May 5 was 312 cases and we anticipate 375 cases per day by the end of the week.
Ambulatory Outpatient Reactivation: Drs. Medina and Miller
The ambulatory recovery team proposes a three-phase resumption of care.
In the current phase 1 state, we continue to screen patients for COVID symptoms and direct them to virtual triage. Teams have completed facility walkthroughs and consolidated recommendations for mitigating COVID transmission into an environment-of-care checklist, which is in the COVID toolkit.
With the lifting of stay-at-home orders, we move into phase 2, where we begin to bring back patients with deferred care, starting with asymptomatic patients and those at low risk of COVID morbidity.
To prepare, institute administrators and regional operations conducted walk-throughs to understand our facilities' capacity and clinic throughput. Changes in physical layout and operations can mitigate patient crowding. Moving pre-visit processes such as registration outside the facility can minimize patients' dwell time.
In phase 3, with expanded ambulatory COVID testing, we can safely care for COVID-suspect patients within our areas. We are preparing by increasing the number of testing sites, starting with the opening of three Express Care sites this week for preoperative testing of asymptomatic surgical patients. In this phase, we also must plan for fall flu vaccinations and the potential availability of a COVID vaccine.
COVID-19 Antibody Testing: Dr. Rubin
We are continuing to increase our COVID testing capacity. Current capacity is about 1,300 tests per day, with the goal of processing 3,200 tests per day in the next five weeks. Turnaround times have remained stable despite dramatic increases in testing volume.
All preoperative ASC and OR patients are now undergoing COVID-19 testing. In addition to the existing testing sites at the W.O. Walker Building and the Akron General Health and Wellness Center in Green, three more testing sites will open this week: at Willoughby Hills Express Care Clinic on 5/6, at Brunswick Express Care Clinic on 5/7 and at Rocky River Urgent Care on 5/8. Additional sites will open next week [Week of May 11].
Beginning this week, patients admitted to emergency departments at main campus and Marymount and Fairview hospitals receive COVID testing. Testing of patients admitted to emergency departments at our other hospitals will begin in the next several weeks. All behavioral health admits are now being tested for COVID as well.
Cleveland Clinic is one of nine Ohio health systems working collaboratively to provide COVID testing in high-priority situations, including residents of congregate living facilities throughout Northern Ohio, and in the event of COVID outbreaks and clusters.
COVID Treatment: Dr. Gordon
Critical Care Outcomes: Dr. Dweik
COVID-19 patients admitted to Cleveland Clinic intensive care units have experienced good outcomes due to the outstanding work of hundreds of Respiratory Institute caregivers and many other caregivers across the organization.
Through the end of April, we had 222 COVID ICU admissions. Average ICU length of stay is about seven days. Fifty-three percent required ventilator use and remained on ventilators for an average of 10 days.
Overall mortality of our COVID ICU patients is 30%, and 35% for patients on ventilators. This is much lower than other hospital systems, which have reported from 50% to 80% for ICU patients.
In our experience, the key determinant of mortality for COVID-infected ICU patients is age. Mortality for those younger than 65 is 9%; for those older than 65, mortality is 44%. Mortality can be as high as 77% for those older than 80 requiring mechanical ventilation. None of our COVID ICU patients younger than 40 died.
"We have been working very hard even before the COVID pandemic to integrate shared best practices and governance in all of our ICUs across the enterprise," Dr. Dweik says. "So when the COVID crisis hit, we were very prepared to deal with it throughout the system, not just in our main campus."
Highlights of Listeners' Questions
Q: Are we currently treating COVID patients with remdesivir?
Dr. Gordon: We have only been able to get remdesivir on compassionate use, and that's been difficult. With the allocation going to the federal government, we're hoping we will be able to get more allotments of this drug in a more timely fashion for patients where usage is indicated.
Q: Our patients are encouraged but not required to wear masks. Why aren't masks required? And if a patient refuses a COVID test before a surgery or procedure, will they be classified as COVID-positive and given PPE?
Dr. Ridgeway: We are trying to balance keeping our caregivers and patients safe while also honoring patient experience and autonomy. We are still finalizing whether we will mandate masking. It is highly encouraged. We will offer patients masks, ask them to use masks, and assist them with putting on masks when necessary. There may be situations in which a person with special needs will not be able to wear a mask. Regarding preoperative testing, we are asking every patient to get testing 72 hours before their procedure. There will be some circumstances where people are unable to get the test or have a slightly expired test, or in a very rare situation, refuse the test. This will then go to governance — the surgical team, anesthesia, and nursing as well as leaders within that hospital— to decide if a non-essential procedure should be deferred or proceed. And on top of that, we will also leave that to the local team to make the final decision if that should be deferred further or if we should treat them as a PUI (person under investigation) and proceed using the appropriate PPE.
Q: Are we currently performing antibody testing?
Dr. Rubin: Not currently, although we are evaluating all available serological tests to determine their sensitivity and specificity for the time when antibody testing might become more relevant. Antibody testing has two major problems: With a low-prevalence disease, false positives are magnified and the rate is too high to reliably determine whether an individual has been exposed. Secondly, we don't understand the immunological correlates. When the antibody test is positive, we don't know that someone is immune. In fact, data are suggesting that people who have antibodies may be more sensitive to reinfection and become sicker than patients who haven't been exposed.
Q: Does temperature screening give patients and caregivers a false sense of security?
Dr. Mihaljevic: It is not a perfect science. The sensitivity and specificity of thermal scanning for the detection of COVID is a reasonable thing to question. But temperature screening is not invasive and doesn't take much time or resources. It instills awareness in everyone who comes into the organization that this is not business as usual, that there are certain parameters one has to keep in mind before returning to the place of work or of patient care. While it is not perfect, we believe at this point it is another good measure to try to provide that environment of safety that everyone strives to achieve.
Q: How will caregivers' PTO use be affected by the pandemic and the resumption of clinical care?
Dr. Wiedemann: Formal communication on this is coming soon. We need to structure our vacation time in such a way that it meets the needs of our institution and our patients.
Q: Do you anticipate a change in the reimbursement policy for virtual visits after the pandemic, and how can providers maintain a high percentage of virtual visits?
Dr. Mihaljevic: Telemedicine visits are here to stay. When other healthcare leaders and I were at the White House a couple of months ago, this was one of our first requests: that the federal government lift the restrictions and limitations on telemedicine visits across the country, so that we can provide help for patients outside of our state without a need to be licensed in that state. I cannot imagine that those provisions of regional autonomy will ever come back. Patients are increasingly worried about coming to a hospital environment. They have realized the advantage of having a virtual visit in the comfort of their home. Second, the payers will be allocating resources. And thirdly, I'm convinced that we're going to see improvements in ease of use of digital platforms for the provision of healthcare. Those factors will, I believe, cement digitally facilitated care as an integral part of our organizational future.
Please note: Our next Professional Staff Meeting takes place at 7 a.m. on Wednesday, May 20.