CEO Update | Sharing our message of health and safety
CEO Update | Sharing our message of health and safety
Fellow Caregivers,
A silver lining from this pandemic is the unity we are observing within healthcare. Clinicians far and wide share a common message. We aim to reduce the incidence of disease and prevent illness when possible.
In a recent op-ed published in The New York Times, Dr. Gianrico Farrugia, CEO and President of the Mayo Clinic, and I explain the dire consequences of deferred care. Preventable deaths will surely rise if people fear seeking diagnosis and treatment of their health conditions. We continue to educate the public that healthcare facilities are safe. Read the op-ed.
We are supported by charitable friends and the community. Francisco Lindor, star shortstop of the Cleveland Indians, recently donated shoes to caregivers at Marymount Hospital. Our team at Marymount has provided excellent care to patients with COVID-19. Watch a video of Lindor and our caregivers.
There is tremendous response to our caregiver forums. More than 1,000 virtual seats were claimed in the first few days of registration. We have since added dozens of more sessions. We are listening to every voice as we work to dismantle racism and bias.
Our first virtual Ideas for Tomorrow was a success. I enjoyed my conversation with Katie Couric as we discussed many important issues going on in the world. If you missed it, here is a recording.
My next guest is Kevin Love of the Cleveland Cavaliers, who joins us virtually on June 16. Please register for the live event.
We have a recent leadership appointment. Sam Calabrese, RPh, MBA, has been named Chief Pharmacy Officer. Sam has served as Interim Chief Pharmacy Officer since February and leads one of the largest pharmacy teams in the country at Cleveland Clinic. Please join me in congratulating him.
Our caregiver Hero of the Week is Quiana Tucker, a Health Unit Coordinator in Gastroenterology and Hepatology. Quiana was leaving work after a 12-hour shift when she heard a patient in distress.
The patient needed someone to look after her children so she could be seen for an important appointment. Quiana offered to sit with her son and infant daughter, interacting with them for three hours while the mother sought care. She treated them as family.
"We have to learn and practice that being there for others is just as much a blessing to them as it is to yourself," Quiana says. "You never know the impact of what you are doing, even if it just seems like a small favor for someone in need."
Thank you, Quiana, and all caregiver heroes for living our culture every day.

Tom Mihaljevic, MD
CEO and President
PAPR use guidelines for caregivers
PAPR use guidelines for caregivers
Powered Air Purifying Respirator (PAPR) are used as a substitute for the N95 mask if a caregiver fails the N95 fit test or has other issues such as skin sensitivity, and cannot tolerate the N95 mask.
N95 fit-testing must be performed on an annual basis and documented by Occupational Health in ReadySet. Caregivers who fail N95 fit-testing qualify for PAPR use when clinically indicated.
Caregiver requirements for PAPR use include:
N95 fit test failure
Medical clearance for PAPR use
Proper PAPR equipment training from Occupational Health
PAPR use will not be considered an alternative to the N95 respirator for caregivers with facial hair, except for those with an approved medical or religious exemption.
For additional information, refer to:
For questions or to schedule your annual N95 fit test contact or visit your local Occupational Health department.
We're collaborating with state partners to expand COVID-19 testing in Ohio's nursing homes
We're collaborating with state partners to expand COVID-19 testing in Ohio's nursing homes
The Centers for Medicare and Medicaid Services recently released staggering data showing nearly 26,000 nursing home residents in the U.S. have died of COVID-19. Here in Ohio, approximately 71% of deaths due to COVID-19 have occurred in long-term care facilities.
In response, the state has implemented special orders to curb the spread of COVID-19 in nursing homes, where residents are especially vulnerable to COVID-19. There are about 70,000 nursing home residents in Ohio and 80,000 employees in these facilities. The state's coordinated initiative, called the Congregate Care Unified Response Teams, focuses on testing both residents and staff.
We are proud to be part of the effort to mitigate spread of COVID-19 in nursing homes. Cleveland Clinic is one of 10 labs in the state that is processing COVID-19 tests from nursing home residents and staff. The Ohio National Guard conducts and delivers the test samples, after which we return results within 24 hours. We anticipate that in the first eight weeks of this program, our Pathology & Laboratory Medicine caregivers will perform more than 20,000 tests on specimens from Northern Ohio nursing home sites.
The program is a true collaboration among state and local health departments, the Ohio National Guard and fellow health systems including University Hospitals, MetroHealth and University of Toledo. Cleveland Clinic is taking a leadership role in the response. Robert Wyllie, MD, Zone 1 Commander; Alice Kim, MD, Zone 1 Clinical Lead; and David Bosler, MD, Zone 1 Lab Lead, are overseeing the effort.
"In addition to being a high-risk population for COVID-19, nursing home residents are facing the burden of social isolation," says Dr. Bosler. "We want to do all we can to help nursing homes take the preventative measures needed to start alleviating this isolation. Identifying the prevalence of COVID-19 in these facilities is an important step."
Our care for the community has taken many forms during this pandemic. We have already dedicated testing resources to help our community, including partnering with more than 60 area hospitals and extended care facilities with limited testing capacity. As part of the Congregate Care Unified Response team, we are committing additional testing capacity to care for nursing home populations in need.
Rock on, caregivers — with free tickets to the Rock & Roll Hall of Fame
Rock on, caregivers — with free tickets to the Rock & Roll Hall of Fame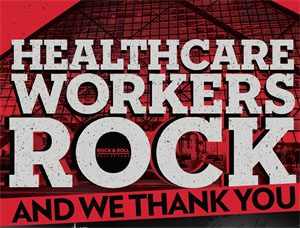 The Rock & Roll Hall of Fame in Cleveland invites all local healthcare workers and their families with free admission on Sunday, June 14. Experience the Rock Hall — before it reopens to the public — as a thank you for all of your time, energy and compassion during the ongoing pandemic.
Book your free tickets starting Thursday, June 11 at www.rockhall.com/.
UPDATE: All tickets are sold out.