Physician couple lives apart for 3 months to keep newborns safe from COVID-19
Providing care during the COVID-19 pandemic has required many of us to make personal sacrifices. For two physicians — husband and wife — at Cleveland Clinic Akron General, that included not being together for nearly three months.
Michael Kaufmann, MD, has been an anesthesiologist at Akron General for five years. As airway experts, anesthesiologists play a key role in COVID-19 care – performing intubations.
Although he follows all safety protocols and uses personal protective equipment, Dr. Kaufmann worried that performing these aerosolizing procedures could put him at higher risk of contracting the virus. With newborn twins at home, born slightly prematurely in January, he and his wife, urogynecologist Tonya "Nikki" Thomas, MD, were particularly concerned that the babies' immune systems might not be strong enough to withstand possible exposure.
So the couple made the difficult decision to live separately. Starting March 26, Dr. Kaufmann stayed at the family's home in Hudson, Ohio. Dr. Thomas and the babies, Cian and Declan, stayed at her parents' house about 15 minutes away. The couple didn't even see each other at work, as Dr. Thomas' surgical cases were postponed and she saw her patients virtually from her parents' house. The grandparents were happy to have them all, even setting up a nursery and watching the boys while Dr. Thomas worked.
"It was a hard decision to make but it gave us peace of mind that the boys were safe," says Dr. Thomas. "And my parents were a tremendous help. We are lucky that they live so close."
"It was definitely hard but time went by fast," adds Dr. Kaufmann. "When I was home, I kept busy with housework that I had been putting off."
With their pediatrician's judgment that the babies' immune systems had grown stronger, the family was finally reunited the weekend of June 14.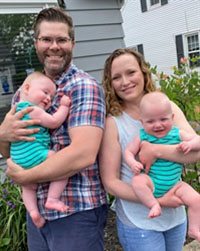 "The look on my husband's face when he saw them again was wonderful," Dr. Thomas says. "The babies were happy and giggly and got reacquainted with him quickly."
"It was amazing," agrees Dr. Kaufmann.