Community Donations Help Area Neighbors with Needed Food and Supplies
Community Donations Help Area Neighbors with Needed Food and Supplies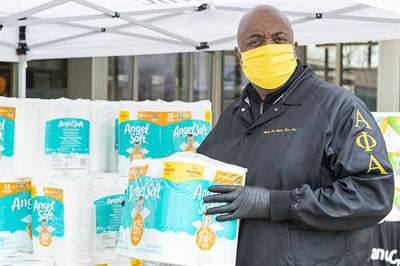 About 250 households in Cleveland's Ward 6 — including the Fairfax neighborhood near main campus — received food, toiletries and other products as part of a COVID-19 Community Response Campaign.
Cleveland Clinic Community Outreach partnered with grocery chain Meijer, Ward 6 Councilman Blaine Griffin, Alpha Phi Alpha Fraternity and the Fairfax Renaissance Development Corporation (FDRC) to bring much needed food and supplies to senior residents facing economic hardship brought on by the COVID-19 pandemic. The event took place this afternoon at Cleveland Clinic's Langston Hughes Center.
Meijer donated about 4,000 lbs. of essential supplies, such as toiletries, soap, anti-bacterial wipes and paper products.
Through a Cleveland Clinic grant, the FDRC contributed food items and additional household staples.
Cleveland Clinic donated 300 cloth masks and educational materials.
"Our partnership with Fairfax leadership and Meijer represents the type of collaboration needed in times like these as well as long-term," said Dr. Adam Myers, Chief of Population Health and Director of Cleveland Clinic Community Care, who helped distribute bags of goods at the event. "We are committed to supporting our neighbors where they live, learn, work, worship and play. At the end of the day, it is why we are here. We are stronger together."
Daily CEO Update | Stewarding Our Resources
Daily CEO Update | Stewarding Our Resources
Fellow Caregivers,
The financial impact of this pandemic is widely broadcast. It is equally felt by hospitals, including our health system, like all other industries.
I want to address what may be on your minds: Cleveland Clinic has no current plans to reduce pay or eliminate positions of caregivers. We are, however, evaluating other expenses that can be deferred. We will continue to treat this organization as our home.
Each of us has the power to be a good steward of resources. Always use equipment, supplies and time with responsible purpose. Thank you for doing the right thing.
Yesterday, our second group of healthcare heroes departed to assist hospitals out of state. I had the privilege of sending them off during a gathering at Avon Hospital. See a photo.
The team of 13 nurses will help at two different locations within Henry Ford Health System in Michigan. We are so proud of their decision to serve.
This pandemic has shown the importance of timely treatment for emerging afflictions. The world needs our clinicians to be forever vigilant and proactive. We accomplish this through research.
Cleveland Clinic's new Center for Global and Emerging Pathogens Research has been in development for 18 months. It will span our Lerner Research Institute and soon-to-open Cleveland Clinic Florida Research and Innovation Center in Port St. Lucie, Florida. Read the press release.
Of course, there is much we can do to help those in need. We partnered with grocery chain Meijer to facilitate their donation of essential supplies to Cleveland's Ward 6 surrounding main campus — about 4,000 lbs. of food, toiletries and other products. Cleveland Clinic also distributed 300 cloth masks and educational materials. The event took place at the Langston Hughes Center.
We continue to partner with state governments on reopening services and the economy.
Yesterday, Ohio Governor Mike DeWine spoke to the resumption of nonessential procedures by healthcare providers. We expect further guidance soon from the State of Ohio. Our team is working closely with institute leadership on a phased approach to safely resume care when an order is released. I will share more details about these plans in the coming days.
Florida Governor Ron DeSantis created a panel to reopen the state's economy. He appointed Cleveland Clinic's own Wael Barsoum, MD, CEO and President of our Florida region, to participate.
I leave you today with a fun video capturing some of the messages for our caregivers at the kudoboard. Watch the video or leave a message.
You are deserving of every praise you receive. Thank you for serving alongside each other with compassion and integrity.

Tom Mihaljevic, MD
CEO and President
Research Resources Available in COVID-19 Toolkit
Research Resources Available in COVID-19 Toolkit
We've implemented a process to review all clinical research projects requesting access to COVID-19 patient data. The COVID-19 Enterprise Research Registry Workstream will help investigators determine the next steps and course of action regarding Institutional Review Board.
A message from Ed Sabanegh MD President Main Campus and Regional Hospitals
A message from Ed Sabanegh MD President Main Campus and Regional Hospitals
Dear caregivers,
I want to take this opportunity to highlight the 1,800 women and men in the Pathology and Laboratory Medicine Institute across the enterprise. This week is National Medical Laboratory Professionals Week and this year in particular, we know how these incredible professionals impact our work.
Their efforts to help us contain the spread of COVID-19 have been tremendous from coordinating testing around the clock to opening new sites and locations. Even after ramping up our testing, they strive to improve our capabilities, validating new tests and improving the volume we can test and the speed our patients receive results. As of Thursday morning, the team had completed almost 25,000 tests, averaging 671 per day. Their expertise is sought on the local, national and global stage, to help the healthcare community and general public make sense of this pandemic.
The above photo was taken almost seven weeks ago with the team that brought the COVID test on-line. They did this by working 24/7 for weeks to bring us this needed test, representing the first capability in the Ohio region.
Thank you, lab professionals, for your long hours, tireless efforts and scientific expertise. Along with all of our caregivers, you have showcased exceptional teamwork in support of Cleveland Clinic and our communities.
With gratitude,

Ed Sabanegh, MD
Thank You to Our Caregivers Headed to Henry Ford Hospital
Thank You to Our Caregivers Headed to Henry Ford Hospital
On April 22, 13 Cleveland Clinic registered nurses headed to Michigan. They will spend up to four weeks at the Henry Ford Health System in Detroit helping caregivers there treat COVID-19 patients.
We wished them well as they departed from Cleveland Clinic Avon Hospital. Fellow caregivers, leaders, and the City of Avon gave them a hero's sendoff.
"My heart is overwhelmed. The support and compassion of our nurses throughout the COVID-19 pandemic has been unparalleled," says Executive Chief Nursing Officer Kelly Hancock, DNP, RN, NE-BC, FAAN. "You have taken what it means to be a Cleveland Clinic nurse to new heights."
This pandemic has emphasized the importance of healthcare systems and nurses coming together to take care of all families in need.
Last week, 25 physicians and nurses left for New York to assist caregivers at NewYork-Presbyterian.
With much admiration, we thank our nurses:
Tammy Allen, RN
Jeffrey Balzano, RN
Laura Berger, RN
Thomas Cimmento, RN
Margaret Dalton, RN
Hunter Flagg, RN
Katlin Olson, RN
Melanie Oreskovich, RN
Erin Miller, RN
Kaitlin Sappio, RN
Sophie Shi, RN
Jesse Sohl, RN
Elizabeth Tosti, RN
Be Empowered, Share Your End-of-Life Wishes and Documents
What to Know as Patients and Caregivers Observe Ramadan
What to Know as Patients and Caregivers Observe Ramadan
The holy month of Ramadan, one of the most sacred times of year for Muslims, will be observed from April 24–May 23.
The most visible religious observance of the month is fasting from eating and drinking between dawn to dusk along with more effort placed upon personal devotions and ritual prayers. Among participating Muslims, the elderly, the chronically ill and the mentally ill are exempt from fasting. Also exempt are pregnant women and women who are nursing.
The observances of Ramadan will continue through the COVID-19 pandemic, although the practices of social isolation will impact the physical connectedness that many Muslims enjoy during this month. Activities like praying, breaking fast, worshipping and learning together will be done differently. This short article offers perspective on the impact of social distancing during Ramadan.
If you know a caregiver, patient or visitor observing Ramadan, you can wish them a "Happy Ramadan." You may also consider asking how their observances are going in light of the changes this pandemic has brought upon our lives.
The conclusion of the month of Ramadan is with Eid al-Fitr, the Festival of Breaking the Fast, on May 24. Dates may vary based off the new moon sighting method used.
Ways to learn more
The Office of Diversity & Inclusion (ODI) and Center for Spiritual Care recommend this article and video on Ramadan etiquette for non-Muslims.
The recent celebrations of Easter and Passover remind us of the many observances taking place throughout the year. You can learn more about religious, commemorative and other observances from the Diversity Calendar. You can also reference the ODI's Diversity Toolkit for guidance on creating an inclusive environment in our workplace and communities. If you require any chaplaincy support, reach out to the Center for Spiritual Care.
Scripting Virtual Visit Resources and Training Available in COVID-19 Toolkit
Scripting Virtual Visit Resources and Training Available in COVID-19 Toolkit
The Center for Excellence in Healthcare Communication (CEHC) within the Office of Patient Experience provides communication resources and training materials for caregivers who provide patient care.
Available resources include:
Empathic messaging of COVID-19 policies and procedures
Healthcare communication and service excellence training
Virtual visit communication tools
Bioethics moral distress resources
Self-care and well-being
Access these caregiver communication resources in the COVID-19 toolkit.
How can I find the resources in the COVID-19 toolkit?
For recently released resources and updates, follow CEHC on Connect Today.
Note: Most COVID-19 toolkit content is duplicated on the clevelandclinic.org/covid19 site so caregivers at all locations, on any network, may access the available resources.
Questions? Contact Jennifer Muehle, Center for Excellence in Healthcare Communication, at healthcomm@ccf.org or 216.210.8850.