She Ran a Marathon to Help Our Medina Caregivers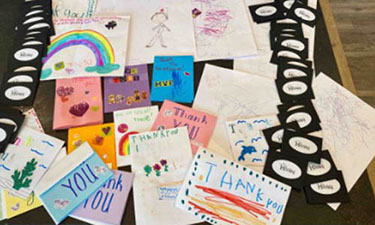 Ashley King, a runner from Brunswick, Ohio, was planning to run this May's Rite Aid Cleveland Marathon.
She had spent a lot of time training for the race. Now it was canceled due to the COVID-19 pandemic. But why not run the 26.2 miles anyway to support a good cause?
On the morning of April 4, King did just that. Neighbors, along with their balloons, signs and inspiring sidewalk chalk quotes, motivated the runner, who decided to use her run to raise money to support local healthcare providers.
Her husband, Jonathan, started a GoFundMe page, Meals for Healthcare Heroes, asking neighbors to support her trek. Some of the proceeds went to our Medina Hospital caregivers.
King finished in 3 hours, 45 minutes, and she was surprised to have raised $1,000 in donations! The Reece family, owners of Hooley House Sports Pub & Grille and King's neighbors, kicked up the donations to $2,500 and provided fifty $50 gift cards. Medina ICU workers have already received some of the donations, just as King requested.
"We are so excited to give you this small token of our appreciation," wrote King in a note that accompanied the gift cards. Artwork from King's children and neighborhood kids were also included. "Thank you for everything you do and we pray for your safety."
The generosity of King and her Brunswick community is just one example of the support our Cleveland Clinic caregivers have received.
Many individuals, companies and foundations have provided financial assistance and supplies including:
Cleveland-based Electricians Union Local 38 collected N95 masks and gloves they donated at our Avon Hospital drop-off location to be used in our hospitals as needed.
ALDI grocery stories of Northeast Ohio donated thousands of packaged snacks and beverages for the Fairview Hospital caregiver comfort station.
Philanthropic gifts are funding a meals-to-go program for caregivers to take home when their shifts end, supporting both caregivers and a dozen Northeast Ohio restaurants. South Pointe Hospital and Luna Bakery & Café are piloting the program. Rollout will continue at additional hospitals.