Chloroquine and Hydroxychloroquine Prescription Restrictions Alert for COVID-19 Treatment
Chloroquine and Hydroxychloroquine Prescription Restrictions Alert for COVID-19 Treatment
In concordance with the Ohio Board of Pharmacy emergency, a BestPractice Alert will display if providers prescribe chloroquine or hydroxychloroquine to:
a patient who has tested positive for COVID-19
-or-
a patient with a COVID-19 diagnosis and the prescription exceeds a 14-day supply or has refills
The alert reminds providers that prescriptions for chloroquine or hydroxychloroquine for the treatment of COVID-19, in addition to requiring an associated diagnosis, may not exceed a 14-day supply; may not be refilled without a new prescription; and may only be used for patients meeting specific criteria. Click here to view screen shots of the alert.
Questions?
If you have questions or need assistance, please contact the physician specialist / COA for your area or contact the Help Desk for your location:
Akron General: call 330.344.6604 or contact Ag-helpdesk@ccf.org
Akron PPG: call 4EPIC (4-3742)
Florida: call 5.5555, option 1
main campus and all other regions: call 216.444.HELP
A Message to Caregivers from Ed Sabanegh, M.D., President Main Campus and Regional Hospitals
A Message to Caregivers from Ed Sabanegh, M.D., President Main Campus and Regional Hospitals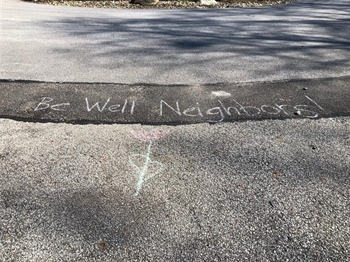 My friends,
Together, we are facing a crazy time. We all share worries about our families, our own health as well as our financial wellbeing. We are bombarded by news reinforcing our worries and unease.
Let's face it, right now it's easy to overlook the blessings we have. Things like our friends who we are still able to connect with virtually, our colleagues throughout healthcare who face uncertainty daily and yet consistently put patients first, or the first bulbs emerging from our garden after the winter.
For me, my son is home from college which brings me the gift of time with him and my daughter calls me for good old fashioned conversation. My wife and I still enjoy dinner together, albeit with a 6-foot distance between us. We are adapting to a new normal but I get through the long days by focusing on the small joys- some expected like the emergence of spring and some unfathomable like additional one-on-one time with my children.
We as individuals and as an organization, will get through this. We will smile again and enjoy being together. But keep an eye out for the little blessings, like the chalk message that a small child wrote in my drive today or the messages written outside Fairview Hospital and the Crile building on main campus. Strangers want you to know that you are seen and you are appreciated – and so do I.
Please share your moments of joy and gratitude with each other, connect in the ways you can and know I'm proud of the work you're doing.
Best,

Ed Sabanegh, M.D.
COVID-19 Patient Writes Inspiring Message on Glass to Caregivers
COVID-19 Patient Writes Inspiring Message on Glass to Caregivers
Nic Brown sat in isolation, struggling to survive on a ventilator, after being diagnosed with coronavirus (COVID-19). The one window he had to life outside his hospital room, became the most impactful window of his life.
His caregivers in the medical intensive care unit (MICU) at Cleveland Clinic – where a dedicated team, including doctors and nurses, treat the sickest of the sick – used that pane as a channel for uplifting messages.
"Every day I was there, especially when I was on a ventilator and full life support, the staff would write on the window the goals for me to try and reach each day," says Nic, who is no longer in intensive care. "They would encourage me. One day someone wrote, 'We will get you home.'"