Hero of the Week: Cleveland Clinic police officer brings joy to young patient
Hero of the Week: Cleveland Clinic police officer brings joy to young patient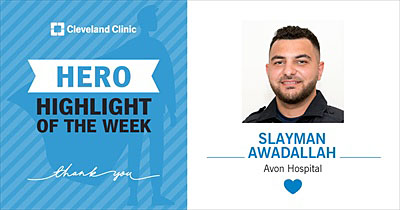 During his routine check at Cleveland Clinic Avon Hospital, Officer Slayman Awadallah met a young boy in the Emergency Department who was hit by a car while riding his electric scooter. Although the boy's physical condition was okay, his spirit was crushed from the loss of his scooter.
"I used to work as a police officer at schools, so I am used to working with kids and building a connection, which is why I always try to say hello to our pediatric patients," says Officer Awadallah. "When I saw the patient, it was clear that he was upset, and I felt his pain."
Officer Awadallah was moved by the boy's story, and wanted to cheer him up, so he spoke with one of the boy's relatives and mentioned that he wanted to purchase a new electric scooter for him.
"I wanted to put a smile on his face and see him happy again," says Officer Awadallah. "That scooter was one of his favorite toys and he rode it every day."
After Officer Awadallah purchased the scooter, his sergeant suggested he drive to the boy's house in his cruiser and uniform to deliver the gift.
"I told the patient I came by to check on him to make sure everything was okay," says Officer Awadallah. "Then, I told him to come to my cruiser and when I opened it up and brought out the scooter, he had the biggest smile on his face."
Officer Awadallah unpackaged the scooter and helped the boy put it together so he could continue to enjoy riding.
"It felt great to make him happy again," says Officer Awadallah. "With everything going on, it showed new hope for a better day, and it let us ignore what's going on for a moment and recognize something good happening."
Hero of the Week
Hero of the Week is a recognition program that showcases and celebrates the incredible care and work of our caregivers who give their all each and every day. Caregivers are first recognized in Hero Huddles as part of our tiered daily huddles. The Office of Patient Experience then selects one of the featured caregivers to be Hero of the Week.
For your colleague to be considered, share why your colleague should be celebrated in Hero Huddles during the daily tiered huddle. If your team does not directly participate, speak to your manager, who can share the recognition with the appropriate leader to share in the huddles.
Main campus flu tent open to caregiver family members, extended another week
Main campus flu tent open to caregiver family members, extended another week
More than 6,500 caregivers have received their flu vaccine at the flu vaccination tent stationed between E 89th Street and Bunts Auditorium, with many boasting it as a quick and efficient process.
We hope to get even more caregivers vaccinated early in the season, so the tent will remain open an additional week. All caregivers, from any location including those working remotely, are welcome and encouraged to visit the tent and receive the flu vaccine at the following dates/times:
Sept 15-18 from 6:30 a.m. to 6 p.m.
Sept. 19 from 6:30 a.m. to noon
Sept 21-25 from 6:30 a.m. to 6 p.m.
We will continue to offer parking vouchers to individuals who do not have assigned parking at main campus. These vouchers will work for any parking garage on main campus, except the Walker parking garage.
As always, caregivers should complete the Seasonal Flu Survey in ReadySet prior to receiving the flu vaccine.
Family members welcome at the tent
Caregivers may also invite the family members in their household to visit the tent and receive their flu vaccines. Some important things to note:
Household family members may begin to arrive at the main campus tent at 7 a.m. (whereas caregivers can begin at 6:30 a.m.).
Family members must bring their insurance information with them, as their insurance will be billed. They are encouraged to ensure Cleveland Clinic is in-network for their vaccine if they're not a member of our Employee Health Plan.
Children who are part of the Ohio Department of Health Vaccine for Children program cannot be accommodated. These children should receive their flu vaccine through their primary care physician (PCP).
If your household family members are unable to receive the vaccine at the main campus flu tent vaccination clinic, they should schedule their vaccination appointment with their PCP or through one of the appointment-only flu clinics. View more information on vaccination for non-caregivers.
Receive your vaccine at Occupational Health
Caregivers who are unable to attend the walk-in event at main campus should receive their flu vaccine at the nearest Occupational Health location. View a list of Occupational Health Locations, as well as a schedule of dates and times you can receive the vaccine at these locations below.
Caregivers in Northeast Ohio should call 216.727.3889 Monday through Friday between 7 a.m. and 7 p.m. to schedule their appointment with Occupational Health.
Be sure you complete the Seasonal Flu Survey in ReadySet prior to scheduling your appointment.
More information on this year's flu program
All resources about the caregiver flu vaccine are on the flu site on Today, including FAQs. If you have any questions about the caregiver flu vaccine program, reach out to your ONE HR Service Center at 216.448.2247.
Caregiver Flue Shots Available in Occupational Health
Regardless of where you work, you can get your flu shot at any Occupational Health Department across our healthcare system throughout the flu season.
Flu Vaccine Locations