Daily CEO Update | Guiding Employers to Safely Reopen
Daily CEO Update | Guiding Employers to Safely Reopen
Fellow Caregivers,
Stay-at-home orders are expiring around the United States. American businesses are eager to safely resume their operations while protecting workers. We are here to help them adjust to a "new normal."
Cleveland Clinic launched a COVID-19 website for employers. We are sharing the same insights and resources we have put into practice. Visit our Creating a Safe Workplace site.
The site covers how to set up employee support systems, create plans to protect workers and customers from exposure to the virus, and maintain safe conditions. It will also link to a weekly webinar series. Topics range from infection prevention to worker resiliency in the era of COVID-19.
As we welcome patients to our safe environments, we are keeping them informed. I am sending weekly emails to patients. Today's message detailed what to expect with testing before surgeries and procedures.
Our Florida teams are ramping up nonessential services. Like our Ohio locations, we put in place new safety precautions and updated the Florida visitor policy. We now permit a single in-person visit on the day of surgery and one day afterward.
Cleveland Clinic researchers are leading the way by studying treatment and prevention for this disease. We are conducting a number of innovative COVID-19 clinical trials and research projects. Read our release to learn about them.
Our caregivers continue to make a difference. We recently heard the following story from our family health center in Independence, Ohio.
A patient was visiting for his Oncology appointment the same week as his 100th birthday. His own birthday party was canceled because of COVID-19.
Our team did not let this milestone pass without celebration. Caregivers chipped in to buy the patient cupcakes and decorated his infusion bay. After singing to him during lunch, the grateful man said he felt like a "three-day-old Benjamin Button" — the fictional character who famously aged in reverse.
Thank you for your acts of kindness and compassion.

Tom Mihaljevic, MD
CEO and President
Rehab Team Uses Specialized Training to Help Fellow Caregivers
Rehab Team Uses Specialized Training to Help Fellow Caregivers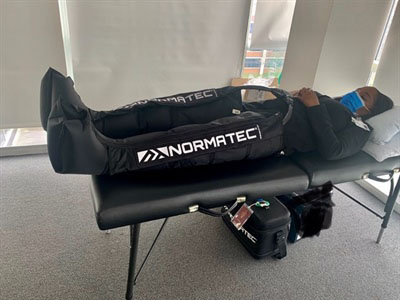 This story was updated on May 11, 2020.
In April, as we adjusted services, caregivers moved locations and responsibilities changed in response to COVID-19, Tracy Smith, DPT, wanted to help fellow caregivers.
The Director of Rehabilitation at Cleveland Clinic Weston Hospital in Florida knew colleagues could benefit from our physical therapists and rehabilitation staff.
The rehabilitation team — trained in muscle and tissue manipulation, relaxation and postural recovery — saw their fellow caregivers working long hours in mentally and physically strenuous conditions. Using physical therapists, physical therapy assistants, exercise physiologists and athletic trainers, an on-site physical recovery suite was born.
Gary Calabrese, PT, DPT, Senior Director of Therapy Services, saw the success of the Florida program and wanted to bring relaxation to our caregivers in Ohio. First adopted at Hillcrest Hospital, there are now relaxation stations at Marymount, Fairview, Avon and South Pointe hospitals.
"It's important to take care of each other so we can take care of patients," says Richard Parker, MD, President Hillcrest Hospital. "These trained specialists provide a vital service so we can continue to care for our communities with healthy and resilient caregivers."
Using a large conference room to allow for appropriate social and physical distancing, the rehabilitation stations are equipped with soft tissue massage stations, recovery boot compression stations, mats for yoga and stretching plus a self-serve nutrition center. To ensure the safety of our caregivers, all equipment is sanitized after each use.
Calabrese and team called upon relationships with the Cleveland Cavaliers, John Carroll University and Air Relax Inc. who donated recovery equipment and nutritious snacks.
To schedule a session, book online at the location link below:
Questions? Contact Gary Calabrese at calabrg@ccf.org.
We Support Our Deployed Air Force Reserve Caregivers
We Support Our Deployed Air Force Reserve Caregivers
Supporting each other as a family comes naturally to Cleveland Clinic caregivers. Even when our colleagues are not near.
Four caregivers — Jennifer Denton, RN, Cleveland Clinic Children's; Drezden Johnson, RN, South Pointe; Derek Kilberg, Radiology Technologist, Akron General; and Nadine Thomas, RN, Fairview — are in the Air Force Reserve and currently deployed in New York aiding health systems there in the COVID-19 pandemic.
Their Northeast Ohio colleagues send their support and encouragement. They've mailed gift boxes and taken meals to the deployed caregivers' family members. Recent flyovers by the 910th Airlift Wing of the Youngstown Air Reserve Station honored them and other first responders.
The current deployment could last for several months and if needed, Denton, Johnson, Kilberg and Thomas could be sent to another city in need. But they are up to the challenge.
"It's why I joined the Air Force," says Denton, "the hopes of being able to do something like this, to really help out when I'm needed."
Learn more in this brief video.
MyChart Video Visits Offer a Secure Connection and Epic Integration
MyChart Video Visits Offer a Secure Connection and Epic Integration
We are now offering video visits in MyChart as the recommended secure solution for scheduled virtual care. On May 11 and 12, Appointment Center caregivers will begin scheduling this visit type for outpatient appointments that are appropriate for a virtual visit.
How it Works
MyChart video visits use Zoom for Telehealth, a HIPAA-compliant service that enables a secure, encrypted connection through Epic. The technology is integrated into outpatient encounter workflows.
Patients complete the check-in process themselves in MyChart, including required completion of all pre-visit questionnaires.
At the time of the visit, patients connect through MyChart on their computer or through the mobile app.
Providers can start the visit easily from their Epic schedule, launching the video through the computer or via Haiku on their mobile phone.
The visit opens a Distance Health encounter for efficient documentation and billing.
Prepare Now
Complete the provider course in MyLearning to prepare for your first video visit. For more information, review our provider tips, troubleshooting and FAQs.
Zoom will be automatically pushed to all Cleveland Clinic iPhones, laptops and computers with a webcam. There is no need to create a Zoom account to launch video visits through Epic.
Need Assistance?
For any questions, concerns or additional training, please contact DigitalHealthSupport@ccf.org or your physician specialist or Clinical Operations Analyst.
If you are experiencing technical issues, please contact the Help Desk at 216.444.HELP.
Wearing Masks and Face Covers -- What You Need to Know
Wearing Masks and Face Covers -- What You Need to Know
While wearing a mask or face cover does not replace frequent hand washing and social distancing, it can help prevent the spread of COVID-19 at work and in public spaces.
Because an individual may be infected with COVID-19 for one or two days before the first signs and symptoms of illness begin, wearing a mask or face cover while in close proximity to others can help reduce asymptomatic and pre-symptomatic spread as well.
Below are general tips for wearing a mask or face cover:
Fit*: All masks used as Personal Protective Equipment (e.g. surgical mask with ear loops and N95 respirator masks), cloth masks and face covers should fit snugly but comfortably against the side of the face. This allows breathing to occur without restriction. See examples of how to wear and how not to wear a mask.
Removal: Avoid touching your eyes, nose, mouth and the front of the mask or face cover while removing it. Do this by using the straps or ear loops to remove masks and face covers. Wash your hands with warm water and soap after you remove your mask or face cover.
What are the different types of masks?
Cloth masks: They do not replace PPE and are most effective when they're made of several layers of fabric.

When not in use, cloth masks should be folded so the outside surface is turned inward while stored.
Clean your cloth mask on each day of use with soap and hot water; dry completely before re-use.

Procedure or surgical masks with ear loops or ties: They are typically worn in procedure and operating rooms and should be reserved for use when providing patient care. (Refer to our PPE recommendations for more details.) Procedure or surgical masks protect caregivers from contact with respiratory droplets, splashes and sprays, and they reduce the patient's exposure to respiratory secretions from the caregiver.

Wear procedure or surgical masks with the blue, green or yellow side facing out, and the white side touching your face.

N95 respirator masks: They filter out very small airborne respiratory particles, which are released into the air when a patient with COVID-19 undergoes a procedure that creates aerosols, such as intubation or bronchoscopy. N95 respirator masks should be reserved for use during aerosolizing procedures.

Perform a fit check for an N95 respirator mask before every use.
*Caregivers must be fit-tested before wearing an N95 respirator mask. View more details here.
What if I can't wear a mask because of a medical condition?
Caregivers who have a medical condition that requires an accommodation from wearing a mask in the workplace must submit their request and supporting medical documentation to covid19@ccf.org. Caregivers who are approved for an accommodation may be assigned to a non-patient facing role, if feasible.
Questions? Contact your local infection preventionist.