A New Approach to Taking Care of Our Patients with Chronic Diseases
A New Approach to Taking Care of Our Patients with Chronic Diseases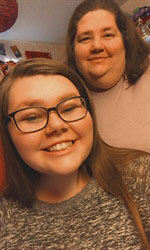 A few months ago, many patients wouldn't have thought twice about taking care of their chronic conditions, but times have changed.
Because of the COVID-19 pandemic and stay-at-home restrictions, leaders in Cleveland Clinic Community Care were concerned that patients with chronic diseases might neglect their health. To help patients stay current with their care, a new community monitoring program was developed, inSight. It's for patients who do not have COVID-19 but are at risk for poor outcomes without continuing their care management.
"We pivoted our approach to focus on patients who needed a close eye on them because of their high-risk heath status," says Nirav Vakharia, MD, Associate Chief, Value-Based Operations.
The Ambulatory Care Management team led by Anne Kaesgen, MD, a family medicine physician at the Strongsville Family Health & Surgery Center and the Medical Director of Ambulatory Care Management, decided to focus on continuity of care for this group. About 20,000 patients who get their primary care at Cleveland Clinic were identified. Through a MyChart app and weekly phone calls, providers check on patients' needs, from new symptoms to medication changes to behavioral health concerns.
"We are leveraging our enterprise strength by using caregivers in the labor pool, medical residents and medical students to staff phones and reach out to patients," Dr. Vakharia says. Depending on the needs of the patient, the caregiver can escalate the issue virtually to a nurse, pharmacist or physician.
"Helping our patients stay out of the emergency room is better for them and helps us reduce system strain as we prepared for a possible surge," Dr. Kaesgen says. "We can get them the help they need while they stay safe at home, though at times we have encountered patients who are very ill but afraid to come in. In those cases we either counsel them that it's safe to come to the hospital, or send a Cleveland Clinic Community paramedic to their home to treat them. So far, a small fraction need that level of care."
Going above and beyond
Brenda Harding, a Population Health Navigator, works out of our Madison Medical Office Building. She is a Medical Assistant who was assigned to work on the community monitoring program. She gets a call sheet each day of patients who meet the criteria. Harding said she makes between 20-40 calls a day.
Simply put, it's a check-in call. Harding introduces herself and explains why she's calling. She asks if the patient has any new symptoms or concerns, questions for a provider or issues they want to discuss. Based on their responses, she can connect them to help — a member of the pharmacy team for medication management or a social worker, if they are experiencing signs of depression.
As part of the call, Harding said she asks patients if they are getting out of the house to sit outside or take a walk. She also asks if they use a mask when they go out to public places.
"Some have said they don't have a mask and they don't know how to get one," Harding shares. "I can get you one," she says.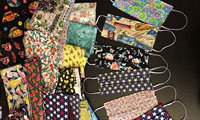 A few of the 160 masks that Leah has made.
She puts the order in with her supplier — 16-year-old daughter, Leah Harding — who usually has it done by the end of the day. Harding writes a simple note to her patient and includes cleaning instructions for the mask. It gets mailed the next day.
So far, Leah has made 160 masks, with 32 going to her mom's patients.
Betty Mercurio, Harding's supervisor, said that a patient called to say thanks for the mask and note. "The patient was beyond thankful and wanted Brenda to know what an amazing thing she is doing for others."
Dr. Kaesgen said mailing masks isn't a standard offering, but she credits Harding for her kindness and initiative. "She is going above and beyond."
"Leah is the one doing all the work," Harding says. "She decided to make masks for family and friends as a volunteer service project for National Honor Society. It has snowballed from there."
The inSight program has been good for patients and caregivers, according to Dr. Kaesgen. One caregiver said she really enjoys this project because patients have been truly appreciative.
"This is the best thing Cleveland Clinic could do during this time," one patient said. "Thanks for checking up on me. I'm doing great."
Our caregivers assist at Cleveland Clinic Abu Dhabi during COVID-19 pandemic
Our caregivers assist at Cleveland Clinic Abu Dhabi during COVID-19 pandemic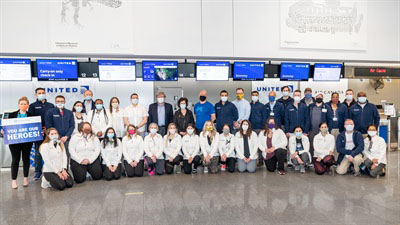 In light of the COVID-19 pandemic, we are coming together with our Cleveland Clinic family in Abu Dhabi to share expertise and best practice around treating COVID-19 patients.
On May 16, 40 caregivers, including nurses, physicians, a vascular technician and an ultrasound clinical manager from Ohio and Florida, boarded a plane headed for the Middle East, to spend up to six weeks at CCAD to address the urgent needs of COVID-19 patients and families.
"I want to thank these remarkable physicians, who are willing to cross oceans to assist people where the needs are greatest. What you are doing to support our Cleveland Clinic family in Abu Dhabi is both commendable and inspiring," says Chief of Staff Herb Wiedemann, MD.
Executive Chief Nursing Officer Kelly Hancock, DNP, RN, NE-BC, FAAN, says "A family is there for one another."
"We appreciate those who offered to travel to take care of families in need, and are embracing the opportunity to grow and develop. Thank you for continuing to give selflessly to others."
We look forward to sharing more about what our caregivers are doing to help.
Let's recognize these caregivers in the comments below:
Lauren Adkins, RN
Jackson Currie, RN
Donald Daniel, NP
Mindi DiPadova, RN
Matthew Galysh, RN
Madeline Gelberg, RN
Alia Grattan, MBA, RDMS, RVT
Elizabeth Grubbs, RN
Eric Harvester, NP
Amy Nicole Henely, RN
Erin Jackson, RN
Sarah Long, RN
Mark Lyons, RN
Katherine Maroni, RN
Angelika Martinez-McGhee, RN
Kaitlyn McGoff, RN
Katie Menosky, RN
Navneet Nagra, RN
Raechel Naragon, RN
Larry Raber, RVT, RDMS, RT
Andrea Schreiner, RN
Gavin Shaner, RN
Mackenzie Smith, RN
Joseph Syroney, RN
Alex Zazac, RN
Paul Andrew Stephens, MD
Tarig Omer, MD
Mohamed Abdalla, MD
Sabri Barsoum, MD
Brian Marshall, MD
Elise Kwizera, MD
Tinatin Narsia, MD
John Zagmeister, MD
Ahmed Eltelbany, MD
Angie Maitland, RN
Oriana Ordosgiotti, RN
Janeth Perez, RN
Caroline Webster, RN
Lindsey Hindsman, RN
James Roach, DO
CEO Update: We are Committed to All Who We Serve
CEO Update: We are Committed to All Who We Serve
Fellow Caregivers,
There is no place for violence or racial disparity in our world. As an organization dedicated to the well-being of all, we will respond to events and actions that undermine public health.
Each of us is affected by the senseless deaths of George Floyd, Ahmaud Arbery, Breonna Taylor and other African Americans. The aftermath of this weekend's protests inflicted additional hurt.
People are feeling pain, sorrow and fear. Today's pandemic has also caused tremendous stress. And we care. We care about our patients, our fellow caregivers and our neighbors in the community.
This is a time for us to embrace one another with respect and empathy. It is a time to be guided by what we stand for at Cleveland Clinic as a beacon of hope.
Helping others to heal is our mission. Inclusion is our core value. Caring for the community is a cornerstone of our nearly 100-year foundation.
Cleveland Clinic will be working with the community to address violence, and to end disparities of care, which have been exacerbated during this pandemic. We will be creating forums for caregivers to have discussions about these events, and offer resources for you to process the hurt you are feeling.
We are committed to all who we serve to address these issues today and for every day moving forward. This is our responsibility as caregivers in our endless quest to create better health for all.
Thank you for your dedication.

Tom Mihaljevic, MD
CEO and President
Hero of the Week: Empathy Guides Jessica Herrington's Care for Patients
Hero of the Week: Empathy Guides Jessica Herrington's Care for Patients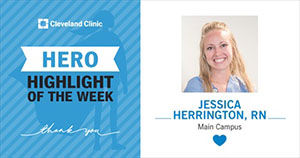 Jessica Herrington, RN, demonstrated empathy and understanding as she cared for a patient with COVID-19 who was struggling to survive. Herrington went above and beyond to support the patient and his loved one as the patient passed away. That is why she is recognized as our Hero of the Week.
Herrington was working on H70 at main campus when she began caring for the patient. As his health worsened, Herrington discussed options with kindness.
At one point, the patient did not want to be intubated — but his loved one was very upset and felt strongly they should continue to fight.
Herrington navigated this difficult ethics concern with compassion for the patient's loved one while also advocating for the patient's wishes. She stayed at the patient's bedside for three hours straight, well past her shift, to ensure the patient's and family's needs were met, including a smooth transfer to the MICU.
The patient's condition continued to worsen. He withdrew higher level of care and was transferred from end-of-life care back to H70.
Herrington continued to care for the patient at this time. She spent a good portion of her day attending to the patient, comforting him during this difficult time. She sat and held his hand when his loved one could not be there, treating him like she would her own family.
When she could see the patient's loved one was not coping well, Herrington took time to listen to the loved one's concerns and explain the end-of-life process.
The patient passed away while in Herrington's care. Herrington again sat with the patient's loved one as they paid respects to the patient. She comforted the family, reassuring them he passed away peacefully.
Laura Hoeksema, MD, took the time to recognize Jessica's efforts, writing: "Jess, Thank you for the care you recently provided for one of our hospice patients. Your insight, compassion and attentiveness to his needs were exceptional. I greatly appreciated your help in navigating the complexities of his care. It was a privilege to work alongside you."
Thank you to Jessica Herrington, our Hero of the Week!
Hero of the Week
Hero of the Week is a recognition program that showcases and celebrates the incredible care and work of our caregivers who give their all each and every day. Caregivers are first recognized in Hero Huddles as part of our tiered daily huddles. The Office of Patient Experience then selects one of the featured caregivers to be Hero of the Week.
For your colleague to be considered, share why your colleague should be celebrated in Hero Huddles during the daily tiered huddle. If your team does not directly participate, speak to your manager, who can share the recognition with the appropriate leader to share in the huddles.