Hero of the Week: Nurse gives colleagues "quarantine haircuts"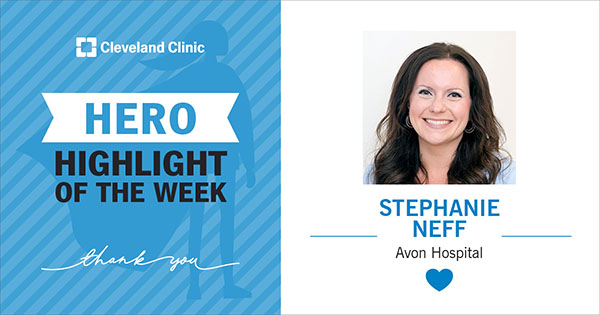 Nurse Manager Stephanie Neff, BSN, RN, understands the hardships we have all experienced the past few months. That's why she did all she could to support and recognize caregivers during the pandemic.
Quarantine haircuts
Neff gave free haircuts to more than 30 colleagues while hair salons and barbershops were closed during the pandemic. Her only request was that any donations her colleagues wished to give would go to VeloSano.
Neff's team in the Emergency Department at Cleveland Clinic Avon Hospital made a "get your haircut here" sign, brought her an embroidered apron and provided her a pair of professional haircutting scissors.
"I have four kids, three of which are boys, and I routinely cut their hair," says Neff. "After I gave the first haircut to a colleague, I realized it could be an opportunity to raise money for VeloSano.
Last year, I participated in VeloSano for the first time and it was such an awesome experience. Both of my grandfathers passed away from cancer and it was the perfect way to give back to something so meaningful to me and raise money for cancer research."
A simple thanks goes a long way
Neff contacted each caregivers' family and friends and asked them to take a picture with a special message for their loved one. With these photos, she created a photo collage displayed near the front of the Avon Hospital Emergency Department.
"When the pandemic began, I made staying positive and hopeful a priority," Neff says. "I wanted my staff to feel supported physically, mentally and emotionally. As a leader, the way that you handle different situations can impact how your team performs. I kept reiterating that we would take things 'one day at a time.'"

A hunger for appreciation
Two nurses on Neff's team Brian Draiss, RN, and Emily Bachman, RN, thought it would be great to cook breakfast for caregivers on units caring for patients with COVID-19 at Avon Hospital.
Neff helped organized the breakfast for April 28. More than 100 caregivers appreciated a moment to step away from their job and enjoy breakfast, including a waffle and omelet station.
"The people I work with and the patients that I care for inspire me to go above and beyond every day. I work with the most selfless, hardworking and experienced individuals," says Neff. "I could not do my job without them."
Hero of the Week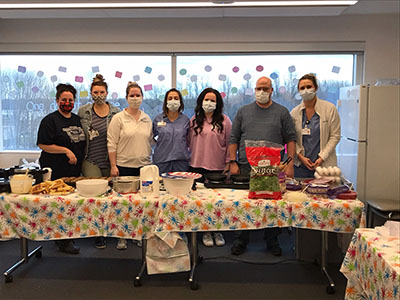 Hero of the Week is a recognition program that showcases and celebrates the incredible care and work of our caregivers who give their all each and every day. Caregivers are first recognized in Hero Huddles as part of our tiered daily huddles. The Office of Patient Experience then selects one of the featured caregivers to be Hero of the Week.
For your colleague to be considered, share why your colleague should be celebrated in Hero Huddles during the daily tiered huddle. If your team does not directly participate, speak to your manager, who can share the recognition with the appropriate leader to share in the huddles.