CEO Update | What we are doing to support Ohio
CEO Update | What we are doing to support Ohio
Fellow caregivers,
Throughout this pandemic, Cleveland Clinic has embraced our role as a leader in the community.
We have provided counsel at the local, state and federal levels.
Today, I am joined by Dr. Bob Wyllie, our Chief Medical Operations Officer. Dr. Wyllie has played a key role in the State of Ohio's response to COVID-19.
Watch our discussion in the video above.
At Cleveland Clinic, we have earned a strong reputation because of our caregivers. Your efforts continue to be recognized around the world.
I am very proud to work alongside each of you. Together, we are making a difference for our patients and the communities we serve.
Thank you,

Tom Mihaljevic, MD
CEO and President
New workflow: Safely providing non-COVID care for COVID-19 positive patients
New workflow: Safely providing non-COVID care for COVID-19 positive patients
As we continue to schedule more outpatient appointments, surgeries and procedures, patients who have tested positive for COVID-19 may need to seek care for reasons not related to their COVID diagnosis.
To ensure we are maintaining a safe environment for our patients and caregivers, the next phase of our reactivation plan addresses how to safely provide in-person care at outpatient and surgical facilities to patients with, or who have had, COVID-19.
If patients have a positive COVID-19 test within the prior 28 days, repeat COVID-19 testing is not needed for in-person appointments, admissions or pre-surgical testing. Appropriate isolation and PPE should be implemented for patients who are considered COVID positive.
If more than 28 days have passed since patients tested COVID positive, they are considered "recovered" and immune and testing is no longer necessary.
The latest documents and resources are available in the Reactivation Toolkit including the new Non-COVID Care for COVID+ Patients Workflow and the latest Surgical Workflow for patients with a history of COVID-19.
If you have questions about this new workflow, please email COVID19_RH@ccf.org.
---
Please note: Effective July 15, we are testing all new inpatients, including direct admissions and hospital transfers, for COVID-19 at our Ohio hospitals. As such, repeat COVID-19 testing is not needed for asymptomatic inpatients who require a procedure or surgery during their hospital stay. Learn more about this process.
Hero of the Week: Healing through spirituality
Hero of the Week: Healing through spirituality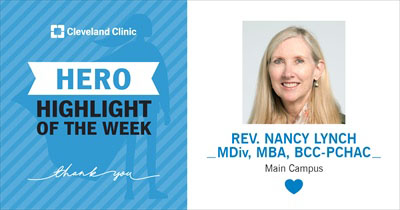 Rev. Nancy Lynch helps patients and caregivers cope with uncertainties, challenges and disappointments in life.
One of our patient's family needed such support when they learned their first child required life-saving surgery just two weeks after he was born.
"Their faith was an important source of strength and comfort to them," Rev. Lynch says. "It was important to them to have their son baptized prior to his surgery, which I think helped underscore that God was present and watching over him."
At that time, the Center for Spiritual Care could not provide in-person services for patients and their families because of COVID-19 safety precautions in place.
Caregivers from Spiritual Care brainstormed ways to make the baby's baptism possible, and landed on performing it via Zoom. Rev. Lynch read the liturgy off site while Hema Bhakta, MD, administered the baptismal water on site with Sally Fenik, CNP.
"This was truly a team effort between Spiritual Care and Pediatric Palliative Care," says Rev. Lynch. "Sally and social worker Kathy Williams did all the behind-the-scenes legwork to make this happen."
More than 20 family members were able to virtually attend the baptism. As Rev. Lynch adds, "It was a beautiful ceremony in the midst of a stressful situation."
The patient is now two months old and doing well at home.
"After the Zoom baptism went so well, my now husband and I decided to have a Zoom wedding in June. My husband, Mitch Olman, also works at Cleveland Clinic as a pulmonologist and research scientist."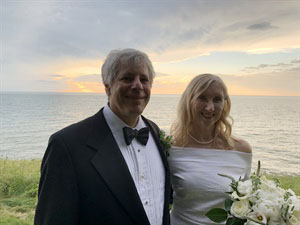 Rev. Lynch and her husband Mitch Olman on their wedding day.
Rev. Lynch says she and her colleagues have noticed increased interest in Spiritual Care in recent months.
"We live in uncertain times," she adds. "We often find ourselves seeking meaning, purpose and understanding, which of course is what Spiritual Care is all about. We help people name and claim their values and beliefs, and then help them to use those values and beliefs to make sense out of things that are just not making sense."
Like many of us, Spiritual Care has leaned into technology to help establish personal connections. For example, they've provided prayers during end-of-life situations via video chats.
"At its core, Spiritual Care is about developing relationships," says Rev. Lynch.
About the Center for Spiritual Care
Spiritual Care supports our patients, their families and our caregivers through Spiritual Care chaplaincy services and Healing Services. This may be through a personal visit, a virtual Reiki session or a Code Lavender staff support event.
For confidential support and assistance from a clinically trained chaplain, you may call our toll-free Grief and Relief Line for patients, families and caregivers at 844.204.7433, 24 hours a day, seven days a week.
Hero of the Week
Hero of the Week is a recognition program that showcases and celebrates the incredible care and work of our caregivers who give their all each and every day. Caregivers are first recognized in Hero Huddles as part of our tiered daily huddles. The Office of Patient Experience then selects one of the featured caregivers to be Hero of the Week.
For your colleague to be considered, share why your colleague should be celebrated in Hero Huddles during the daily tiered huddle. If your team does not directly participate, speak to your manager, who can share the recognition with the appropriate leader to share in the huddles.