Cleveland Clinic Pharmacies continue curbside medication delivery for select patients
Cleveland Clinic Pharmacies continue curbside medication delivery for select patients
Cleveland Clinic Pharmacies will continue to offer curbside medication delivery to meet the needs of patients who are feeling ill, have mobility challenges, are elderly, or are with children under five years of age. We ask that all other patients and caregivers utilize our in-pharmacy pickup.
Cleveland Clinic providers should instruct all patients who are exhibiting symptoms of COVID-19, are being actively tested for COVID-19, or who have been exposed to COVID-19 to contact the pharmacy to arrange for curbside medication delivery.
Anyone eligible for curbside medication pickup should call the pharmacy prior to and upon arrival to arrange for service. The pharmacy staff will provide details on parking and will request additional information needed to complete prescription pickup.
The curbside delivery service is available during select pharmacy hours and is free of charge. Patients are responsible for any outstanding charges or copayments required by their insurance provider. For this service, pharmacies only accept payments by credit/debit card or flexible spending account.
Hero of the Week: Helping patients with COVID-19 who are homeless recover
Hero of the Week: Helping patients with COVID-19 who are homeless recover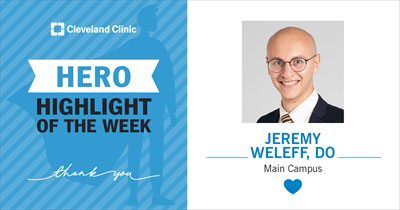 "When the pandemic began, patients with COVID-19 in the Cleveland area who were homeless didn't have anywhere to go to self-isolate, quarantine, or recover safely," says Jeremy Weleff, DO, Psychiatry Resident, Center for Behavioral Health at Lutheran Hospital and main campus. "If you don't have anywhere to live, how can you take care of your health, let alone have the best chance of surviving a pandemic?"
This motivated Dr. Weleff and other colleagues to work with local government and organizations to find these patients somewhere safe to quarantine and receive medical and social work follow up. They have been meeting monthly with these agencies and other hospital systems to come together to combat the common struggles this population experiences. Working together, the groups were able to find temporary housing at a local hotel for these patients to safety quarantine after discharge.
Since joining Cleveland Clinic in 2018, Dr. Weleff has been working to improve the care for individuals facing homelessness or housing insecurity. He was awarded a $30,000 Caregiver Catalyst Grant in 2019 to identify and improve health outcomes for people experiencing homelessness who came to Cleveland Clinic for care.
This led to the creation of a team who helped ensure all Cleveland Clinic patients are screened for homelessness, and creating pilot projects to make sure these patients get the best possible care. This team started a transportation pilot for follow-up appointments, and are creating a hospital-to-housing program to support these patients in getting more stable housing.
"Our role has been to support our community," says Dr. Weleff. "The most vulnerable of those — about 7,500 patients, including nearly 1,000 homeless children — who have sought care at Cleveland Clinic in the last few years need our support."
"Thank you for the amazing support from our Cleveland Clinic family," adds Dr. Weleff. "Dr. Michael Phelan, Kris Adams, Nicholas Engelhardt, Geoff Lake, Laurel Yee, Dr. Nazleen Bharmal, Dr. Donald Malone, Jr.— just to name a few!"
Hero of the Week
Hero of the Week is a recognition program that showcases and celebrates the incredible care and work of our caregivers who give their all each and every day. Caregivers are first recognized in Hero Huddles as part of our tiered daily huddles. The Office of Patient Experience then selects one of the featured caregivers to be Hero of the Week.
For your colleague to be considered, share why your colleague should be celebrated in Hero Huddles during the daily tiered huddle. If your team does not directly participate, speak to your manager, who can share the recognition with the appropriate leader to share in the huddles.