Feb. 1 and 2 only: COVID-19 vaccine standby list available for Ohio caregivers
Feb. 1 and 2 only: COVID-19 vaccine standby list available for Ohio caregivers
Update: The standby list for COVID-19 vaccines is currently filled. If you have already added your name to this list, and we have extra vaccines this week (Feb. 1-7), please know that you may be called. As a reminder, the standby list resets at the end of the week on Sunday, Feb. 7. We will continue to share when the standby list option is once again available.
Cleveland Clinic is continuing to provide COVID-19 vaccines to Ohio patients as part of Phase 1B following state and federal guidelines.
Although caregivers will now go into the vaccination program, along with the general public, based on age and medical conditions, there are times when COVID-19 vaccine doses may become available to Ohio caregivers. If patients do not show for appointments or cancel, we want to ensure that every vaccine dose we have is used.
An online standby list has been created for caregivers who wish to receive a vaccine as these unused doses become available. The standby list resets at the end of each week and interested caregivers will need to resubmit their information.
What you need to do
Click here to add your name and information to the standby list for Monday, Feb. 1 and Tuesday, Feb. 2.
Submit your name, work assignment, contact phone number and availability.
By adding your name, you acknowledge that you're able to be at main campus within 30 minutes of being contacted. If you are unable to arrive within 30 minutes, vaccine will be given to the next person on the standby list.
Important to know
Vaccination slots are for Monday, Feb. 1 and Tuesday, Feb 2 only.
Caregivers must answer the phone number provided when called as the caller will not re-attempt or leave a voicemail message.
Submissions are being accepted for main campus only at this time.
The standby caregiver list will be reset at the end of the week.
Caregivers should have an active MyChart account to be able to schedule their second dose.
Caregivers should complete the ReadySet survey prior to arrival.
Please note that your second dose may not be scheduled at a precise 21 or 28 day interval from the first, as we are adding your appointment slot into available existing schedules. The Centers for Disease Control and Prevention's Advisory Committee on Immunization Practices allows for up to 42 days between the first and second dose of COVID-19 vaccines.
If you are a caregiver who is already scheduled for your vaccine, please do not add your name to the standby list.
Because of limited vaccine doses, please know that signing up for the wait list does not guarantee you will receive a vaccine dose today. Additional locations will be shared when they are available. Thank you for your patience during this time.
Hero of the Week - Pulmonary Medicine physician leads creation of COVID transitional care unit
Hero of the Week - Pulmonary Medicine physician leads creation of COVID transitional care unit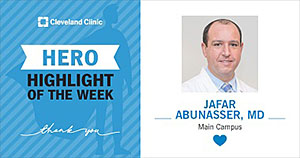 hroughout the COVID-19 pandemic, caregivers have had to devise innovative strategies to manage the volume of patients admitted to the Intensive Care Unit (ICU).
Jafar Abunasser, MD, was instrumental in developing one of these strategies by creating a COVID transitional care unit as a place for debilitated, recovering patients with COVID-19. The unit was established at the Select Fairhill LTACH, part of our LTACH Connected Care Program where patients can continue to receive medical care from Cleveland Clinic providers after they are discharged to a local LTACH.
The creation of the transitional care unit help overcome two challenges simultaneously. It helps move chronically ill patients suffering from complications of COVID-19 to a place where there needs are best served while ensuring ICUs have sufficient capacity to care for acutely critically ill patients, not just those with COVID-19.
"We know from prior experience that patients who require prolonged mechanical ventilation have better outcomes when they are offered earlier transition to specialized weaning units and rehabilitation facilities," says Dr. Abunasser. "This unit allows us to provide our patients with world class care, regardless of where they are in the battle against this virus."
Through the creation of this unit, Dr. Abunasser and team have been able to standardize and centralize the care their patients receive, which is crucial when treating the complexities of COVID-19. The unit has cared for more than 100 patients and has been able to discharge two-thirds of their patients directly home or to an acute rehabilitation facility.
"Prior to the pandemic, my role was mainly to care for the critically ill," says Dr. Abunasser. "Now, I more clearly see myself as part of a larger mission, and I'm very proud to have built a team that has met this pandemic head-on without hesitation or fear."
Thank you, Dr. Abunasser, for your time and dedication to fighting the COVID-19 pandemic.
Hero of the Week
Hero of the Week is a recognition program that showcases and celebrates the incredible care and work of our caregivers who give their all each and every day. Caregivers are first recognized in Hero Huddles as part of our tiered daily huddles. The Office of Patient Experience then selects one of the featured caregivers to be Hero of the Week.
For your colleague to be considered, share why your colleague should be celebrated in Hero Huddles during the daily tiered huddle. If your team does not directly participate, speak to your manager, who can share the recognition with the appropriate leader to share in the huddles. You can also use this form to send the details to Caregiver Communications to nominate a Hero of the Week.