CEO Update | Eye protection in clinical areas
CEO Update | Eye protection in clinical areas
Fellow Caregivers,
When we make decisions for your safety, we do so with the best information available to us at that time. This guiding principle is what has helped us maintain a safe environment to work and receive care.
We announced new options for eye protection from COVID-19 in clinical areas. Face shields provide a second layer of protection over the mouth and nose. Yet we also know they may not be tolerable for some caregivers or circumstances.
While face shields are still the preferred method, we are also providing goggles as a second option. Either option, when used while properly wearing a face mask, is safe and effective. We are distributing eye protection kits over the coming weeks to all Ohio, Florida, Nevada and Canada locations. Read more about this announcement.
Our legacy of clinical innovation reached a new milestone this summer. Cleveland Clinic became the third program in the United States to complete both 2,000 heart and 2,000 lung transplants. Our transplant programs have an excellent reputation for superior patient outcomes. It is amazing to see how much they have grown since our first heart transplant in 1968.
One of our own, Rick Wilson, DO, received a heart transplant during this pandemic. Dr. Wilson suffered a massive heart attack in June. His condition was so severe that survival was unlikely. Dr. Wilson is now home and shares how his colleagues took care of him. Read his story.
Cleveland Clinic will continue to provide high quality care to patients in need around the globe. Our London team is working hard to resume construction following lockdown restrictions. We expect to begin treating patients at the London outpatient facility in September 2021 and at the main hospital in January 2022.
We also grow by embracing digital tools, which are shaping the future of healthcare. Judy Faulkner, CEO and founder of Epic, is a thought leader on the use of patient care technologies. I'm proud to welcome Judy to our Ideas for Tomorrow speaker series this Wednesday, Sept. 2. Register for the event.
During this pandemic, we have discovered hope in many places — through the actions of others as well as in artistic expression. Ryan Jaenke, a local artist, completed an 80-foot-long mural at our Lakewood Family Health Center that represents togetherness.
Our Art + Design Institute sought out Ryan to create something inspirational. In this brief video, Ryan shares the meaning behind the mural for our caregivers and the community.
Thank you for your dedication.

Tom Mihaljevic, MD
CEO and President
COVID-19 testing and scheduling options expanding in Northeast Ohio, effective Aug. 31
COVID-19 testing and scheduling options expanding in Northeast Ohio, effective Aug. 31
To best serve our patients, we are expanding testing in Northeast Ohio (with the exception of Akron General and Union Hospitals) beyond high-risk patients to include all patients who are suspected of having COVID-19 after an evaluation of their symptoms. This change is effective Monday, Aug. 31.
For a complete list of symptoms visit the COVID-19 toolkit.
We continue to test all hospitalized patients (including those in observation status, hospital transfers and direct admissions) as well as patients with scheduled or emergency surgeries or procedures taking place in an ambulatory surgery center, operating room, or emergency department.
Also, effective Aug. 31, we have expanded scheduling options for testing:
Find ordering provider talking points here and Epic tips and reminders here.
Expansion of our testing criteria and ordering options is part of our sustainable approach to testing. We will continue to identify ways to meet our patients' testing needs while managing limited testing resources.
Hero of the Week: Caregiver uses empathy to calm a stressed mother
Hero of the Week: Caregiver uses empathy to calm a stressed mother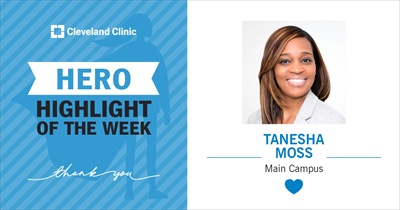 Senior ombudsman Tanesha Moss used her skills and training to calm a mother who did not want to wear a mask when visiting her newborn in the Neonatal Intensive Care Unit (NICU).
Because the mother just gave birth at main campus, she expressed she did not believe she needed to wear a mask to visit her newborn, and when she was told to do so, she became upset – that's when Moss was called in.
"I connected with the mother by acknowledging the added challenges of being pregnant during the pandemic," says Moss. "Typically, I have found empathy to be a driving force for success during difficult discussions."
Moss calmly listened to the mother, and told her that she would communicate the mother's concerns in wearing a mask, which made the mother feel heard and understood. Moss also emphasized that Cleveland Clinic's ultimate desire is to protect and ensure a safe environment for our patients, caregivers, visitors and overall community, and the mother wearing a mask would contribute to that environment.
"Patients, caregivers and visitors all play a vital role in reducing exposure," says Moss. "It is important that we all adhere to the recommendations and guidelines in place to slow the spread of COVID-19."
Ultimately, Moss's actions worked, and the mother wore a mask. Moss stressed that the key to success in this situation was listening and fully understanding the mother's point of view.
Thank you and congratulations to Tanesha Moss, our Hero of the Week!
Hero of the Week
Hero of the Week is a recognition program that showcases and celebrates the incredible care and work of our caregivers who give their all each and every day. Caregivers are first recognized in Hero Huddles as part of our tiered daily huddles. The Office of Patient Experience then selects one of the featured caregivers to be Hero of the Week.
For your colleague to be considered, share why your colleague should be celebrated in Hero Huddles during the daily tiered huddle. If your team does not directly participate, speak to your manager, who can share the recognition with the appropriate leader to share in the huddles.